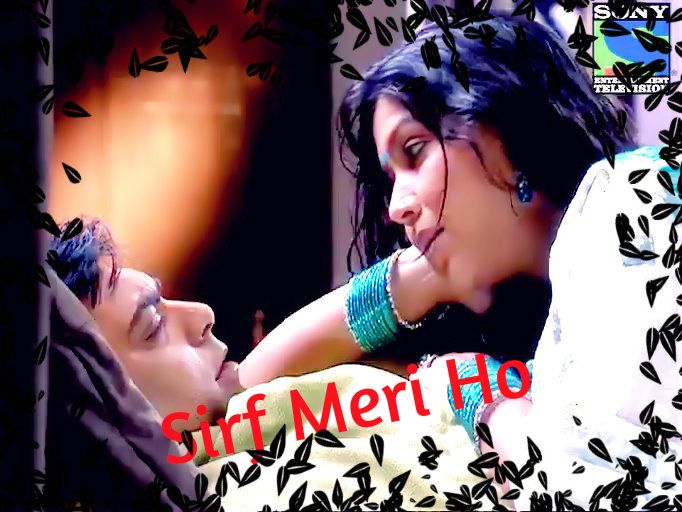 Dadi words made Krishna ji to look at her. She had tears in her eyes ,missed her mother In law so much. She always treated her as a daughter.
She was so happy to see their home,
Hearing dadi supporting voice with her. Niharika stepped in front and questioned her .
Why you came here.
??
Krishna ji voiced her I came to my house.. who are you to ask me.
Niharika fumed with anger..
Don't you know this is not your home anymore!
Priya motioned Ram to talk some thing.
But he was least bothered to involve gazing at on going conversation. He folded his hands a small smile appeared on his face.
Priya was in confusion, she don't know what all this going on. And her husband is least bothered.
She was having tears seeing Krishna ji.
Dadi signaled Priya to come near her. She whispered in her ear something. Priya went to do the needful. And she backed within 5 mins.
........
Krishna ji lips curved into a big grin..
Ohh Niharika...
This is the proof that I'm legal wife to Mr. Amarnath kapoor.
Apeksha thrwd the paper infront of niharika.
This is the proof Im holding 15% shares in our company. This is another proof 15% shares has written on Apeksha s name .
And this is the proof you killed my husband.
And this is the proof you are ruining Rams business sucees and his property.
Niharika face became pale she hurriedly ran to get something from her room.
But Ram blocked her way,
NI..HA…RI..KA…he mentioned every word skeptically that its signalling her to the coming storm.
The Police were briskly appered in Km …Marching towards Niharika…
She was shell shocked seeing the changes … Priiya and dadi too astonished seeing the changes.
Niharika you are under arrest ,One police officer said with his authorizing voice ..
Niharika swallowed a lump in her throat …Her voice is shaddered and trembling ..
Ram what all this going on ??
Ohhh You don't know all this ..He said sir please bring on the 2
nd
culprit .
The police brought Sid inside the KM.Niharika was hell bount to shock see siddanth kapoor with handcups.
Ram :SO atlast I got time to tell your deeds …wahh what an great opportunity …
I met my ma in australia and came to know everty truth and I belived blindly all these years ,and even you wanted to make our marrige ruin … Till now whatever I earned you have kept your name,sid name or natasha's or rishab name .You always used me as a money bagger or ATM mashine but still im happy that you are there to take care of kids but I don't know you are the number one culprit and you are making siddanth as your lead ..wahhh great lady ….
So for your kind information … these all the proofs which are against you ..I have submitted in court and filed a case against you and sid ..whatevr the reasons I don't want any harm to my family memebers .
Niharika shouted I will put up a case against you ,how much its cost also …
Ram smiled to that… Ohh don't you know you recently signed all of your property on nuts and rishab name ..
Niharika fumed when did I do that …
Last week I bought a new company and I asked your sign to tranfer that property ..so you signed blindly on them …
Niharika fumed with anger but she cant do any thing …and shouted you cheater ,how dare you ..
This is least I can do for you NI..HA..RI..KA..
The police are taking fuming and shouting Niharika..
Dadi ordered priya to give harathi …and pRIYA turned to give harathi ..at the same time niharika stepping out same time Krishna ji is taking harathi stepping inside …
What a lovely scene to be hold on ….
Ram with tears welcomed her ,Krishna ji hugged him and took blessing from dadi ..
Ram &Priya both took blessings from krishna ji ,,
Priya was so happy to see her mother in law ..she was ordering and arraging everything in kitchen.
As Ram already arranged krishna ji bedroom and apeksha bedroom.
He was so engorsed in talking with them But now and then he is noticing Priya too ..
Priya called them for lunch ..She went to her room to wash her face.
Ram glanced this, told to apeksha you be there I will just come .. He briskly entered their room…
He can hear water splash sound from bathroom.he bolted the door waiting for her ..
Priya came ,wiping her face with a towel ,she thrwd the towel on bed ,stepped a side to get ready.
And she again hit her hand on her forehead ,her lips curving into a smile she took the towel from bed turned to just bump on Ram ..
Ahhh She anticipate a fall but he securely made her stand on her feet .He moved her hairlock from her side face ,you can open your eyes,you are safe in my hands.
She slowly opened her eyes to look at her husband .He is giving million dollar smile.
Kya hua ??? [what happen ] why you are smiling ??
Why you laughed when taking back the towel …
She replied nothing ,chodiye muje dher horahi hai ?[leave me ,im getting late]
Oh really …Ram turned her,to his side keeping his hands on her shoulders .Tell me why you laughed ?
It s just I remebered the incident on our early days of marrige .You hated to keep wet towels around like this …so I smiled …..
Ok my Tigress ,why you gave blush while smiling ..
She again laughed ,how intently he is seeing at her …She blushed more .
Just like that she answred very slowly …
Please tell na "Ram made a cute face "…
She held his kurtha collar lovingly ,Nothing while thinking about you made myself happy and whenevr I thought about you ,my each cell will vibrate that will result on my lips as well as my cheeks ..
She gazed at him with so much love .. He sat on the bed made her sit on his lap ..
Slowly his fingers making her curly hair more curlier ..
Priya can I ask you something ??
P:Yah …From when you needed permission ha?Her question hitted him quickly..
P:Yah ,You can ,she comfortably sat on his lap ..
R:Are you not angry with me?
P:Why ??Why I should angry ?She gave a confused look..
R:I didn't tell you that all these things ??
P:She understood by now what Ram trying to say .. Ram ..Look at me..she raised his chin with her index finger asked me to look at her ..
Ram first I m confused why you are not involving ,later I understand that you already planned ..
R:But why you havent questioned me ??
P:Ram ..Ram if you have done anything wrong ,I could hve asked you ..But when you did good thing why I should question you my dear husband ..Kissing his forehead ..
R: Hmm so only here ..showing his lips to her ..
P: Laughed cutely ..not now ..save it for night ..she pinched his nose lightly …
R:Priya ..sorry sweet heart .I have planned everything before hand ..I intentionally not told you ,because I don't want you too take stress .
R:Stopped her ,No priya I know how evil plan niharika made to ruin my family .I don't want to give everyone happy life ..Especially You ..so I didn't tell you before hand ..Sorry for that.
P:Ok I understod ,do me a favor ,Ram gazed at her ,in future just share with me all your problems please ,she requested him.
R:He kissed her forehead,sure my dear wify …im sorry to hurt you ..
P:I undrstand why you have done all this without knwing me and dadi too ,but please please don't be sorry ,I love you , and just share with me …
R:Hugged her ,Thanked god millionth time to give such a wife to him.
P:Ok ..shall we go now …All must be waiting for us at dining table..Im also too hungry ..
R: Yah sure ..He made her get up …he too went with her .
All sat for dinner ..Ram eyes were shining to see all her family around.
The lunch was famishly finished with their everlasting chatting and countering one other .
They are so happy ..short and sweet small family ..
1 week passed …..One night Ram came a bit late from office.
Its almost 9.30 pm…Priya who is reading a book ,she almost slipped from the bed hearing the bolt sound .Ram smiled …ahhh why you are stilll waiting for me..
Taking his coat and bag from him..If you know that why you are asking me .
she arranged everything in bathroom already ..He took hot water bath and came .By that time she arranged everything on the table .
She was carelesly kept her saree pallu ,its just hanging from a little away from her bossom.
Ram was just astonished to see her careless silhoutte as well as sleepy state .
He hugged her from behind .
Priya ":Please Ram , Abhi nahi ..its too late ,come eat ..
Ram has told all the things which happened in the office .
Priya kept listening and whenvr she doesn't understand she is asking him .. Both finished their dinner .
Priya hasn't eat much al the way fiddled with the food..When Ram questioned she said not feeling to eat .
Ram switched the TV to watch the business news .But as he expected Priya didn't protest him to switch off.She cahnged in to her night clothes came and rested her head on his shoulder .closed her eyes .
Clutching his shirt In her hand ..
He kissed her forehead offing the Tv ..What happen ..
She don't know what to tell him ..She gazed at him .His arousal making him to close the gap ..
She said nothing ….What happen darling ??
She again said nothing ..He closed the gap sealing his lips with her …She kissed him but not fervent ..
Both broke apart for the air ..Rm urged to kiss her bossom…
She motioned him ….No not today ..
Kya what happened … Ram asked concernly…
Nothing just wanted to sleep that's it ..
Ram complained …Yaar everytime you want to sleep when your husband is more romantic ..
Nuzled her neck to bossom…
Ram plzzz ..she wanted to tell No but Rams actions made her loose herself..She slowly surrenders him .Their nudity covers by a thin bedsheet …Priya was fast asleep as well as Ram..
The clock showing 2.15 am…Priya scrunched herself into matress .Some unknown string stirred in her stomach …she woke up from her deep sleep .She anticipated before and now this …
She wrapped the bedsheet around her .looked at her husband ,he was in deep slumber .She silently went and changed and came to sleep ..
But sleep was very far away to her end…Sec by sec the pain is excruciating she was unable to focus on her sleep ..She forcefully closed her eyes but ufff ..Priya you are thinking up to sleep ..atleast try to sit properly ..Why god please make me sleep …
She gazed at him again …She don't want to wake him up ..But she really don't know what to do ..after marriage this is her first periods ..God only knws how he will react seeing my pain ..
She thought of seeing their pics…but some how the pain is deep its just getting more severe than before.
She is unable to sit or stand atleast lie properly … A loan tear escaped from her eyes unable to bear the severity ,she clutched the dupatta but instead of that she clutched Rams hand .. When she realized It was his hand ,He woke up with sudden tight fist on his hand ..
He wants to snuggle closer to her but found her in a cuddled position .. He asked her what happen priya.When he looked at her ,his gaze stopped at her tears .. he took her in his embrace ,what priya what happen ?? why you crying ??She cried clunging on to him ..
He was so patrified to see her ,But he understood she is having discomfort ..but he was too confused his eyes are becoming moist ..He asked feebly Please priya ..tell me what happen?
My stomach ,she said between in her sobs ,its just paining like hell …
Can I call doctor ?? why its paining ?from how much time it is there?why you didn'twoke me up yaaar ??
Please Priya trying to lift her up ,he said I will take you to hospital ..
Noo she signaled him ,,Its ..Its just monthly pain…
But you didn't get anytime na in this 3 months..
Please Ram…she grumpily called him….He now totally confused ..
She said ..Showing one box..Bring it on .. He handed it her ,she popped a tablet and gulped some water .
Turning his side ..it will subside ,usally I wont ,but right now its more so I had to …
He made her sleep on his shoulder patting her ..He tried to made her sleep …
But it is invain …He don't know how to comfort her ..
After taking tablet she was calm for 10 mins but after that same..she is turning sides ,that pain is uncontollable and she is unable to control her tears its just coming out like fountain..
Ram who cannot see her tears ,he called their family doctor telling the condition By that time he called to Krishna ji too ..She came with Apeksha..
She can understand what transpiring to Priya .. she told to apeksha Prepare hotbag and bring it on.
Ram just holding Priya ,Krishna ji sat on the other side ..
Ram about to ask something but Krishna ji signaled him not to talk furthur ..
His eyes were alredy moist ..Priya trying to control but this is so pathetic pain she cant even think whats happening .Krishna ji held her for sometime but she was out of control ..
After some time The doctor reached their room .. Ram hurriedly towards her .
Thank you so much madam for cming and sorry for troubling you at this late night.
By then The Doctor has seen troubling Priya ,
She sat her side Krishna ji moved ..Ram came the other side ..
D:Is happened to be your mensus >??
P:Yes mam but it is very terrible ,some more tears spilled from her eyes ..
D:Every time you will get the same pain ??
Doctor and all others looked at him …I mean No mam,I m seeing her first time..
Priya replied mam usually sometimes I will have irregular mensus ,2 0r 3 months …at that time I will have pain ,after taking pain killer it will subside but this time it was not …
Priya wiped her tears again ,
Doctor questioned ?This time how wmany months ?
D:After marrige how many times you got ??
Ram was baffled with this question ..she didn't get ..he very well know but who knows …
P:This is second time doctor ,Ram was too astonished to hear that answer ….
D:Ok first time did you get the same pain ,in mean time she examined her abdomen and loading an injection .
P:Noo doctor actually at that time heavvy bleeding so I consulted my family doctor ,after taking medicines it reduced ..Ram face turning into a big question mark …
P:Pain is there but when I have taken the tablet it was subsided ..
D:So which tablet you are using for that ?
P:Cyclopam..Priya answered feeble.
D:Gazed at Ram once ,she asked Priya …the first time when you got mensus Priya after marrige ..
P:Its just after 6 days mam …Im too tired and become too pale ,before that 2 months regular before that it was irregular because of Low Hb% ,now she is not looking at RAM..
D: That's ok..How bout your normal family life.
D:Making her postion right lateral ,I will give a small injection now,tomorrow I want to go for some blood test and scan ,ok
P:Nodded her head ,Ram supported her ,He closed his eyes while doctor pricking it in to her skin ,Priya made a small moan ..
Doctor smiled at seeing Ram,she said Mr.Kapoor its over ..
Every one smiled at him ..
Ram went to send off her .While krishna ji paatting Priya to sleep ..
R:Doctor is everything alright ?
D:Its ok Mr.Kapoor nothing to worry as of now,we will do some more tests and I can tell you tomorrow .she must has done some heavvy work so it just happens sometimes in some ladies you don't worry ,we will rule out tomorrow why she got severe pain..For now she will deffo sleep for the injection and the pain will be reduced ….
His questioning look made her assure more ..
Mr.Kapoor ,she will sleep now its almost 5 am ..Go and you too take some rest ,If anything is there call me i will come..