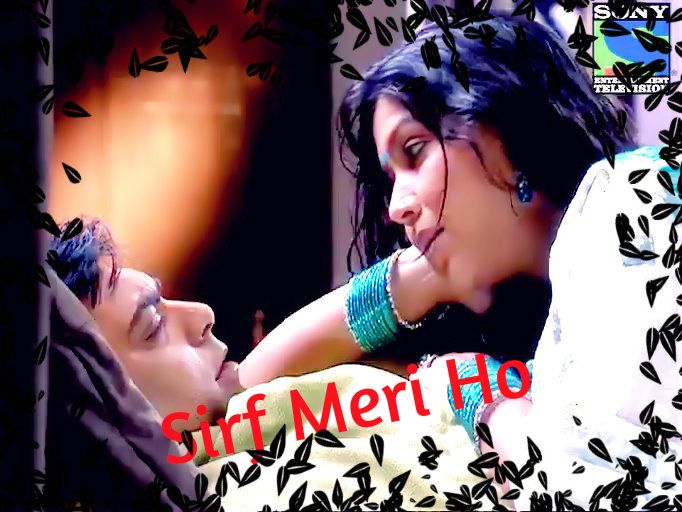 PART-16



priya.calls from washroom..

ramm...lil loud ..rammm...

he looked towards KK and apeksha ..went to near the door ...what happen priya in hushed tone

ram yah to designer saree hai bahut weight hai and i cant wear in washroom plzz help me out ...

priya try it na ...ohh ram i tried and im tripsing while doing plzzz...

ape and kk heard this ...ape giggles ...both goes to front room ...
ram ye kya hai priya ...ma our apeksha hai andar ...

rammm plzzz

ram turns found no one...
tell priya to come ...

priya came with wet hair oneside ,holding the saree in one hand,other hand is on her back trying something...

full sweating on her face ...she rushed to the room and sat on the bed helplessly...

priya r u ok ...what happen wiping of her sweating with a towel...

ram its too heavvy ..im getting giddiness ...i cant handle this ...looks at him ...
he is wearing a cream colur kurta ,some silver designing on his neck ...looking damn handsome in this...
by pulling his cheeks...ram u r looking soo cute ...
ouchhh priya... blushing
they are waiting for us ...come i will help you ...taking the saree from her hands...
ram first tie the threads of my blouse ...cant u see im suffering to catch hold of that...

arebaba ...how can i see .its your back na ...

goes her behind trying to tie the threads but failing ...
ram how much time you will take to knot it ha ??

priya chup kar im trying ...he just wipes the sweat from her back ...her body trembles and she closed her eyes...
in a low voice rammm tie the knot dont do anything ...
achha he gave a kiss on her back ...crossed his fingers on her back ...
priya turns and hugs him ...
hugs her tightly ...ties the knot ...and help out with her saree ...its green and maroon combination gold thread work ...
with all the jewellery she is looking like a new bride to him...at the same time he is looking like a new bridegroom to her...
both are lost in their love ...he about to kiss her ..apee comes ma they are ready...
ram whispers to priya someone will ready to disturb us ...today i wont leave you...

kk came and ask them to leave ...
they went to a temple ...there is some marrige ceremony is goin on ...
kk told to ram and priya go and sit in mandap ...
both looked with a shock???

what ...

u heard correct only go and sit ...

both sat in their respective places ...looking at eachother with love ..
doing as the pandit says...
she gave the mangalsutra to tie it ...priya looked at her with shock...

he tied it now full of satisfaction ,love ,belief ...he accepted her just herself with all positives and negitives...

priya too accepted him with his positives and negitives ...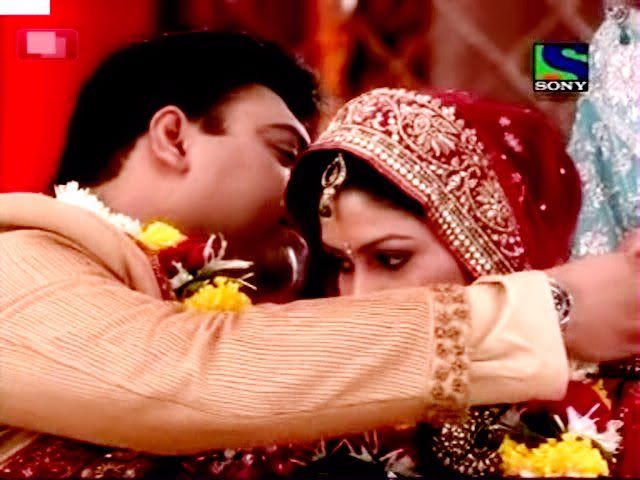 both felt this is the real marrige of them and they are like newly wedded couple ...

the whole cermony was awesome all are delighted to see the pair ...

both take the blessings from KK...she told to them
rampriya i want a grandchild with in a year ...ram seeing here and there while priya turning to crimson red...
tomorrow you people are going to india so i arranged it in hurry...
i love to see your marriage but ...
ma now you have seen ...ro math
...
really ma each and every moment of this marrige will b lifelong memories for us ...
thanks for this special day ...
ape came and congratulate them ...

bhai bhabhi ek chota se gift hai ...she handed a gift pack ...
ram opened the gift pack ...
its a pair watch .rampriya photo within the dial ...plz wear it always [atleast possible times]
this is very nice apee ...sure we will ...there only he will keep for priyas hand ...she keep for him ...
kk is talking with priya...ape talking to ram ...
ram gazing at priya without blinking...

mmm she clears her throat ...bhai im here ...control yourself ...

you two are looking damn good bhai ...
only marrige or suhaag raat also you arranged ...

bhaiii ...

kk&priya turns ..asked what hapen???

he closed her mouth with his hands ...
nothin just teasing her...

ape giggles ...