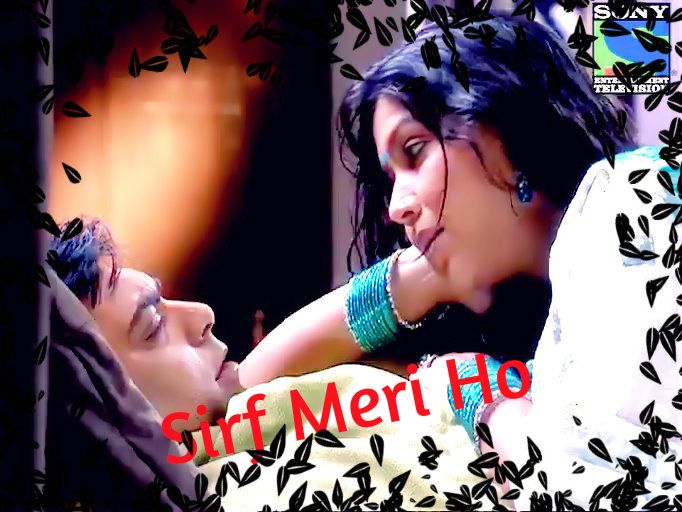 PART-34

Precap:

Ram came from the washroom astonished to see Priya fallen asleep ..
The slow wind twirling her hair one end to other ,her lips curved into a satisfactory smile ,clutchd the frame near her heart.
she looked elegant in the dim light ...
He knows she tired but he didnt know she was this much sleepy ..
He adjusted her in proper way ,removed his photo from her clasp,slowly untangled her jewelerychanged her dress without disturbing her sleep ...
He too slipped along with her ..dozed off to sugary sleep ...


The alarm buzzed sound made her to stir in her sleep ...She snuggled more closer to her hubbys warmthness.
Are off karo na ..let me sleep some more time ..She hide her ear in his chest snugling very closer to him,and the other hand she kept it on other ear to not to diturb by the alarm sound...
He opend his eyes to see his sulking wife ...She is looking so pretty ..He resume the sound ..
Take her hand from the ear ...Her sulking face became normal mood..He caress her forehair wiith his fingers telling good morning jaan ..
Good morning Ram..He tugged her closer ...Kissed her forehead utho na jaan ...
Plzz Rammm sone dijeye na ...
Our kithna ...6 baj gaye ...
oHHoo Ram 6 toh hai na mera classes starts at 10 and aapka meeting afternoon hai na ???
why hurry let me sleep plzzz ..Her husky sleepy voice making him go weaker ...
Yaar kithna sona lag raha hai ???God plz help me ..
he nibbled her earlobe telling i love you ...
"plz""" rubbing her ear ...
Nuzzled her neck ...
"Plzz Ram" turned to otherside pulling the quilt with her ...
He hugged from her waist hide his face in her back nuzzling there ..she felt goosebumps ...
She said "plzzz" Ram sonedijiye na ...
He trickled her by his hands ..those were running around her stomach to her chest ...
Rammm" turned to his side to see the most wonderful gift f her life ..her Man looking at her with his cute smile ...
She tugged her hair with her hand ..Hmm kya chahiye aap ko ha
Brushed her lips with him ...Good morning honey ..hugged him tightly ...
Ab kush hai ..let me sleep now..Her grip loosening because of her sleep ..
He laughed at her cute antics ..Gave her good morning HUGand slipped from the comforter went to freshen up ..
The clock strikes 8 am... She streched her body inside the velvet quilt ..She felt good as she slept very long time after many days ..
She cheked the time and shocked ..Literally jumped from the bed ..
Ram who was watching all this from his working table..Laughed loudly ...
Why you are laughing Mr.Kapoor ,ek toh dher hogaya our aap uthna chahiye na ...
Haww Priya i called you but you were tooo sleepy ...you said dont disturb me...
Priya:Rammm you could have tell me time ...running to washroom to freshen up ...
She freshly bathed and did her pooja came back and drying her hair ..Still was angry on Ram for morning
Kya baby walking towards her ,hugged from her back ..she was seeing his image in mirror ..
kya ..kyun aaya...kya chahiye ...
Awww mera biwi hai,muzhe jub man kartha thab aathe hai,whats your problem...Ok i want a big bear tight wali hugg...
No wayyy ...becaues of you ithne dher hogaya ..and you were not getting what you have asked for ...sorry... she is looking for her earring ...
came near to bed searching there ..He was trying to manaofy her ..telling sorry wil call you perfectly this time..Plz ek huggie do na...
Mai office ko late hojayegi Priya ...plzzz pretty plzz darling
she bit her lowerlip wondering her lips curving into naughty smile but she is controling it ...Telling aapki marzi
Plzz priya..He stopped her and hugged but she didnt reacted at all ..
She didnt held in her arms stood like statue ...He loosen his grip around her ...Are yaar kab bhi dekho kithna "murmuring himself
kya kaha aap ne kuch nahi ...Huggie degi or nayi...
NO"""""' at the point rishab enterd [ hehe enterd before 2 mins and enjoying their bhai bhabhi convo ]
Bhabhi ..bhaiii ..
both maintaned the distance hearing Rishab's call ..
Kya hai rishab andar aao na ...Priya called him ...
Bhabhi wo ..Dadi is calling you ...
Ok Rishab i will go and meet her ..she went to get ready ...
Kya bhaiii ...Aap ithna bada business man ho ,aap ko nahi aate kaise ek huggie lena from your wife ..Too bad
To chupkar ...How come you know it ..Means thu chupchup meri batho sun rahi hai kya??
hooo sorry bhai when im entering into the room,You both are almost yelling at each other so i heard it ...
Hmmm you dont know rishab,when you will get married na that time you will know how it difficult it is ..
And like Priya ki jaise hitler se kabhi nahi expect karogi ..
Priya bhabhi to easy hai bhaiii ...
Ohhh so prove it my dear rishab ...
Ok bhai if bhabhi hugs me ...
you should give me 1lakh rupees ..Ye bet hai ..ok... Ram agreed for this
Ok but it just for 5 mins only rishab i wont give more than that ok ...
Ok bhai i need only 2 mins to complete this task ...and if priya bhabhi will hugs you back i will handover the 1 lakh to you ..but im giving you time upto you leave for the office ..ok bhai winked at h

im

but we should not disclose this to bhabhi until it gets over ok..
done..
Howww ?? Ram is wondering what Rishab is upto ...
Priya came out from the room...Checking her final touch up ...
Bhabhi ek minute ..plz wait na ..mai abhi aayu..
Ok she confused and lifted her eyebrows to Ram..
He shurgged his shoulders ...As "I dont know "
Rishab came with a gift wrapped pack ..Handing to Priya ..Bhabhi this is for you ...
She opened it ..Rishab signaled RAm to look at the clock ...30 secs passed 1 min passed ...
The actual gift revealed ..Ram sighed "oh ithni see"" winning smile appered on his lips ...
Priya delighted ..Rishab ye ..ye Omg you made my day Rishab ..She hugged him and said thank you .Rishab hugged her back gave a Thumbs up sign to him ..
She popped one in her mouth left from there ..
Hmm raising his collar rishab walked to Ram ..Ram signed on the check giving it to rishab ...
Oh 200 bucks ..god 200 rupees ka chocolate dabba ke liye mai ek lakh cheq dena padega ...
By the way Rishab how do you know Priya loves chacolates .
Bhaiii not chocolates ..she very much fond of Dark swiss chacolates ...twice she told me to bring it ..so i know like that ...
Waving the cheq at him, sirf eki ganta bacha hai ... he went downstairs...
Ram sulked and Ohooo how come i didnt even know about her favourite ...
not that ..how come she hugged him when she was not hugging me ...
Found the chocolate box in the bed ..Looking at that checked the price ..
189 rs ...hmm and i lost 1 lakh ..iski vaja se ...Plopping box in the bed ...
He laid down on his back beside the box...So My wife loves Dark chocolates ..Kithna cute taste hai ..
Apple, Kichdi,Kulfi ,Now dark chocolates hmmm He remebred she instantly prpped the chocolate in her mouth ..
He remebered those lusious lips munching the chocolate ..He instatly took one chaco from the box ..Propped in his mouth ..Enjoying with closed eyes ..
His eyes opened suddenly .. with the naughty thought he picked 3,4 chacos kept it in his pocket moved down stairs ..
Priya served the breakfast to everyone waiting for Ram.. When she saw he is coming , she went to warm up the paranthas ...
He asked where is Priya "sternly "
Kya baath hai golu "dadi asked worriedly "
Niharika is enjoying ..thinking he is fuming on Priya ...
How come she did without noticing me ...I know she is my wife but she cant do this without my permission ...
He glared at dadi asking where she is ...she showed her index finger to kitchen ...[praying god ..priya puttar ko bacha lo ]
By seeing this niharika & mamaji was very happy and both left for somewhere ..Feeling some thing ...
Ohhh he felt so happy his plan worked out ,they left while going they helped dadi to reach her room ...
There wont be any servants when the family breakfast , launch, dinner [its order from ram ofcourse priya ke taraf se]
She reached the entrance of the kitchen door ,stpped her tracks hearing her raging bull voice ..
[talking herself]Hmm Priya something happend ,what you did stupidly over there ..Thinking what she might have done in their room ..
Before her thoughts were ran to past ..He was infront of her ..His eyes are flaming almost threatening her ..
She choked seeing his expression towards her ...he closed the door
He is walking towards her ..Her feet taking back steps ..She tightly clutches the cloth which she was using before ..
What you did Priya ????
Wha..what i did Mr.Kapoor ..I ..I
You dont know what you did ..he is yelling his lungs out ???
She feared to her death ..Some thing big happend ..but what i did ?? Priya theek so socha kya kiya tum ne ..ye aisa chilla raha he ..
But her thoughts were resumed when her back hit the wall , his body lanched infront of her ..She didnt dare to struggle , as she know its impossible ..
he tied her hand with the towel which she was clutching ...She gazed at him with fear ..
His mouth neared her ear ...her gasping incresed ..Her chest moving up and down with heavy breath ..He is enjyoing all the while ..
He thrushed the opend chacolates in her tied hand ..hold these ,she couldnt able to see what was those and she was least concentrated on that ...
Aaap ...he closed her mouth with his finger ...Do you have any idea what you did ...
She closed her eyes ,parted her trembling lips to tell some explanation ...
He propped one chaco in his mouth he offered her ..She opened her eyes when her fav chacolate touched her taste buds ..
He pushed the chacolate in her mouth tasting with his tongue ...she biwildered a min ...She dont know how to react at the whole incident ..
his hands possecively squeezing her curves ...She heaved her chest up with burning desire ...His tongue is making havoc ...
One of her hand tied and another one is stamping to wall to protect her strength to stood up ...
His mouth lingered around her lips ..he left for a oxygen break ,he went to her tied hand took one chacolate from that..
soon his lips traveld for his favourite break fast meal..to munch her lips with his and sharing her fav dark chacolate in the early morning hours ..
She undrstud his intentions and protesting him from furthur ...when his hands reached to down her thighs ... He lifted her saree up the knees ..
she protested with her one hand...but he is crushing her under the wall and him, He slipped his hands in her saree,placed it in betwen her legs ,she sighed and growls under his lips , He squeezed it,she closed her legs nearly signaling him not to do ..
She opend her eyes pulling his hair ..At a time its paining him ..He wided her legs with his hand ,enterd his index finger into her ...
She gasped ..now she undrstud him totally ..how he managed to prtended to be angry infront of the family ..he leaned and took the last chacolate ..she pleaded him let me go Ram..
Plzz ...He looked at her ...closed her lips with his ofcourse with the chacolate ...He slid his finger rhythmically in and out of her.
Priya tilted her head against the wall,he is not leaving her lips..He left her lips watched her ..She bit her lower lip and her
heartbeat increased as her body subtly shivered at his ministrations. Her total body coluring up ,she is unable to catch up with his eyes ..
Those are pearcing Her blushing making him go crazy ..he knows she is on her peak ..He fastend up his finger rhythm ..she reachd her orgasm..
seeing her moans his manhood teased him more ,He pulled out his pants ..lifted her saree full ,placed her legs on his waist made way into her ...
She was totally speechless with the act ..Her pupils were dilating with each thrush ..she is dragging her tied hand to control her ,and other hand making support of wall , She surrendered to him ...slowly they made each other .. They reachd the climax together ...
She loosend her legs from his waist ..He supported her to stand up ,Her saree came back to normal when he was out of her ...he pulled up his pants quickly
He removed the knots of the towel which circled Priya's hand ..Her body slowly came down against the wall ,she laid down on the floor to get rid of her heavvy panting with the wild move her husband ...
She looked at her ...she was in her saree perfectly just lil disturbd here and there ,If anybody has seen also there wont be any sign of their love making ..He didn't undress her today ...She thought what was just happen ...
In a low voice she asked him what have i done!!
He muffled in her you did the mistake by

having

chacolate aloneee...
Note: Hi guys im extremly sorry for late update ...As i promice here is the long update ...Hope you liked this .
By the way will Priya will give hug to Ram before the deadline ...chop your thoughts my pyarri readers ...Thank you so much ...