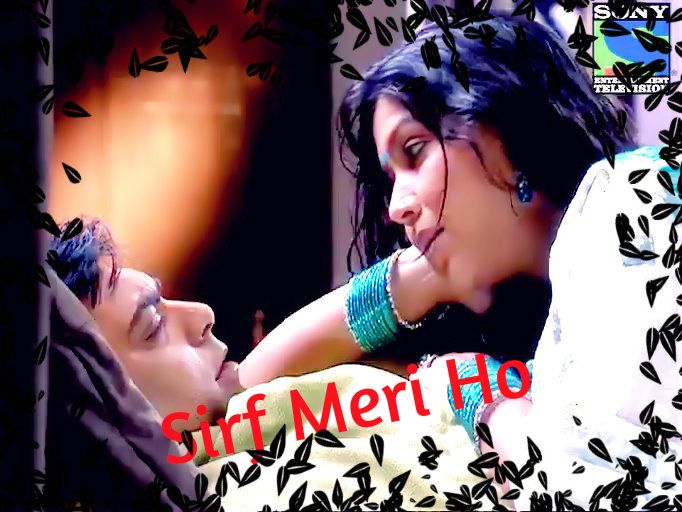 Note from Writer :
Hiii girls sorry for late update ..I just want to add your share also in this i just added some of your names in this fiction story ,So if anybody dont like their character just PM me directly i will delete it and i really want to add some of your names in the coming parts are you willing for it ... plz leave your comment with yes or no sooo i can go forward including your names ...
So claps for 5 members i added and NEel dont want to post this because i added her name too ...so plz bare with it and cooperate with me ...

Remember you will pay for this ... i bet you ...caressing his face with her lanky fingers ..
Planting a kiss on his lips ..God i love you so mmuch Rammm... taking his invilibityness from his lips savouring the movement ...
Secs passed into mins ,Both were suffocating still unable to leave the lip moment,After sometime both broke the kiss for need of their dear lifes ..
She rested her head on his chest ,Lost herself in his heartbeat rhythm ..
Priya ..." ... "
Priya ...His voice soothening her nerves ,She loved to hear her name from his lips especially at these moments ..She loved it ...she murmurd
"Mmm"
Baby Im getting late for my office ...
Hmmm I love you ..
I too love you baby ... I will call you after the meeting ...
Kissing her forhead ,i will try to come soon ...
She filled her eyes with his retreating figure ,He turned and waved at her ,She tooo waved back him ...
She went to balcony saw her love walking to the car ...and the car flashes of from there ...
She got ready finally she looked once again in the mirror checked wether all her lovebites covered or not ,Imagined how Ram will hug her while she was infront of the mirror ..
Nowhere slight blush appered on her face ...Talking to herself "Kya hai Priya your world revlving on him only , YOu have classes and so much work ...Ufff releasing a big sigh ..Ohh Ram im missing you man ...soon she left to her classes ...

She reached the college and realized that day is college fest ..so they dont have classes have to enjoy with the students ...
Hi Priya a loud voice chipred behind her ...
Priya astonished "Neel How are you !!!What a surprise when you back from your ... "
Im glad to see you ...
Neel stopped Priya ...Aww my lady stop stop ...i will answer your questions one by one ..
But tell me someone is blushing all the while ...What's the news ...
Kya Neel ...Tum bhi na ...She blushed more ...
Aye hye Priya you are blushing "Babes whats the matter " winking at her ...
Neel this is too much ,You are back from your honey moon you have to tell the news...Special news winking at her ...
Neel blushed a little Yaar Priya nothing special he is off to Office ,So im back to work ...
[Hey im mentioning some of the reders names in this update ,dont mined if you have any prob just PM me i will delete it }
Soon Molly,shaz joined with them ..
"Ahem ahem ...some lovely talks going between the married ladies "
Priya * Neel turned to them..wishing Good morning all sat in their seats ..
[Plz dont ask what they are teaching , I dont have any clue LOL]
Shaz and Molly winked at eachother ,Asked in uniosn ...
Welcome back to work ...
Priya,Neel eyebrows notted with confusion ,They know something they are going to ask fishy ...Both looked at each other
Shaz&Molly asked guys so tell us about your honey moon ...
Priya glaringly "I know this is coming from you "Why you are so intrested in about our honeymoon ...
Soon you people are going to marry ,so own experience is great than hearing from others...Priya & Neel hi5 ed each other ..
MOlly: Ohhh we can hire some romatic tips from you na ,Shaz:It will help in our experience LOL... shaz &Molly hi5 ed eachother ..
Neel:No need of tips ... You people are brand fire so bechare your hubbys have to take some tips ...LOL
All luaghed at their chit buts...
Shaz: Why you are here ...You should take rest na...
Priya :shaz geeting bored sitting in the room so just want to freshen up myself ..nothing else ..
Molly:winked at shaz ..Ohhh getting bored kya??? so where is your romantic hubby ..
Poor felow must be wandering in Kapoor mansion where is she " where is she ...
Nowhere her cheeks turned to pinkinsh colour ,Molly he is at office so you dont worry ...
Haye hayeee you are blushing matlab you are reminding him or his naughty ...
Priya closed Mollys lips by placing her fingers "stop it ok "
Shaz started :Kya hai Priya ji ::Tell na the Great business man Ram kapoor ..How rmantic he ...
Priya pinched her to shut her mouth ...Shaz shouted ohhh okkk i understud he is tooo romantic ...
You can tell na why you are pinching me hardly ...Neel & Molly laughing at her uncotrolble blushing and teasing ..
...Priya now about to catch her ...
Tashuu enterd ..."Excuse me mam "
Priya :Hii tashu come in ...everybody staraightens themselves ..All were hardly controling themselves..
Tashu :Good morning mam ,
priya: Good morning tashu ...
Mam Here is the list of the items which were going to play by our college students ...
Tashu why Mani's performance posted last ...
Tashu ; Mam she didnt get her outfit yet ..so we trying our level best to get it by the time so we post poned her performance last ...
Neel&shaz: why ..what happen to the designer ,He told that he will handover it in time ...
They all muted by the loud voice of Molly ..
Molly :Hello can i speak to Mr.Dhruv the fashion designer ...
Yah sure mam ,the other voice held up for a sec ,after a min a husky handsome male voice came thrw the phone ..
Hello, im dhruv speaking how can i help you ..
We are calling from [Sirf meri ho college LOL lol ] sorry kidding ...
we are callling from XYZ college ,can you please tell me why you delayed our order ...
Mam sorry for the late we are arranging it ..
what you are stilll arranging it """ What you are thinking your self ...arranging matlab how on earth the participent will performance without the outfit ..
Mam i will try to send it soon ...
What the hell ...
Priya stopped her .Molly dheere se ...what he will think ...
Molly: I dont want to hear any excuses ,just listen. it should be hear with in an hour ..You got it and better you dont forgt you are talking with Mrs.Ram kapoor ...

Priya ,Neel,shaz even tashu dazed at with her last sentence ...
DHURV :oK mAM SORRY I WILL BE THERE WITH IN AN HOUR ...
tHAN MOLLY disconnected the call and splits in to pieces of luaghter including with every one ...
Priya ran behind her to give left & right ..But molly was too fast to reach another room..
Tashu called her "Mam:
But she ran after Molly...