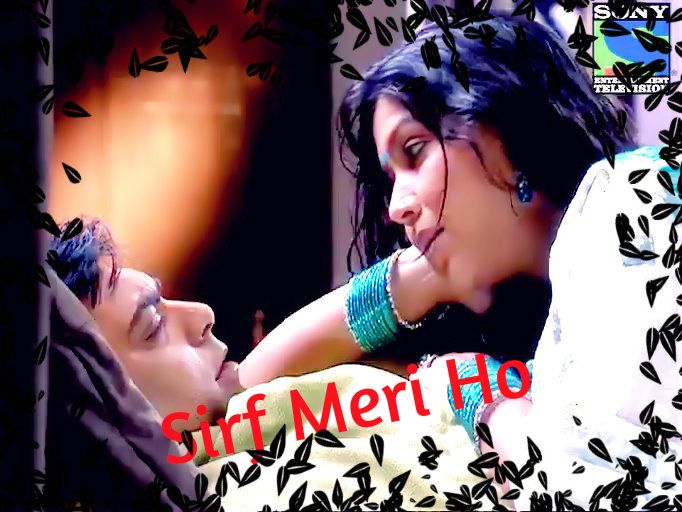 PART-17

he folds his hands ..plzz
apee dont tell them ...
priya is observing all this [her eyebrows knotted in confusion]
...kept quiet infront of KK...
all has launch together ..returned to hotel ...
as soon as they reachd priya took some clothes and going to change ...as always she tripped her leg in a hurry ...she thought she almost collapsed .. but landed safely in ram strong arms ...

she opend her eyes slowly ...ram landed her gently on her foot...

KK asked priya why hurry beta ..aaram se kar lo...

oo ma ye saree ...
ma meri patni ko aadat nahi hai ...designer our heavy sarees ko...

she potted him with her elbow on his stomach...

nothing its just too heavy ma...5mins i wil change and come ...
she changed into a light pink saree looking awww ...as soon as she enterd she felt two eyes following her observing each and every moment of her...

chitchatting with eachother ...
kk asked priya packing over or abhi bhi bhaki hai?..

no maa,i didnt even started...

i will help you beta come we will pack ..they started packing all together ...
ram came towards priya ...hasped her waist ...she trembled a bit widened her eyes ..asked him what are you doing here?do you need anything ?in angry tone pleading from her eyes dont do silly things infront of them...
he gave a sheepish smile to her sat besides her telling that you will miss something so i will help you out ...
while she is bending ,turns here and there for things ..purposefully he is touching her in different ways ...
how much she controled herself still ...
a bright radiant glow appearing on her cheeks ...her cheeks telling everything between them ... KK & APE giggles secretly ...

everything packed and priya found they have missed somany to buy ...
ooofff ramm we have to buy somany gifts and started writing in a paper ...
priyaaa what is this again with a irritated look ...


ma ,ape u people take rest .. we will do the shopping and come as soon as possible ..ok and leaves from there...

when the lift opens ..one couple occupied and kissing ...aftr seeing Raya also they continued that...
these two felt akward and stood otherside ..stealing glances from eachother...[these duffers also can start na]...

SHOPPING:

ape called and told him they are having dinner in hotel ..so you plz make your self comfortable...
she is purchasing something ...
he is gazing at her ...she is looking wonderful to him ...he can see only her just her...he just wants to be with her ...

priya is telling something to ram didnt see the esculator is going to end ...
ram saw it ,pulled her to him gave a light kiss on her lips ...left her with a shock ...

what happend ...priya is in a shocked state for a while ..
she reminded once more and blushing profusely...ram aap kya?? moving with him
he doesnt leave her hand throw out the shopping ...

she is seeing a blazer for ram ... ask him to leave her hand ...he nodded his head ..as .nooo

plz i want to check this ram ..
check with other hand priya ...
she looks at him angryly ... bcoz she is having somany bags in the other hand ...
plz rammm leave my hand ...
NO...

she drapped all bags down and checked with the left hand ...enjoying her discomfort...
after sometime ...
again she wants to set her pallu ...
ram plz leave my hand ...
he doestn say anything ...
ram plzzz i want to set myself plzzz...
what you want to do asked her ... i want to ...stopped in middile ...she saw his eyes are staring at her ...
nothing ...
and they finsihd their shoping by 8'o clk ,had dinner one of the indian restaurnt...
while returning ram askd her..priyaaa i want something from you ..will you give me that ...
priya!!!! ha ram ask na...
ok dont say NO...
k baba ask na wats that ram ??
hmm i want a kiss...she responded quickly planted a kiss on his cheeks ...
priyaaa not this type showing his lips .and not here that too in lift ...

priya?
?? noway ...
ram:plzzz priyaaa
priya: remembering the lift ...ram it was covered by glass its not a closed one ,how could you do that ram plzz???...
plzz priya i like the place and it will be romantic experience of this honeymoon...
what is this mr.kapoor...she bites her lip ..but it was too lateee ...ouch i shud call him ram ...
he kept a grumpy face and sat silently the entire way to hotel... ...

reached hotel ...waiting for the lift ...priya talked with a servant overthere handed him some notes ...
he doesnt look at her ...when the lift came he went in ...staring the other side ...
priya followed him...

talking to her self teddybear also will get angry kya?? ...smiling herself...
it showed 7th floor he want to getout but the doors didnt open ...its going upstairs ...nonstop ...
ram tensed ye ..ye kya hai yaar ??lift nt working


priya giggling ..and pulled ram cheeks
he looks at her... a passion in her eyes ...
she came towards ram but he is not seeing her ...she lifted herself up ..she is standing on her toes to reach him ...turns his face towards her ...
her lips just lil far away from his lips ...she gave a soft kiss on his lips and told sorry rammm without taking them away...
when he realized what hapend ..she deepens the kiss with all her entity and love ..leaned on him ...
he is gazing at her ..she closed her eyes with the feel of unity and warm...the lift went upto topfloor and coming down ...the view is amazing...while going down his life in his arms giving a passionate kiss to him ...his heart filled with joy ...
when the lift opened at 7th floor ...she broke the kiss and ran with the packets ...
ram followed her and opens the door ...he called her ..
priyaaa...
thank you ..thank you very much ...but im not angry im just kidding you .. ..kept all the packs aside...turned to him ..
patha hai !!! im your wife ram...i know you are not angry but i just want to see this happiness ..soo
ram attention is somewhere she looked back to the room...
it was arranged like a suhaag raat ...with aroma candles ,flower decorated bed
ye apeksha bhi na...murmured under his breath ...
priya: RAMMM you askd her or what
?
oh goddd she sat with aprehensive look ...