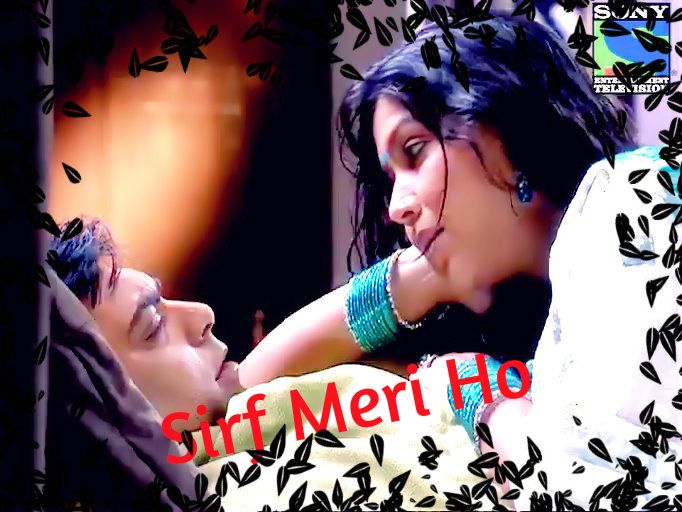 part 3

he ran to her &liftd her up ...cald daljeet to bring the car...
ram in full of tears ..he is cursing himself and callin priya get up .priya ..priya plz get up ..im here with u ..plz priya ...
immediately she attended by doctors ..
outside the room ram is wanderin worriedly ,
aftr some time ..doctor came &told to ram no major injuries for her... laceration on her head &lost some blood &minor injury to right hand as well as she is weak &need bed rest for 2 days ...within 2 r 3 hours she wil get her consious back ,u can take her home...no need to worry ...ram says thank u doctor thank u very much ...
he wil go to c priya &sits beside her ...catch hold of her hand tightly ..seeing her longingly ...waiting 4 her to get conscious &thinks im only the reason 4 this situation priya ...i cud hav tell u before oly everything ...when i want 2 say ..u didnt listen to me now im unable to tell u , i want u and i want all happiness with u i dont wat to live without u really really i love u &..i cant live without u ...y its hapening to our lives ...
daljeet wil c ram &tell bhayya nothin wil hapen to bhabhi ,..dont b tensed...
after sometime priya mumbles something & gets into her consious found her in the bed surrounded by ram,daljjet&kuljeet ...
ram asks her how r u feeling ...
priya sees him tells slight headche is ter &wants to get up frm ter ...he helped her to get up &sit... he asks her 2 drink some water ...priya tells not nw mr.kapoor later i wil drink ...
doctor will cum &check her ..&tell to ram they can go to their room but hav to come for checkup aftr 2 days &take care of her health ...
thy wil go to room,priya changes her dress with d help of kuljeet &sits on the bed &closed her eyes...drift of to sleep bcoz of the medicines...
when she got up she found herself in rams lap..she wants to move ..he catch hold of her &wil say dont move priya ..plz b with me..she looks into his eyes ..he to looks to her as his heart in his eyes ...& there is awkward silence between them ...
&priya s hair is falling on her face &disturbs his view ..she is trying to put her hairs back but unable to lift her hand ,ram saw this he gently puts the hair back tuked back the ear...
he calls her ...priya ... she says mmm
wants 2 tell something at the time phone rangs sees apeksha numbr & he puts priya back in bed & goes out with mobile &yells at apeksha hw many times i have to tell u dont call me plz ...& he kept the call &switchoff the phone & comes to room ...sees priya ...she lost in her thoughts ...
[my heart now is like a calm lake ..
but there are ripples only i can feel
i feel as though my very being is shaken
when my love ,you re not around
.
the world without you by myside ..
is like a gruelling pain in the heart
that will not never pause

im suffocated ,cannot breathe
there is all i have to show
there is no way i can believe
that i can live for a moment without you

how much i want you back so bad
that i would give my life..
to snuggle into your arms once
and tell you my sweetheart
how much I love u and
how much i want you in my life]
he went to her ...
&gave glass of juice ..tell her to drink ...[he helped her to drink as her hand was injured ]...
priya sees ram ...found love & affection on his eyes ...
later ram asks priya hw r u feeling now ...
mai thik hu mr.kapoor aap so jayiye na...
priya... he wil come close to her entwined his fingers with her, says sorry ...i cant c u r crying plz..

she felt his closeness ...priya doesnt want to hear anything she just hugs him tightly &tears in her eyes &tells to ram ...ram watever u think of me i dont care just.. just [crying] listen to me once... i know our marrige is compromised marrige sirf famillies purpose we married ...i dont knw when i started loving u ...[ram is very happy by hearing this&he too hugs her very tightly] wen i realized it ..its too late to express u &i dont knw hw to tel my feelings to u but now also if i wont confess my love to u
mayb in my life i maynt tell u my feelings &plzzz mr.kapoor dont leave me alone and and [sobbing ]i cant live without u mr.kapoor ... i love u more than myself .. I LOVE U ,i lov u somuch [crying her heartburst]..he keeps her lik that 4 sumtime when she realizes wat she told to him &wants to break the hug...ram tightens his hug and asks her do u believe me priya ...
she sees in to his eyes &nodds her head [as yes]...
priya ...i thought im happy being alone but when u entered to my life ...
i came to knw wats life means ,if u r beside me i feel very good&strengthens my self ..u made my life veryhappy being with me [priya is staring at him ]
and and wenever i wil tell it is compromisd marrige i felt myself lonely &sad...
i just wanna talk with u whole day &want to spend with u everysec...everytime wen im with u ..somethings drawing me to you
i want u in my life to be happy ...
i want u in my life as my friend...
i want u in my life as a welwisher ..&
i want u in my life as my wife /lifepartner
not comprmised priya TRUE WIFE ...& TRUE LOVE

priya u knw im a rich guy but LOVE :if u have it you dont need anything else and if you dont have it ,it doesnt matter much what else u have

& i found u priya wil u b with me forever...
&stand opposite to her &streched his arms 4 her to come ...i lovE u priya hold my hand b wit me forevr..I TOO CANT LIVE WITHOUT U PRIYA ..im madly,crazily in love with u
priya was happy ,shy,
delight &plesure she went &cuddled ram happily ...
he liftd her chin with his index finger she felt their closeness ..goes red in cheeks &ram is coming close very close ,priya closes her eyes...he kept his lips on her trembling soft lips &gaves a passionate kiss &priya holds ram 4 support &deepens the kiss ...