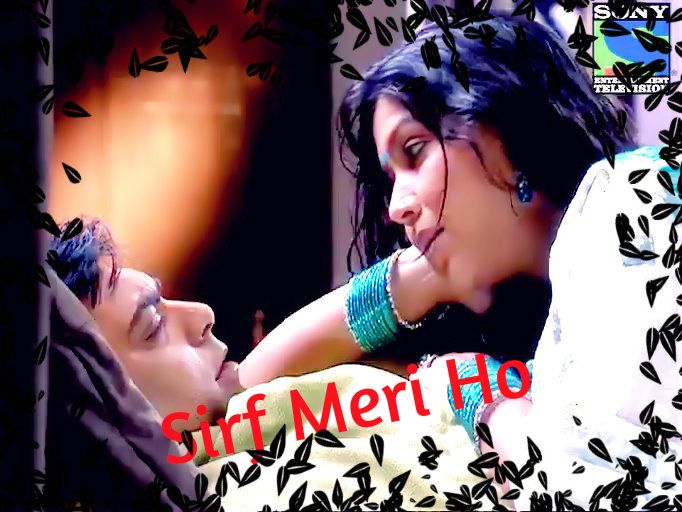 Hiii girls first of all sorry that in last update I want to mention only dadi but asusaual in the flow..I wrote Krishna ji too. Sorry for that.

In this story Ram came to know the truth of niharika.. and he wanted to bring Krishna ji from Australia. That's why Ram sent tikets to them.. the story will progress now on wards.

If you want furthur information please read part 4 & 5 ..
Hmmm sooo every one is waiting what will happen. .hmm hope you guys like this one too.
Every body staring at Ram and Priya.. Ram flunged in bed, looked at Priya. She is eaually astonished to see everyone and bewildered that why they are silently looking at them.

She rolled her lips to ram that she too don't have any idea.

Hmm Ram asked them what happened? Why you are looking at us. Dadi kyun app ghor ghor ke dekh rahi hai.

Haa..
Everybody looking at each other. Dadi came to wards him. Holding his ear ye Kya hai??

Showing the news paper in front of him.

He cannot see what was in the news. Priya too can't see because dadi was blocking her view.

Niharika was fuming with anger from the Time she saw the news paper. Moreover all these are doing stupid drama Here..

She is unable to see this slowly with drawn herself from the group and left from there.
Planning to divert Ram from Priya.

........
Ohhh so bhai you don't know what all happened..

Dadi it's paining.. leave me Ram pleaded.. Priya came in his rescue. Dadi chod do unko bathayi ye Kya hua.

Ohh bhabhi.... Natasha butted in. So you too don't know... dadi bhai KO chodiye...

We will tell...
1.2 .3
Natasha read aloud ….
" The Great business man Mr.Ram Kapoor surprised His wife " [The times of india]
Ram and priya Both are surprised in true sence and looked at each other in confusion.
Neha came in "Mr.Ram kapoor shovered his love on Mrs.Kapoor on her college fest " The hindu "
Now Raya were totally understud that yesterdays college fest came in the news …
Oh My God ..Oh My God priya breathed inside her heart ,her limbs almost trembling ..Looking down
Vikaram rushed ,taking the other paper "Mayya yashoda song played by the Great business mans wife to woo her husband "
Rishab came in between ..The romantic couple of the year goes to Mr.Ram Kapoor and his love of life "
Ohhhh what a night , what a night ., the two stars of the kapoors kingdom were danced on the stage,in full of masti ,Ohhhh by the way whom iam talking about ….
It's non othar than Our great King Ram kapoor and Priya kapoor ….
Rishab dragged them to central …
Oh God …Priya blushed and some where she was trembling with sudden fear that typical female tension.
Every body is teasing them to the core making circles around the two ..Ram felt that Priya shivers ..
He shouted heyyyyyyy guys stoppp .. stop…
Everybody paused and looked at him ...He side Embraced Priya …She not even looking at him too..
With his innocent face "Sooo what you want now"
"Is that bad ,I thought of Giving surprise to my wife so I did ..shouldn't I"
Why you people are doing halla balla here …Priya struggled to get out from his grip but his grip was more togehter …
Neha chipped in" Oye hoyeee…you are pouring so much love towards your wife "
Ram a bit angrily said ,Im not pouring or drinking ,Yaar vikram tu aani bivi ko sambhal..
Mai sirf Meri wife se pyarr kartha hu …
Natasha butted in ..I didn't get you bhai..
Ram:Common Man .I love her … she is my wife …why you are teasing us ..
Karthik asked : what did you said jijuuu..
Ram : I LOVE HER …I LOVE HER ..okk …..isme bure baath kya hai ..he looked at Priiya and seen she was hitting her hand to her head ….And her cheeks were turning to crimson red that resembling her dress colour ..
Ram who understud he told I love you infront of every one ..He bites his tongue sheepishly looked down.
I love her …Common guys neha asked them to corus…I love her all together they roared.Priya constantly blushing ..Ram took her in his embrace more deeply.
Oye Puttar …"Dadi called them "
Both walked towards her .. Both are looking down ..
Ram very slowly and Priya voice is very feeble ….both at a time said sorry ..
Every one laughed ….
Natasha played"Mayya yashoda ye tera kannayya "song again ..
Neha pushed Priya to central….She was unable to gaze at anyone …she was blushing like hell.
Neha "Fatty if you could have said to us ..we could have come yesterday and we also enjoyed "
So its punishment for both ..Just dance and let us enjoy ..otherwise I will play all the songs natasha raised her voice ,,
So there is no other chance .priya had to dance … soo she wore her dupatta from head ..
And keeping her hands on her waist ,complainting about Ram to his dadi ..
Mayya yashoda .. ye tera kannayya …
m
aiyya yashoda yeh tera kanhaiya
Priya showed Ram ..and kept her hands on her waist ...
panghat pe meri pakde hai baiyan
Ram came and holds her wrist ..she with drew and went away ..
tang mujhe karta hai sang mere ladta ooohh
He pluck her braid ,pulled her pallu...Priya acted as she was beating him on his chest ..
r
aamji ki kripa se main bachi
saved by but the grace of lord
she acted ...as she is praying God ..But Ram took mike from Madhu and said ..Mai tho RAM hu madam ...
raamji ki kripa se by the grace of lord
gokul ki galiyon mein jamuna kinaarein..
And everyone joined with them and danced ..After the song finished everyone is tired and relaxed on their respective places ..
Rishab spoke out …Haa we missed so much fun bhai ..Bahuth maza aata hai ..
See this picture is lovely … when Priya is twirling around Ram that time had taken this photo.
One is they lightly hugged ,in another one their eyelock,in another one he is walking behind her ,in another one he is posing as he is proposing to priya …
Wahwah neha nudged Priya towards Ram showing each of their photo..See total Page-3 is full of your romantic photos,,,,Oh my ..fatty ne ithna kuch kiya aapke liye .Neha winked at her..she blushed more…
Everyone came to see them as they didn't inform and wants to wish Raya for their great night ..They full had masti with Our great couple Raya..So all had gala time teasing Priya and Ram.As it is Sunday everyone enjoyed fullest retired to their rooms after lunch ..
Priya sat on the bed resting her head on headrest .. She switched on the Tv …every channel is hsowing their dance and masti with the students..
How come they both forgot about media .. this is the second time they caught like this .. First time in their honeymoon ..second tho this ..
She offed the tv and flipped the news paper and gazing at Rams picture very longingly ..
Ram , who came back from the study puzzled to see his wife gazing at something..
Slowly he walked to her and found she actually was staring at his pic ,he felt butterflies on his stomach ..Awww my babyy ..he whispered in his heart ..
He make "booow " sound on her ears …Priya jumped in fear and shouted at the top of voice but before that Ram closed her mouth …Shhh its me …baby relax..
She gazed at him…Ram slipped his hand from her mouth ..
Really ..Ram questioned her [Looking at her lucious pinkish soft lips]
Yes ..You really scared me .. God … You know how much I scare when….Her words stopped in between seein his desirable looks …
She shrinked on her pillow …Keeping her hand on his chest ..
Ram Not now …Please ..he is leaning on her … Plzz everbody in home only..
Its hard to gaze away from him .. His lips are almost touching Priyas,his warm breath making her crazy…and after teasing she badly needed his hug and comfort .. But if anyone knocks the door again it wont be good ..
Ram …Plzzzz her lips are trembling …
Priya he spelled her within her lips .. Her fingers slided in his hair …His lips smooched her lip inviting for undying kiss.His hands are dancing on her back ,her fingers crazily combing his hair , their lips intimating with echother ,,,,
When they felt they badly needed some air ..they both left .. Ram gave a light kiss on her lips again .. and again and again until she falls asleep in his arms ..
Ram very well know she needs to sleep off …They both are in sitting position but they are resting on head rest .. his hand on priya shoulder ,,priyas head on his left shoulder .. Both are sleeping away to the glory with a contented smiles on their face ….
In the evening time Natasha ,neha came to Raya room to call them for coffe.
They knocked the door but no response but the pressure of knocking door opened slightly ..
So both enterd to the room..and giving HifI to each other..clicked a pic of our Raya..
They are sleeping in eachother arms for echother .. They don't want to disturbed them so both went off..
So the day had gone all masti ….
The next day Priya went to college,,…Lol..
Neel is avoiding her maximum…At the lunch time both had to meet and eat together ..
Priya asked her …"why you avoiding me "
Neel: nooo yaar .. see how much portion I have to complete..no lesure period ..
Priya : Lier …Iam seeing from morning onwards..I should be angry with you …upar se you are turning your face and roaming all around .. Don't I know you have 3
rd
period is lesure ..and don't I know you involved Ram to made all the confrontatin over stage….
Neel:Smiling sheepishly ..Oh god that I don't know..Ram just told me to hide the chief guest part ..thats it ..
Priya:Ohhh ,,,holding Neels ear …so all the song wang planis yours hai na…
Neel:Ohhh priya its hurting .. yaar .. [Priya left her ear ]That part is reagrding your husband and college kids did ..im not involved by the way which girl will lose the opportunity to dance with The Ram Kapoor …
Priya said ..Really these kids very naughty ..
Both finished their lunch ….
One fine morning Apeksha entered into the Km with Krishna JI..
Every one was stunned to see them specially Niharika ..
Niharika angryily said …stop over there..just don't dare to step inside …
With that dadi voice also added .. stopp…..