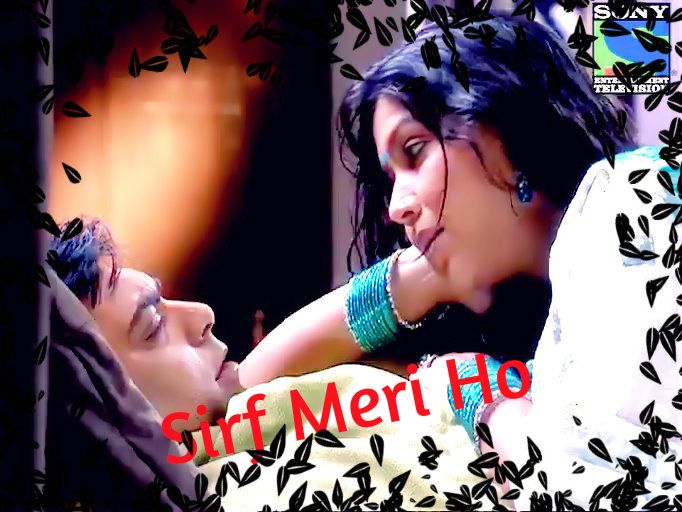 PART..33

Nutz : me too karthik , priya changed brother alot , i loved to see him happy , My two eyes were not enough to see them ,I'm so overhelmed with the news that im going to become aunt .
Kya ???? priya asked in wavy and every one also ..
shipra : Are priya beta , is that true , you even didnt tell me , how , when
Ram & priya: Both looked at each other confusingly ...and both gazed at Nutz..
Nutz bits her lower lip sorry sorry ...Aap aage bad gayi toh soon or later i will be going to aunt na , thats what i meant...
Everybody smiles at her logic...They had the breakfast ...
They are back in priya's room ..
Ram:Ye nitz bhi na ,Sorry Priya tum ko bura lage ga na!!
Priya:kya Ram aap kya bath kar rahe hai !isme bura bath kya hai ??Aap bhi na ,She is crossing him to take something..
He clasped her wrist pulled near to him...
Ouch that hurts ,she said to him falling on his chest ..
Really he laughed at her ...
chodiye muzhe ??
kyun chodunga??
kyun matlab chodiye ,i have lots of work plzz Ram making puppy face ..
Really [came near to her face]
Hmm [His intence gaze sending shivers]
His finger lankyly traced her forehead to nose to her lips ,Unknowingly she kissed his finger bits her lower lip ,his lips curved into a big grin seeing his wife restlessness.
Dont punish mine??? Her eyes wide open ...
Kya?? [ she mumbled lost in his touch]
Matlab ye hai ki [He circled her lips with his tongue she clasped his kurtha tightly ]those were mine , I ...only I have the right to punish them , sucking & biting her lower lip,while His finger trail down to neck reachd her nape ,she sucked her lip with pain ...
Hmmm dont do that jaan ,kissed her lips gentle at sweet manner ...
When his hand tried to reach her blouse dori ,she pushed him off telling bahut hogaya ,Its not Km or our room..
He scracthd his head ..may kya karu ithna seducive wife hai toh mera pass...[holding from her back resting his chin on her shoulder]
Hawww clasping his hands with hers ,kya Ram ap bhi na,her cheeks turned to crimson red..
Kissing her shoulder ,
You smell soo good ,licking her soft part on neck she plesurely moaned ...
He pushed slowly her to the bed ...
Ramm "Noo" she pleaded
What no priya !!! entertwining with her fingers ,crushing them with his desire ..
Plzzz not now ...[He nuzzles her neck ,her heartbeat raised ]
She is arching her neck to his comfort ...her pleading came into a soft moans..Plzz Rammm...
Kya plzzz Priya without leaving her neck slowly kissed her cleavage ,his hands loosend grip on her hands , raced thrw her shoulder line backed to attack her dhori..
I love you jaan ,Her fingers swiftly gone to his hairs ,her hands pulling him closer but her lips telling leave her..
You are sexy priya , ripping her blouse from her , Her cheeks coloured up , she crossed her arms on her chest ..
Plzz Ram not now will leave to KM right now ...
Who stops you kissing her hands ..I love you priya ,He cupped her face with in his hands ..kissed each inch of her ..
Plzz """" [will it work out Mrs.Priya ram kapoor ..]
She melted for his antics ,He once again made her his with all his love ..
they were not in a sence of "Whats happening around them "
Her face coloured up , they were soaking in sweating ["who cared for it "]
He was a raging lion , she is compensating his fills like a Lioness ...
The love war finishd between the love birds ...Soon she drifted off to sleep .. He admired her beauty ,He kissed her where he has given love bites ..
She caressed his hair in her sleep..
So jao na Ram ...
He kissed her curves once more nibbled her n****e ..
She moaned Rammm ... mins passed into hours ...
She stirred in her sleep ,She knows Ram is sleeping on her ... But she felt wetness on her rt side ...
Ramm uthiye na " His lips automatically sucked her Rt curve ... She smiled ..so you enjoying this Ram ...
Yes my jaan , he answrd in a husky sleepy voice ... Not leaving her ...
She pulled him closer to her lips , kissed him ... I love you ...let me sleep on you for some time ..
Hmm he wrapped her in his arms ,she settled on his chest , listening to his heartbeat ..
Ramm you slept so peacefully na.. Hmmm[ram replied]
Well so you are happy ...
He gazed at her confusingly ..
No your heartbeats are slow and steady so thought ki you are happy ..
Hmm if iam with you i will always be like this ,kissing her in hairs ...
The sealed the moment ..got ready before the family attacked on them again ...
When they reachd hall everyone watching some programme in Tv ..They too joined ..
priya went to make coffe for all.Ram sat beside sudheer &chatting with them..It was indeed a funfilled evening ..
Both left to Km..
On the way ,she dozed off seeing her chubby cute hubby ...
When the cold thing touched her lips , she opend her eyes abruptly..
Found Ram staring at her touching her lips with kulfi ..
She smiled at him "Kya hai "
Ohh my wife don't knw i love to share kulfis ..both laughed at unison[adjusting a lil space on her side sat with her in the car ]
He stopped the car at the juhu beach .. Both were closely sat and watched the waves and the persons around ..sharing the kulfi ..
Thank you so much for this .. she thanked him ..
Hmm you better learn a good way to say thanks to me ..
Ohh what was that Mr.Kapoor???
Pressed his lips with her [mumbled Thankyou without leaving her ]
this way ...
Ohh will try to learn it from now on ..Her cheeks turned in to tomato colour ..
Hayee hayee my wife is blushing ...now she totally flushed off
Priya you look so beautiful when you blush ..kissing on her cheek he stood up to reach driver seat ...
She missed his warmthness,pulled him plzz our thoda sa time baitiye na ..
He sat there ,she rested her head on his shoulder ..talked about manythings ...
After some time they reachd KM,...
Evil niharika waiting for them ...
Ram where are you ,im worried for you ...
He smirked ,I have some meeting later i went to Priyas house to pick her up ..
We ate alredy you no need to worry ,im fine and Priya will take care of me ..
You just take care of yourself and business ..slight grin appered on his face while telling this to her ..
They reachd the room ,Priya i will go and fresh up ha!!
Ok ...She called home and told they reachd safely to KM...
She sat on the bed taking Ram's photoframe from the set...She wiped of the dust from the photo with her pallu..
Hugged it dozed off to sleep...
Ram came from the washroom astonished to see Priya fallen asleep ..
The slow wind twirling her hair one end to other ,her lips curved into a satisfactory smile ,clutchd the frame near her heart.
she looked elegant in the dim light ...
He knows she tired but he didnt know she was this much sleepy ..
He adjusted her in proper way ,removed his photo from her clasp,slowly untangled her jewelerychanged her dress without disturbing her sleep ...
He too slipped along with her ..dozed off to sugary sleep ...



From the Writer:

I know i know im very late to update this FF ,kya karu my hands are full with work ..But i know somany are waiting for this FF ..
Hope i reached your expectation ..This time i will try to give long update ...
im extremly sorry ,plz leave your feed back ..Thank you soo much ..love you all ..