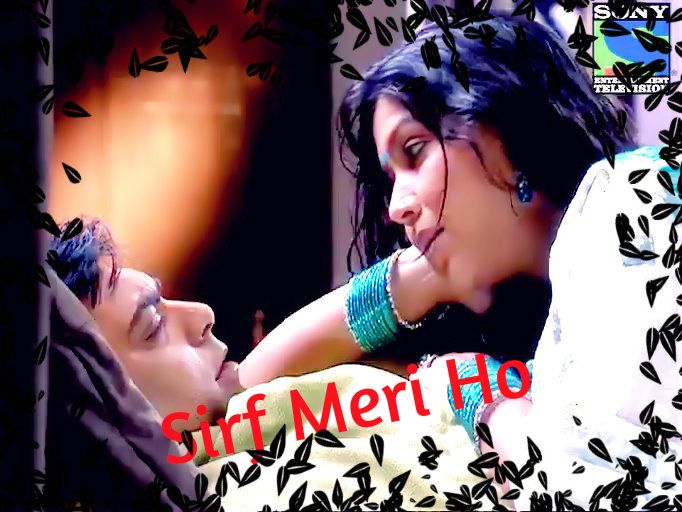 PART-11
nih: calling to ram ...to know the truth ..

but he is not attending the call ..

back to oz
ram:came out from washroom saw many missed calls from his ma
he neglected to call her back reminding the flashback tat she betrayed ram
...lost in thoughts
priya:snaps infront of him ...
ram:came to senses ...looks sad
priya:what happen mr.kapoor [worridly]
ram:...

priya:MR.KAPOOR...
ram: haaa nothing... got call from niharika ma... anger in his eyes
..
priya: look here ...you didnt do anything purposefully
..it happend ...
ram:but i ...he want to tell something ...
got some call regarding his business ...it is ended by their way to hotel ...
he feels some weight on his shoulder ...priya is sleeping and slightly falling on him in her sleep ...she looks so adorable and pretty
...
his lips curve in to smile while seeing her
...
they drove off to hotel...
ram: priya...
priya: mmm plz 5 mins mr.kapoor...
ram:smiling at her
...u want to sleep in this car ...ok than the driver will take off u with the car ...
priya: opened her eyes ...setup her saree ..grins at him ...
ram.:smiling and staring at her without blinking ..reminds last night..
.
priya: plz mr.kapoor dont look at me like that ...
ram:like what

priya :...

ram:like what ???tell priya ..
priya:as if u r seeing me naked
...
ram: hawww impossible ...u r reading my mind priya ...

priya:plz now lets goo...

ram&priya near the lift ...
when the door opened they found group of kids in lift and not letting to come ram and priya...
ram:hey kiddooos whats up with u ??
just allow us i wont eat u ??

all kids r gigling by his comment ...

baby:ok we will let u in ...
what u will give in return ..?

priya:: mr.kapoor ..we will wait for next turn ...thinking herself maybe he will get angry with these kiddoos..
ram: !!!! its ok priya ...sooo wat u want in return ...
kids: we want chacos and
icecreams ...

priya:still seeing with wonder how he is pampering them
?

ram:my litile dolls present i dont have anything ..if you will come to my room i will order you everything ..
.
baby: okkk we have so much work out there ...give us promice that you will give us in evening christmas party ...

ram:ok baba promice ...shall we...
kids:exited and happy.. invited them into lift...
3rd floor they bid gudbye and remind ram about promice and went off...
it reached 7th floor ...priya left the lift ..
ram about to leave ...some one catching his knee and trying to climb up ..
when he saw whats it ...
he found a litile girl cuddling to his leg with fear and about to cry...
ram: are who is this ..how she came here ...
he lifted her up ...
priya: are mr.kapoor i think those kids left her...want to take from his ...
ram:she started crying ...

he held her tightly to him asking her ..
hey cute litile angel ..what happen ..are you hungry ...want to go with your friends ...where is your parents...

priya: mr.kapoor i think she is just 2 or 3 yrs old ,she cant answer 2 all your questions...
ram:gave a stern look at her ..very funny ..
and pampering the child to stop her cry ..
he gave a warm wet kiss on her cheeks and swinging her in his hands ...she is so happy by this ...and moving her legs with joy...hitting him...

when he held her near to his face and asking your soo cuteee litile angel ..rubbing his nose with her ...she is patting his cheeks with her tiny hands ..
he is very happy with the kid ..
priya: seeing her husband lovingly and thought how a business tycoon is playing with this baby ?

thinking how is his angry when he find a wrong with his workers and in his own ??how he irritated..!!
she is staring at him ..he is talking with her in her own launguage making funny faces and speaking some silly launguage with her ...

he is very happy with the kid...she never thought he like kids this much ...

between those kids came with their parents searching for the litile angel ...
they have seen the baby secured in ram arms not crying and giggling in her own cherished way ...

mother: thanks a ton ...she catched the baby and kissing her passionately ...and thanked both of them ...
turnd to go ..ram felt very sad when she is taking from him ...

the baby spreads her arms to ram ...
ram: he took her and gave a kiss on her cheeks ...caressed her hair ..
got a call to ram ..he excuses himself ...
mother:im very thankful to u and u r husband ...
span of time i thought i lost her ...
he is very kind ...
how many kids u have?
priya: surprised by this question
...I...WE...we are not planned yet ...actully we came here for our honeymoon ...
mother: oh soryy...enjoy u r days ...i think u r husband is very fond of children...u r such a nice couple ..made for each other..thanks alot and she left ..
priya: lost in her thoughts walking her way back to the room ...
thinking herself made for each other ..
how i married him ...its a compromised marriage...how i fighted with him ...how i hated him ..i thought anyone can change my fate marrying mr.RAMKAPOOR...i desparatly wish this is not happen...

how many distractions came..almost we ended up our engagement but destiny made us to be together...
by mean time how i fallen for him and it ended up with truelove between ram &me ...
i want to give all happiness he needs in this world ...being his wife till now i didnt recognise he loves kids this much ...
how much happy he is with the litile angel [smiling herself]
he is damn cute while playing with her ... i love him morethan anyone in the world and i want his happiness ...i want to see his cherished face all the time...
he will look very cute as a teddybear and i loved to pinch his cheeks ...i love you ram...[ happy tear rolled down from her cheeks]
love is easy to talk ..to think or to wish for love ..but its hardly recognize when they were in love ...
we two are in love but not recognized untill one distracted moment in our lifes ... both are in same thought we will loose the other person ..at first we two thought our routes are different from each other and they are not made for each other ...
than burst out our feelings [a small smile formed on her face]i want to b happy and want made him happy ever ...what i need is i too want a litile angel ...
she is smiling herself ..her cheeks are turning to red ..she ended up with hitting a wall ...
ohhh priya what u did[thinking her self] ...
she almost crossed their room ...k again she ran back towards room ...but she founds locked door ..

searching ram ...met a elderly lady in the way...
priya asked her excuse me have u seen my husband ??

lady: dear ...many are passing this way ...i dont konw ...how is your husband looks?
priya: giggling herself
[priya you are thinking too much ] and tells sorry he will look like a teddybear ..
lady : she smiles at her ...
priya: realized what she just spoke to the lady ...

bites her tongue with embaresment ...ran from there towards room ...

[talking to her]priya priya what happend to you ...why you are blushing
:RedFace:while thinking about ram...cant you stop craving for him ...
what that lady felt when i compared RAM as teddybear ...infront of a unknown person...she hits her head with her hand ...
ram:finishes the call ...opened the door ...
priya:what mr.kapoor ..why you are late ..i was searching for you ..not in her usual tone ...
ram: he saw her blushing ...

so someone is searching for me..
priya : what you think ...i shud not search for u ..turning his side found next to her ...
she gazed at him ..looking damn handsome with a smile on his face ...
ram: caressing her hairs ...asked what you were thinking ...??
priya: ...drowning in his love... leans on his chest ... tears filled eyes ...
i love you ... :inlove:i ..i juzz cant live without you even a sec ...she clutched his armsleeve tightly ...

ram: wondering what happend to her in meanwhile
?
priya ..he called her and lifted her chin up ..and a gave warm kiss on his teary eyes ...
plzzz... i too love you more than myself ...dont cry in this happy moment ..and u know i cant handle teary hitler ...
both burst out laughing ...
priya: im not hitler ..

ram: nooo your my sweet pretty hitler ...

ram:accha hitler shall i ask some thing??
priya: haaa ...
ram:wiping her tears ...why you are blushing sweet heart..!!!i didnt even touch you???

priya:not able to meet his eyes ..im not [blushing profusly now]
ram: lier but u r cheeks are not lying ...

priya:: plzzz mr.kapoor ...
heard a knock on the door ...
ram: come in... thought of any servent ..
but apeksha came ...
they are still in lovely cuddling position ...

ape:sorry sorry bhai..
both embarased and broke the hug ...
priya lowered her gaze ...seeing here and there
ape:if you get ready we will go and meet ma...
priya:i will go first ...and she almost ran from there...
and both got ready went to ape room to meet his ma..

they entered in the room ...waiting for krishna kapoor..
he is supressing all his emotions under his breath ..
priya: senses ram feelings...she entwined with his arm ...mr.kapoor plzzz dont be nervous... she is your mother ...
ram:but im not behavd as a son with her priya ...im a idiot to belive this niharika..
priya:first time she heard from him her name with out calling by ma..
kk:entered...went to ram ...
ram:touched her feet with priya ...
kk:hugged ram ...i miss you beta ...she is crying ..as well as ram...
priya : steps back to see krishna kapoor ...
ape:stops priya what happen bhabi ...
priya: nothing ...i met her before ...
[thought herself priyaaa what you did ..scratching her head ... u told her...your son looks like teddy bear ...oh god]