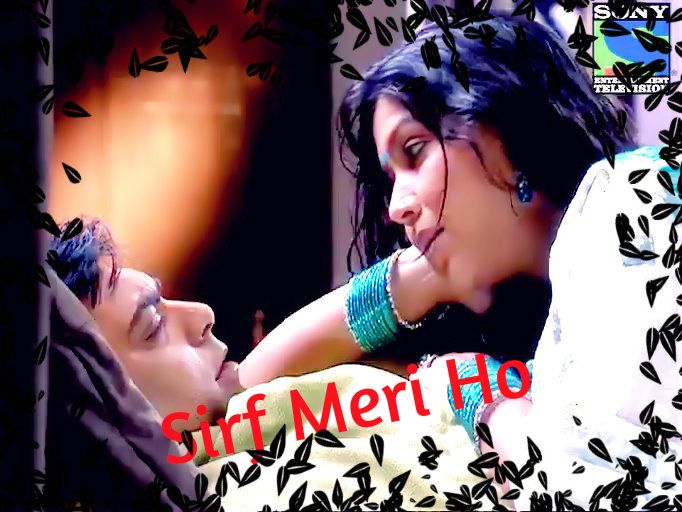 PART-10



He finishd the call... came towards her..
priya:she about to turn and finds him next to her ...
ram:ma reached here ..so shall we go he asked her...
priya:ha mr.kpoor i will go and change ...
ram:mrs.kapoor im reminding u again call by my name ...
priya:hmm sorry ram..
she went to change but she didnt bring any other dress with her ...
she gave a puzzled look at ram asked him what to wear ...
ram smiles naughtily ...so you are seducing me ...

priya ...ram ye kya bath hai???

what i did now ..why u felt like that ...

ram: oh you didnt do anything kya??

priya::: nooo... [its very chill her body was shivering]..
ram: he grabbed her in to bed and said you are looking very hot and s**yy..

priya::plz ram leave me ..she loves his presence and his warmthness but still she wants to move from him
she is struggling to release from his grip...
ram::he is enjoying her discomfort and tightens his grip ...

priya:ram u r crushing my ribs ...please leave me ...
ram: loosens his grip ...and kissing her forehead ...
priya: ram ..[he keep on kissing her cheeks and]
ram .. ram..plzzz stop ..we have to go and meet u r ma ..plz chodiye na..
ram: than y u seduced me ...
priya: ram what is this ..what i did to you feel im seducing you ha??
ram: u asked me what to wear ??

priya:: haa so !!!!!
rAM:so u r indicating me that u are not wearing anything and u r looks challenging me ..budhhu u got choice but u r not using it..
priYA..
.turned to beetroot colour and smiles herself ..
you are too much ram
..i didnt mean it ...
priyas phone ringing ...but ram attended the call ..
neha: hi priya ..h r u ..u forgt everyone after going to honeymoon ..achha bataho aage badaoge kya?
[in her usual tone]
ram: neha ..this is ram not priya ..h r u and how is vikram &kids ..

neha:achha ram so sweet of you ..everybody is fine ...
ram...why so sweet im...
neha:: u attened priya s phone giving a wink to vik

ram: sooo
neha: so ramm u moved some extent...
ram: ha ..he about to tell something ...priya snatched phone from him
priya: hi neha ,h r u
neha: ha me tho fine ... i think you people are enjoying alot ..hai na..
bathao priya aage badaoge kya??
priya: NEHAA ... u will speak anything ha??

ram: he is nuzzling priyas neck ..she feels his breath touching her softly ..
priya: pleading him not to do by her face expressions ..

neha:: priya .. priya .. r u there or still in romance mood ..
priya :nehaa plzz stop ..what hapen to u ..tell me how is every [he caressing her cheeks ]
neha: ha bathao priya every ..what ??
priya: came to her senses i think lines r not clear neha ..
neha: i can hear u r voice clearly ...talk to me i didnt finish my talk yet ...

priya:closed speaker and pleaded him not to do anything ...
ram:showed his lips to kiss her at the moment ..

priya:no wayyy...

ha tell me neha how is every one ..how its going on ??
neha: everything is fine and kids are eagerly waiting for you two people ...
ram:is kissing her bare shoulder and pampering her hair with his fingers ...she lost in his movements ...
priya:: mumbled ram ...
neha:: hello priya ji ...im neha not ram ... smiling in her own manner..


priya:dragged herself to comeback to her senses ...
she glares at him angryly
... he gave a sheepish smile to her and told hang the call ...
priya:gave a convincing face to him and show her fingers as 5 mins ..gave a flying kiss
to ram to convince..
neha:is talking something else ..
priya is saying : yes ..no to the answers ..as she was restled by rams movements on her body ...
neha: by the way priya .. merry christmas ...
i was waiting for you to tell but i know u deeply involved in something and u forget as today is merry christmas ...right
priya... nahiii neha ...merry christmas to u tooo and ur family ...
ram nibbled her earlobe ...
priya : OUCHHH shouts at ram with pain ...
RAM YE KYA HAI ?its paining , CANT YOU WAIT FOR FIVE MINUTES ...im not able to talk properly plzz dont touch me ...
ram is laughing loudly

neha: also laughing
and calling priya... priya ...
priya: realized what she just said
...lowers her gaze bites her lower lip and fazed with the entire situation ...
she can hear ram and neha s laughing continuosly ...unable to talk ..
neha:is calling her ...
priya :wants to hang up the call..
ram: snacthed phone from her ...greets neha merry christmas ..
neha: merry christmas to u too plz on your loudspeaker ...
ram;did it
neha: priya and ram...im happy for both of you ..its really nice to take a such date in the middile of the water on fullmoon day in a boat wah wah kya idea hai?? ... ram u r fantastic gem??
priya and ram looked confused at eachother
...
both spoke at a time ...how come you knw we came for date ..
neha:continusly laughing

vikram:grabbed phone from neha ...
are ram dont worry ..we just guessed it ..thats it
ram:shut up ...tell me truth ...
vikram:: are yaar you are a leading business man ,how your honeymoon issue came in the news paper ...waise ye bhi paper me ...
priya:: totally embarassed as well as ram
ram:irritated these media dont have any ...[he is scolding ...]
vikram: ram ..ram .. nothing happened ..just they gave u r photo while u were in boat & they wrote mr.kapoor gave a memorable gift to mrs.kapoor on their date ...
he paid to all the boats and lake for the day for his adorable wife ...etc etc etc they gave ...
you are VIP and these are common ...otherwise we also dont know na [laughing silently ]

ram: tu chup kar ...

and hangs up the call ...
frustated and opend lappy and read the newspaper stuff and he scrolls down find their photo ...
all his frustation gone by seeing the photo ..it is farview ..and both were standing near the end of the boat ...the total boat is flashing with lights and candles ..
its really awesome photo he feels ...
priya: also staring at the photo ..
it was really superb ..
at the same time she felt total world is seeing them ...feeling awkward at the state ...
ram: kept away the laptop ..snuggled her to him
..he hugged her tightly ..she felt very secured and rest her head on his chest ..
priya:ram how all will think?
ram:all matlab?
priya:mom ,dad ohh ram everyone ...
ram:dont knw ...maybe they will think ..they are going to get a gift as soon as possible ...!!
priya: gifttt???
ram:ha gift ...
priya: what gift ??
ram:...choti priya r choti ram ...
priya:kya hai ram ...and realizes what he told and

priya: sorry..
ram:for what ..
priya: i .. i shouted at you na..
ram: hahaha he is laughing :lol:at her ...
she throwd pillows on him .. grabbed her saree and went to change ...
he ran towards her and found locked door ...
he is banging the door ...
hears water sound and her laughing
india..
niharika:she tored the paper almost she fainted by seeing the photo