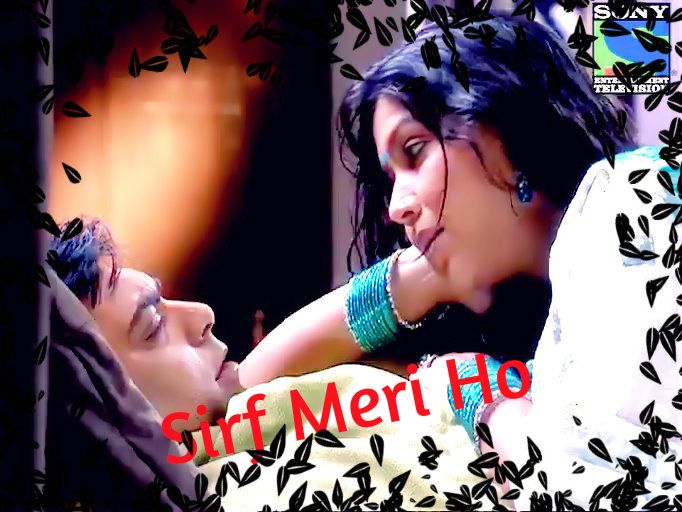 PART-27
Its almost 9 .00 am ... the horns sound made horrible noices , he couldn't sleep at anymore .. priya utho our close the window ,
... no reply from that side ....

He crawled near her,hugging tightly ...good morning honey
she woke up with pain, shrugged off his hands on her , plz ram Its paining like hell , leave me ...
he sat on his elbow looking at her lovingly , kya priya ??
her hairs tossling on her face ..still she is looking angelic to him...
she streched her a bit settled on headboard closed her eyes again...



He placed his hand on her waist ...

plz raam ?? bahuth hogaya ... i need to eat otherwise i will die ...

yah ok, he too thought he had his launch yesterday but priya hasn't ate anything ..he ordered the food from outside ...

she stepped out of the bed to freshen up ,soon she felt dizzy landed back on the bed starightly..

ahhh "clutching on her chest tightly ...

priya what happend ...

she said nothing ...


I should ask you what happend ram, why you are so aggressive yesterday ..

hmm kya sawaal hai honey ??? my 40 years ka desire kam se kam ...winked at her

pulling her comforter ,he saw bruises ,red marks all over her body ...
he felt bad,, SORRY planting a gentle kiss on her lips ...

kya rammm ?

sorrry darling scooping her into his arms ,

chodiye muze...

priyaa...im sorry ...

she shrugged him off went to washroom ,she collapsed on the chair strted her bath ...

he followed her ...
im sorry he whisperd in her ears ,

leave me alone ram...shrugged him off...

he spread the body wash on her gently massaged on her each inch to remove all the pain that he has given to her ..

she don't have the stregnth to fight with him right now,so she sat there silently watching him longingly ,when his hands reachd to her bosom,she moand with pain...

plzz, a tear escaped from her eyes , ohh sorry honey ,he cursed himself what i have done ,
she opend her eyes felt guilt in his eyes , no ram its ok,



he kissed on her love bite ..sorry priya , i just culdn't enough of your beauty dear ...what to do ??


she smiled a bit , accha abhi kush ,satisfied hai kya??

nahi toh ???

her eyes widen up with his answer ??

he wrapped a towel on her ,swift off from the floor ,lay down her on the bed ,she is looking very pale and dull..
she felt much bettr aftr bath , while he wiping of her , he lost his control hugged her tightly ,

she jumped off from his grip ...


raam plzz , give the cloths ...



she clearly saw his burning desire in his dark eyes , his steps thretend her to the core , she like to make love him but after yesterday she decided not to seduce him any more in her life time , she took back steps until she hits the wall , her milky skin glowing pinkish red ,his assults remaind bruises on her body ,she looked here & there ,covered her arms around her chest leaned back on the wall ,slid down to the floor , telling him

plz not now ram ,

he kneels down infront of her , cupped her face in his palms...

i love you priya ..

i love you ram ,but iska mathlab ye nahi hai ??

kya ???
kuch nai ram ?? leave me , just drop me in home.

.



nahi toh ,kissed her eyes ,

plzzz



kissed her cheeks ,nibbled her earlobe , planted a trail of kisses on her neck down to her collar bone..her arms freed encircled his neck ,hugging him tightly

his one hand moving up and down on her waist , his tarso trikling her chest crazily , her chest heaving up and down with heavy breathing ..

his lips are torturing near her lips without touching them , he brushed her lips with his, he licked her lipborders , she lost ,kissed him deeply ...

his lips curved into small smile, he crushed her under him, the pain regenrated by his pressure , her grip trembled with pain ,his malehood playing on her entrance ...
she came back to reality , she pushed him away ...

Enough, Enough,

im not feeling well, im hungry ..plzzz.

she clearly saw his disappointed face ,noo she should not loose this time ,



priya sternly "Ram give my clothes "

"NO"

" r u giving it or not "

with sulky face he hannded over her clothes, with in secs she weared it ...
meanwhile breakfast came, he feed her , now im leaving you ,but in the afternoon you have to repay this, he gave a pain killer , soon her eyes rested for some sleep ..
he went for work ...

he came in the afternoon to check on her ...

Priyaaa ... but he found no one..
where is she ,he searched every where in the room , he called out jenny asked her ,where is priya ..sir??
Where is Priya ??my wife..
sir i didn't knw, is she came out from my room,
sir i was with you in the meeting , i dont know sir ...
he went to room check again , called to her mobile , that also found in his office table ..
are ye priya bhi na ? she fogtrt the cell also here , where she is ??
ohhh is she angry ??? ufff ram ab madam naraz hai ? ab tho manana padega ,but ye chali kaha gayi bhai ??
hmm he called to vikram ,told she is angry on me,wether she has reached to your home or not , he called to everyone every bdy said "NO"
he is restless oh god what happend to her ????
Its almost 5'o clk , there is no trace of priya ..
he went to the room ,sat on the bed ,thinking about last night , what a feralhaste love making ,priya you are sexy my darling ,where are you ...he whisperd himself turned around to find a pink note ...

Hey my cute sexy devil ,
im fine , dont worry , im at my fav place,find me ...

nowhere a smile crept on his face ...he kept the note in his pocket ,rushed from there,
enterd in to sharma's house, shipra greeted with her asusual chilled tone...
ohhh rammm good afternoonnn...
he said goodafternoon, briskly walked to priya's room...
she wears a blue&white combination saree [ the one she weares on holi] cuddled to herself , her sleep disturbing by the cool breeze ,sending her slight shivers ..
he hardly controled his urge to kiss her , sudhir patted his back , ram ye kya hai ? why she told not to tell her where abouts to you ...
nothing papa madam toh naraz hai muz per ?? bus our kuch nahi hai ..
ram.. ram .. shpira shriekd voice brought him to this world ...
ha mammi ji kya hain ???
giving him some pakodas ...aap ki favorite ...
ram bewildrd ,asked how .. i mean you ,do you know about arrival???
ha damad ji , priya ne bola ki ...
kya bola priya ne???
hmm you will come here ,you will be hungry by the time you reached here ,so she told make the aloo pakodas especially for you..
he gave his trade mark smile to shiprajii,
waise ek bath kahu damad jii ?
ha kahiye mammi ji ??
aap kya magic kiya priya ke sath ?
He petrified for a moment ,did priya reveald to shipra or what ???
kya kk kya kiya maii ne ,kk kuch nayii ??
shipra: today priya came from spa , showing some spa pamplet to him from priyas handbag ...
he laughed his heart out ,when she went to kitchen to bring him some tea..
he reached priya's room, she cudlled herself like a ball was in deep slumber , his heart beats were normalised , gently he kissed on her forehead ...
shipra noticed he was in priya's room,went to give him coffe ,staring at the scene...
oh god she is looking so cute in her sleep ...he removed his blazer,slipped in her comforter ,the warm touch made her turn to his side, he slid his arms around her waist , pulled her near to him , she snuggled closer to him, her petite body fitted perfectly in his strong arms...his leg entwined with hers ,her head on his chest,he kissed on her hairs ,murmuring a quick i love you , he solaced in her hug ..



P.S from the writer :


about previous update:
i just implimented the part because sometimes how aggresive the men will be , and i really dont know how to approach the next part ,wether i should add the romance or not , i just ended like this ..

thank you for reading , i know its boring will try to fill charm in next update ..
Plz do leave your comments and dont forgt hit "LIKE" button