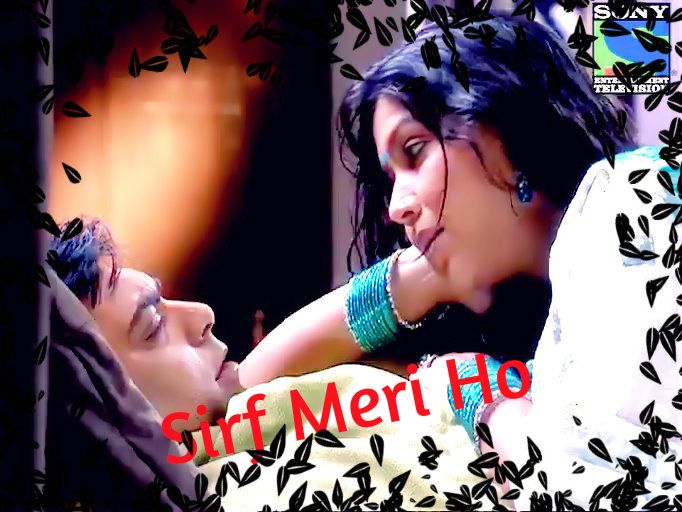 PART -43
When Ram reached the room Krishna ji arranging the bed .
R:Ma ,where is Priya .Before krishna ji answered He heard the sound from bolting the door ,with help of Apeksha Priya steppping slowly to the bed side.Her hand was fixed on her stomach.Rams heart skipped a beat seeing her like that .
Priya gazed at him gave a faint smile to assure him.
Krishna ji made her lie down ,arranged hot bag on her waist ,asked priya ,now hoe are you feeling,she nodded in positive note ..
Ram who was folding his hands on his chest said to krishna ji.
R:Ma I will take care of her ,You too take some rest ,Apeksha take ma with you .
Krishna ji caressed Priya's hair ,If any problem just let me know,both went to their respective their rooms.
Ram closed the door ,slided inside the duvet beside Priya .In no time she rested her head on his shoulder,Mouthed sorry .
What Priya why you telling sorry baby , You are my life ,cant I do this much for you ha.
Now sleep na,Its almost 5 .While his warm lanky fingers caressing her hair .troubling and turning atlast she fallen asleep.Ram stroked her hair lovingly kissing her forehed ,he wants to adjust properly but Priya tho Priya hai ..
Sensing his mild stirring she clutched on to his kurtha more tightly ,making swifling sounds .When he stopped she too stopped swifling .He smiled heartily .Making her more comfortable he too slept ..
The clock striked at 7 0 clock ,The phone ring sound made Priya to cling on more to Ram side ,Ram who was well awake because of Priya's condition .He took the phone patting priya to sleep again ...
The other side Neel chipred in phone ,Good morning Priya ji ,Why you didn't call me yaar ,after reading 10 pages of That novel you said you will call me ,,,so you liked the romance kya ???
Ram :Hello ..helloo ..Neel ..It's me yaar,Good morning
Neel bites her tongue ,almost she spilled everything to Ram...
N:Sorry Ram,Priya ..where is Priya ?
R: I wanted to call you actually ,Priya is not feeling well yaar ,so can you please apply 2 days leave for her .
N:Ohh,sorry ,what happened to her??suddenly ..
R:Nothing ,It's monthly pain it seems,No need to worry but she hasn't slept at least 1 min too with that stupid pain.
N: smiled hearing stupid pain from Ram's mouth ,Its completely ok ,I will do the need ful ,how is your wify by the way ..
R:Right now she is fast a sleep.But we need to go to the doctor to check on furthur .so will you
N:Please don't be so formal Ram,she is my best buddy ,I will do it . will come in the evening to see her ..Ok
R:Thank you ,have a good day .
N:Same to you .Both hung up the call.
Ram wants to move ,But Priya was damn adamnent ,She is crying if she find a littile movement from her hubby .
Ram gave up and stroked her hair to good sleep.But he knows that she wasn't had a good sleep ,He knows about mensus pain will be terrible but he hadnt seen anyone ,seeein Priya in pain he wasn't controlled ..He slowly remebered all the convo once again.
He did noticed Priya was lil pale yesterday night and even she said she is in no mood,But he only forced her ,He could have let her sleep ,Now he is feeling guilty he couldn't have aproched her .but she could have tell him na.why she hadnt told ..Uff with this thoughts he felt throbbing pain in his head ..He called to vikram told to take care of his meetings and all .He will be there by afternoon.
Priya yelped in pain ,with a crying note ,she opened her eyes .
Ram who was right beside her ,
Hey baby ..what happen ha...its ok ,please don't cry ,you will get over with it .dont cry baby ..Hugging her more to his chest .She just controlled her self ..
Ram I want to use washroom.
R:Sure baby ,I will help you ..
He took her to the washroom.Asked her not to close the door .
She was feeling too irritated ,and hasty .She wants to take bath ..
Its not going to be good .
After 5 mins Ram asked Priya...Priya you ok ..
In her feeble tone ,she replied Ok Ram,its just im not ok ,Want to take bath .
R:Priya ,,are you mad ..how you will do in this condition .Common He gritted his teeth But controlled remebering her condition.
Priyaaa...baby ..please will go to the check up than after you settle down you can take bath .
P:Smiled a bit for his fusssy ness.With her slow voice "Ram you no need to control your anger ,You know I will make you understand later ,but right now please call ma or apeksha please ..
R:EwwwPriya ...He hit his hand to the wall .Knowing her stubborness he stormed off to the room to call his ma.
He went to apeksha room ..calling apeksha ..apeee...apeee..
Hearing Ram's voice ,Bansikaka came from downstairs.
Sir ,Ma ,dadi and Apeksha went to temple ,No one is there in home sir .They may come in anytime.
Ram stromed again to the room..
Walking near to washroom ,
He called out her Priya ..Priya ..
Her feeble voice attempted "Kya hai Ram"[ What Ram??]
Woo..Ma and apeksha went to temple, They may take time Priya.
She was restless ,she havent take anything with her ...
Priya said "Ram don't come "Im fine ,just bring my clothes ..Nooo just nighty and a towel .. And ...she was hesitated But asked him
What priya , you want any other too "Just tell me yaar"
Lol..His inners are burning what will happen to priya ,she is taking this much time .
Ok ..She heaved a sigh of relief and told him ..
Ram you will find a drawer in my cupboard ,Open it and bring the packet please.
She said in one breath ..
Ram asked which packet ??
Priya sighed "Its ok Ram ,Just give me towel and nighty "
She is feeling giddiness already ..
Poor RAM got that she is a not good today ,He handed her towel first ,reached her cupboard ..He opened the drawer and found "Whisper:"packet ,He took necessary things and went to give it her .
He gave it to her ,and she was too astonished to see all her nesessary clothing.
Ram thought for a while .. Im her husband ,she can tell anything with me"Mad wife "
His lips curved into a big smile..
When Priya came out , Ram gave hand to her , she took his hand..
She was looking like a fresh pink rose flower ,she is too pale but looking too gorgeous.
Ram let me take you ,He lifted her ,made lie down on their bed.
He ordered some soup and light break fast for her .As the doctor said he made her eat and gave a tablet .
R:You try to sleep by that time I will get ready and come.
P:Nodded her head and drifted to sleep .
After an hour or so Priya opened her eyes hearing some banter on room.
Ram was ready ,Talking with krishna ji..
Ram asked her to get ready ,
She tried to sit ,nooo not today she pouted her face.
Ram again said ,get ready baby ...
Ape laughed hearing baby from Ram...bUt who cares .. He made her stand on her feet .
She went and changed came back to the room.She was too pale that she can fall anytime.He nudged her to move ,she waved bye to krishna and apeksha left to Hospital.
While driving she just closed her eyes,But her heart beat raisend up .when Ram started the conversation .
R:Every time you will get this type of pain..
P:hmm no , but ha usally I will have pain , its bareble ..
R:After our marrige this is first time na ...
P:Actually this is 2
nd
time ,1
st
time after marrige ,seeing his questioning face ,you were not there with me , you went to USA for some meeting and I was in my mothers place so I went and checked in my place .
R:Why you didn't tell me yesterday.
P:I don't know Ram,sometimes it's not evident .
R:Than why you havent said "No"
P:I'm sorry ,It's just that I anticipated but not sure.
R:His fingers tightened on the steering,He is subsiding his anger ,Can you please warn me from the next time onwards.
P: Closed her eyes ,She replied with a "Hmmm" .
While driving he has given water to her .asked to drink until you feel full bladder we have to go for scan.
She hardly swallowing it as she was not comfortable in all these ..
But seeing Ram she is trying to drink [This one is very hard to do it in reality too ]
They reached the hospital,Doctor arranged everything before hand.
Soon they reached her cabin ..
Ram handed her all previous reports of Priya ,
P:Questioned him with her eyebrows?
Ram :Doctor I thought these will help out ,My MIL sent in the morning .
She has gone through all previous reports , So Priya how are you feeling now,
P:The pain is still there but its bearable now.
R:Assured keeping his hand over her hand.
Doctor :Ok Priya ,Shall I ask some personal questions.
D:Are you planning for kids?
P:Looked at Ram,Ram gestured her to go on.
Actually we are not on any family planning methods yet .
D:My question is are you planning for kids?
P:Yes mam, Im looking forward to it .
D:You know Priya ,all educated people also make a wrong step here.
P&R:Both looked at her anticipating some serious problem.
Doctor:OkPriya ,its almost 3years you are having this irregular mensus problem,but you are hardly taking care of yourself regarding that .
She nodded yes,and clutched his hand very tightly .
3 years back I have one Ultrasound report ,that is completely normal ,and we have to check other conditions also ,and The previous doctor checked it and asked to revisit again but you havent .
And in these two years you have severe stomach pain ,and some times heavy bleeding at that time only you visited the doctor after that you never .even they asked you to come.
We have to rule out is there any issue or not .One more Priya ,if you want to get preganant you have to get Regular mensus.That means monthly mensus ,than only ovulation happens and it will go furthur ...
If you have irregular mensus ,you cant be preganant until we rule out the cause and treatment.
That's why ,even though you are not using family planning methods ..Sorry to say but that's true,You havent get pregnant yet .
Her heart beats raised ,small tears forming in her cornia.
D:Mr.Kapoor ,Everything is ready ,you just give these blood reports and if she is full bladder than we will take a scan and even after emptying the bladder also we have to do one scan .
P:He made her to walk until the tests room.
He side hugged her whispered in her ear ,Doctor told we have to rule out issue but she didn't tell you wont get pregnant.Now smile ..
They have done with all the tests .Waiting in the doctors room.
D:Seeing all the reports ..She had a grin on her face ..
P&R:both were hesitating to ask a question and fearing what she may tell .
D:Priya your scan is normal ,As I suspected there is no PCOD or Endometriosis.
And about your irregular mensus is based on Your Hb level ...from pat 3 years also it fluctuating between 6 to 8 .Have you undergone for any blood transfusions before.
P:Who was relieved by that , Yah 3 times her voice was trembling as she very well know how Ram takes this.
Ram was too astonished to hear and his love of life had so many problems she hasn't shared with him..He was too worried and shaken with the news.
But concentrated on what doctor is saying.
Priya its because of your Hb levels are not maintaing and low BP.
How often you feel giddiness or trembling ness of your limbs .
R: Answer correctly ,how many days ..
P:Its frequently ,I mean 3 or 4 days ...At mensus time it will be more .Clutching the seat tightly.
Rams stiffness degraded by knwing each truth from her mouth.Its just ripping his heart.
I will write some medicines and syrups continue this medication for 15 days and come back again.
R:Doctor how much is her Hb right now,And why this pain .
D:Yes iam coming to that point only .Right now its 7.6 ,if it wont increase by this suppliments we have to go for blood transfusion again.
About the pain Its just after marrige ,In evry lady there wll be some changes because of mating and other issues,As she has her first mensus aftr your family start.
It will be there and this time after 3 months she got so the shedding of the layers is creeping that pain.Iam giving her pain killers she may not get and subside with this.
If not we have to investigate further .
Cheking her Bp once again ...She still needs to take lot of nutritious food as well as salt added food.
When she will get back to her normal stage everything will alright soon you will have Jr.Kapoors in your arms Don't worry.
Both relived hearing that .Ram brought medicines and silently made her sit in the passenger seat ,tying the belt around her ..
He sat in drivers seat Driving to their mansion.
P:What ever she expected,She wanted to tell him slowly ..Unexpectedly Ram came to know everything.And she feared of his temper at the same time anger.
R:Held his hand in between them to shh her .
P:Please just talk with me Ram,why you are silent .
R:He nodded his head negative as nothing.But his eyes were become red his breath became heavy.
P: Please Ram ,I can't see you like this..I love you ..
P:wAS flaggerblatsered hearing it .. Ram ..she about to keep her hand on his shoulder .
R:When did you love me Priya,Do you know hearing each fact from your mouth ,pointing at her lips ,here showing his heart here someone stabbing my heart unempteeth time.
P:Her pearl eyes started showering tears.
R:had eauqlly having tears in his eyes..Why priya ..why you hide it from me..
When my mom came you took promice from me ,you should not hide anything but what you did ha...
P:Im sorry Ram,I wanted to tell you ..but time hi nahi mila
R:Time..you don't have time ..you don't have time..Good ...Every sec y mind is revolving you ,every min my heart is telling where are you ,what you are doing .
After coming back from office ,I will be with you only with you ..and you are teling you don't have time to tell me...so all this 4 months you don't have time to tell Me.
He stromed off with the car ...she silently cried ,he made a call to apeksha to come down.
He paused his car infront of Mansion , Priya got down..he made sure apeksha took her in to the house ..The same way he stromed out of the mansion ..