PART-62
Next morning everyone got ready to leave Machan resorts as
Ape marriage works were still pending to some extent. But they don't want to leave this beautiful place ..
Nuts: Forming a thought in her brain ,Ma why don't we arrange
Ape first night over here ..How beautiful place it is .
Ape:Why are you bringing my topic now..
Neha:Ha ma we can do that ,It will be an exotic night for
them ...she gave hifi to nuts ..
Krishna ji: Ha this would be a correct place ,I don't have any objection if Ape likes to have it here, Krishnaji too chided Ape..
Ape ran to the otherside blushing away to glory ..
Vikram and Rishab reached the cottage room with some fresh fruits that were available in that area .They were actually waiting for Raya to come down thaki they can return to Kapoor mansion.
Sudhir :Well, we will leave a note here that we are going to
KM and you people can start from here what say he asked ..
Shipra:Ha Good idea hai sudhir ...
Krishnaji :Ye theek hai .. Vikram we will do like this,we will leave a note for Ram &Priya then we can go and look after the preparations .
Vikram : grinning ear to ear yes we will do like that common champs lets get on to the work .
Soon they left from there after finishing everything ..
Priya stirred in her sleep as his hot breath was fanning one of her
bossoms .Her lips curved in a slight smile and her hands automatically transferred to his hair to comb them timidly ..
Her droopy eyes widened bit by bit to gaze at the most wonderful thing in the world ..There
he was sleeping like a kid cuddling his head on her bossom ,The breeze passed by them settling the chills in their bodies ..He clasped her more tightly to cover the cold .She then noticed that they were still naked. she managed to grab the bedsheet to cover them up full .. In the process he woke up for her
movements ,lifting his head he asked can't you sleep quiet ...
She smiled at his irritation ,wished him "Good morning "
He bit his tongue subah hogaye kya"Good morning "
Priya :Ha if you will get up then we can go downstairs ..
Ram : If i wont? he asked hugging her more tightly to him and his face pressed to her bossom.She arched her body feeling him.I don't want to go from here ,Dropping a kiss on her ni**le, licking around it , he suked it with all his love ,she arched more to give access to him.He lingered over on her chest one by one not leaving the chance
that he had gotten early in the morning .He relished her sweetness. The room was filled
with their love ..Both freshened up and checked the time It was going to be 12 o clock ..Both looked at each other in horror .
Priya:12 ...its 12 noon...Ohhh how we will face them ...Uff
They will tease me to the core .
Ram: Was also bewildered after checking the time ,It was beyond his thoughts .. If it was 9 or 10 tho he could tell some excuse but 12 tho what would he give the excuse ..
Priya sat on bed telling I can't face them right now , you go and talk ,I will sit in the car directly ..
Ram motioned himself downstairs , when he opened the
door he found a card addressing Mr.Ram kapoor under a stone ..
He opened it , find a note from Vikram ,
"Hi Ram ,Good morning ..
Hope you might be enjoying at Machan ...We are leaving now ,we
payed your resort bill as that was from our gift ,You clear rest all and come back soon ,we are starting from here .. Take care .. come soon "
Vikram ..
Ram's lips curved into a huge grin .. Priyaaa.. he called out her
..
He showed the card to her ..Her lips showed a satisfactory smile and her cheeks turned into crimson red .
Priya :This is all because of you she said hitting on his chest playfully ...
Ram : oh wahhh .. why what I did ..
Priya : If you wouldnt
start romance in the morning ,we would have gone with them.
Ram : Achha If you could have protested when i am romancing you, we could have gone with them..
Priya : Hawww Mr.Kapoor ..
Ram:Chu kled seeing her expression ... Side hugging her both started from there clearing all the bills.
He opened the car door for her like a gentle man ,She got
into the car ,Putting the seat belt she asked him we have checked everything na nothing was left na ..
Ram :You have checked 100th time Priya .. Nothing we left with all our gifts Ok .. Relax ab chale .She nodded her head in a @positive way ..He geared the car tyres towards city .
After an hour they were goiong through some fields ..
Priya suddenly shouted ..Omg peacocks .. Ram slowed down the
car and asked where it is .. see over there they are standing on the poles ..
He slowed down more and slid the car backside .. First he thought she was dreaming but no, there were two peacocks standing on the poles ..
Priya excitedly opened the door , Taking out her phone..
Ram :What are you doing ...
Priya:Please Ram Please ..I just wanna take pic and a closer
look .. she got down the car .so he had to stop his engine ..
He too got down ..she clicked some pics .. telling him how beautiful they were.sRam .. Male and female those are ..
Ram chided her ,How can you so sure about male and female ..
Ram only peacock has tails[ with feathers] .. Peahen [ female] ones don't have the tails
..so when the rain fall happens ,That peacock will bloom its tail and dance to attract the Peahen than they mate .. she blushed telling the last sentence and
she tried to go from there ...before Ram could stop her she marched towards them ..
Hearing the sound Peahen jumped from there .. Ram shouted ..Priya don't go near
to them they will go before you reach them as he said the other one also left from there ..
[This was utterly from my real life , I happened to see
peacocks while traveling , excited like anything ..Lolz this is funny but seriously Iam crazy about these birds . wanna share it with you ..Here are
those photos too not clear as they were lil bit far from road ]
Disspointedly she came back to their car .. Ram who was seeing
her sullen face ..Promised her to take her zoo then you can see as many as Peacocks and Peahens there .. Her face lit up .. She was joyously showing the pics to him. They both stoped for some
snacks at a roadside dhaba ..They enjoyed being together .. Chatted random things
..about Apeksha's marrigae .. in thr meanwhile she took a nap too ..At last they reached the KM ...
[This is the first part in this update ,from here Ape marriage
function ]
Soon both Ram and Priya had drowned in the preparations of
Apeksha's marriage ..
The days just flown by , the day before marriage ..Priya walked to Apeksha room with some sarees in
her hand ,Apeksha still struggling to find her packing .. Priya asked her what happened ..
Ape:Don't know bhabhi Im just .unable to understand what I should pack or which one I should keep here .
Priya taking the clothes from her ,darr lag raha hai kya?
Bhabhi .. Ape hugged her started crying ..
Priya :I know , what might be your thoughts are right now ,
But Ape trust me ,If you are able to understand him and adjust for the little things ,your life will be happier .Dont worry ,step with your ever green wala
180 degree smile..
Ape hugged her bhabhi while her tears were flowing slowly ...
Ape: I think Iam scared of this relation ship eventhough I
accepted him somehow ..
Priya: patting her head and back lovingly ..Ape don't cry
everything you are facing and what your inner turmoil is I can understand because I too
faced the same infact every girl will feel the same when she is leaving her home and her near and dear ones,But every male or female needs a companion
through out our life journey .Thats why this bond showing her mangalsutra..
Ape smiled with tears in her eyes.Try to understand him and his family ..Your life will be beautiful ..and You gonna habituate to this for sure.
They both chit chatted for some time while packing her bags
..They went to sleep to face the big day tomorrow ..
The day has come with so many bright wishes to both families
..Ram has already gone to washroom thrice .. Priya was observing him ... when
he came out of washroom ,she held his hand ..
"Scared "
Ram :Nahi toh ..
Priya:Then why these many times washroom.
Ram :scarching her temple He looked down ..
She hugged him kissing on his chest ..everything is gonna be
fine and good for Ape ,you don't worry.His hands were free so she demanded him ..Hug me ...
He hugged her , she asked more tightly .
He hugged her tightly ... They were like that for some
time..They broke their hug ,She gazed at him..He felt relaxed by now..Kissing her forehead ..Thank you for this moral support wali hug ..Iam feeling good ,he
dashed from there to look after the arrangements ..
Ram warmly received the groom's parents ,shaking hands with Sonal.

Ram:You looking Handsome man..

Sonal:Blood rushed to his cheeks hearing the comment from The Ramkapoor ...Thank you sir .

Ram sidehugging him,Nervous ho kya ...

Sonal: Little bit ,wiping his sweat from his forehead he answered .

Ram:Everything is gonna be fine come, both the handsome men reached near the mandap .

Sonal wa eagerly waiting for his bride ,every body rested for their own works,
the hustle bustle increased when the news went on that the groom has arrived .

Apeksha heart skipped numerous times her tension was increased to 100th fold.Priya came to bring her down ,.

Priya :Awww Ape you are looking so gorgeous ,kissing her forehead ,kisi ka nazar na lage ,she lined her kohl from her eyes kept kala thikka behind her ear .

Ape tugged Priya's pallu ,

Priya turned Ape side ,,Im tensed bhabhi ,she blurted her inner turmoil .Priya keeping her hand on her shoulder turning her to the mirror .

Ape Look at the mirror once..

Ape raised her beautiful eyes to gaze at the mirror.

Priya: The most beautiful bride is sitting here in few minutes she is gonna take the seven steps and is going to build a new family...Till now you are a dutiful daughter
, you are a little sister,you are a good sister in law,you are a good friend ,you played these roles vey well ,Now you are going to be a wife and a daughter in law and after few days you are gonna be a mother to complete your femaleness.

Female its great gift by god to us that we make the world complete ,God has made females to complete the world to decorate it beautifully being in all
these positions .so God has blessed you to take another step in your life to complete all other stages too .so don't worry my beautiful girl .Take a deep
breath ,Pray to god ,and come with me to the mandap .Today Sonal is going to get heart attack seeing you ,Priya winked at her ...Ape smiled broadly ...

Priya stepped down along with Ape,Sonal ,Ram and ofcourse every one eyes gazed
at the beautiful bride who was coming bowing her head down ,blushing away to the glory ,all beauty personified ..

Krishna ji chest heaved up seeing her daughter all decked up in Bride's attire, few drops of tears made their way down to her cheeks .Ram was by her side
holding his mother by her shoulders ,isn't she pretty ...

Krishna ji ,firmed her grip on her son's arms ...Ha beta she is looking so beautiful.

Sonal eyes were just glued at his girl ,she is walking like a swan decked up in a maroon colour gagra which had embedded diamond colour studded stones ,when the light shows up on them ,they were shining with a daze that gives more beauty to her .He rose himself from his place stood while gazing at her .Rishab patting
his back "Hello ,Jiju ,,she is coming to you only "
Sonal blushed hearing the comment .
Rishab chided Ram ...
Aye Haye Priya bhabhi is looking so beautiful haa, gorgeous see her mesmerizing eyes
, her cheeks ,awww she kept it like a bun ... Oh my god she is looking like an angel ...clutching his heart ,imitated as he got heart attack seeing his bhabhi ,when she was passing by them ,He acted as like he fallen for her beauty ..
Ram twisted his ear getting him up with that force , he swapped him ..
Everyone laughed seeing this .. Ram whispered in her ears .
Absolutely you are looking divine Priyu ..She startled when she felt his breath on her
earlobe ,soon she covered up .
As soon as she came Jayamala rasam started.First Ape adorned his neck with the flower
garland then Sonal did the same with her .. Then Pandit ji called the couple to sit in the auspicious mandap.Both were sitting doing whatever pandit ji said.

Pandit ji called for kanyadan,Krishnaji called Ram ...Priya knows very well what he
might be going through, so she held his hand and walked to the mandap , while Priya was pouring the holy water on Sonal's feet ,Ram washed them and asked Sonal to keep her happy .Until that day Ram was very excited to do kanyadan ,But when he
was doing kanyadan his eyes were covered with tears and blocked his view ..
Ram kept Ape's palm in Sonal's and the ritual was going on. Ram ,Priya,Ape and Krishnaji
everyone cried .. Ram was still having tears ...Priya asked him to wipe his tears and see the marriage.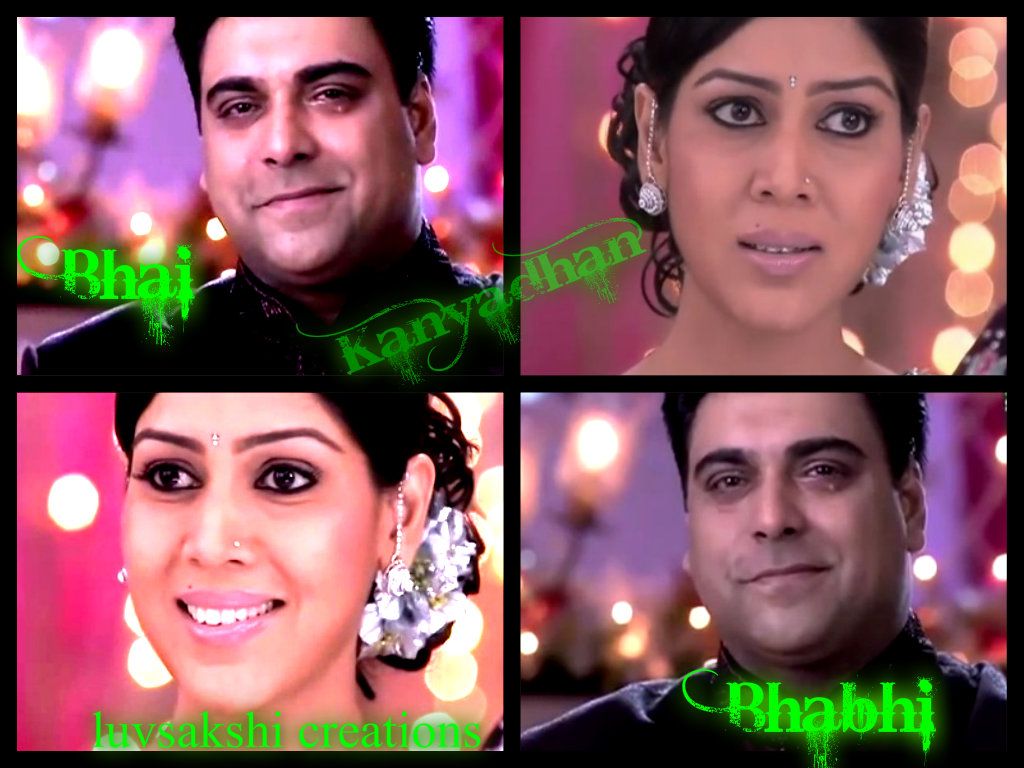 RamShowing his hands to her ..Priya I did kanyadhan for
my sister ,I fulfilled my fathers last wish also .. his happiness had nobounds.
Both Ram & Priya smiled through their tears .
Yes the relation ship now changed entirely ..
Pandit ji said the meaning "Oh Man ,I am giving my daughter /sister to you ,Please keep her happy , don't leave her hand in any circumstances as it is joy or sorrow ,be together forever "
Then Sonal tied the black beadson her neck and then applied the sindhoor on her maang .. Completely she became his wife.Now the newly weds were taking the vows ,for each round pandit ji was telling the
meaning of it ...The 7 vows are
"
To nourish eachother
To grow together in strength
To share our joys & sorrows
To preserve our wealth
To be together forever
To remain friend ,life long
To care for our children "
[I have seen a wedding card of my friend with these lines and their message to others so
copied from there hehe ]
These 7
vows bonded the bride and groom in one relation ... Sudhir & shipra , Ram & Priya . Nuts & karthik .Neha & Vikram Reminisced their marriage vows
with this ..
Ram side hugged Priya .,Sudhir kept a hand on Shipra, Karthik held Nuts with his boy , Neha hugged Vikram ..Yes after all
they were couples... Chahe kuch bhi hojaye this relationship lives stronger,deeper and important than any other relation.
The marriage ended with a good note .Everyone teased Ape
and Sonal while they were playing some other rasam ...
Dr.Aruna who came by late ,She blessed the couple ..
She met Ram & Priya asked about her health ...
Priya: you are seeing na doctor ,Kithna busy hu .. But my health is good but still I didn't get my monthly festival ...
Ram looked at her weirdly what was it ki ...
DR.Aruna: Smiled
and understood what she was referring to ,no problem Priya ,Please come with in 2 or 3 days. I wanna check you completely so we will get to know what exactly
bothering you ..
Priya"You will be there na doctor ..
Dr.Aruna:She smiled ..Ha beta I will be there ..
Both smiled ,they dropped in their own works ...After Ape's bidai everyone retired to their rooms.
Ram was still engorsed in deep thoughts sitting on their bed with out changing ..
Priya who came by now all freshened up sat beside him ...

Ram, Ape will be alright ..after all you have chosen the match .. We can talk with her tomorrow, now you go and change we will sleep ...
Ram changed and slipped in their bed .. He was still not feeling what had happened to him but it was unable to bare for him that Ape has left the family and gone .
Priya who was tired and ready to sleep ...Hearing her name from her man she turned around to see him in full tears ...
She took him in her hug ,..What happened Mr.Kapoor ..
Ram : "I missed her all these years Priya ,Believing Niharika ..I so missed her precious relation ship with me ,when she came to me and our bond was growing see she left me" his tears spilled from his eyes..
Priya.caressing his back ,kissing on his hairs ..She will be here only Ram just by other road side and you haven't done anything intentionally so just cheer up
..Your tears wont be good for her so give a smile and try to sleep ...She patted him ..she sung a lullaby also to him ...He slowly slept off in her motherly
embrace ..She kissed one last time on his cheek ..she too slept off .
[2ndpart
is over ...now coming on to the track,You may not understand but you will get full details in next update ]
The next 2 ,3 days just passed in other rituals and the fourth day Priya has to go for her full body check up ...Ram was getting ready to join her .. He got a
call from office that some fire accident happened in audit section .. so he promised
Priya that he will try to come back soon.Priya somehow felt uneasiness..she clasped his wrist ..He backed off cupped her face asked what happened ...
Priya's heartbeating was very fast ...She kissed him on his cheeks "Im scared "
No baby.. you should not kissing her lips turning it into passionate kiss ... See I have
given you confidence ..Now come I will drop you in hospital and will go to office ..Both reached hospital ,giving a quick peck on her lips he drove off to the office .Even he was not feeling well but he had no other option but had go
to office..
Priya reached the doctor's cabin .. as doctor was in check up room ,Priya had to wait
for twenty minutes to meet her ..She was randomly going through the magazines when Doctor
came in ..
Priya got up ..Doctor asked her to seat ..
Taking her history Doctor had a smile on her face ,because she very well knew they all were pregnancy symptoms ,.so she asked her to take some blood tests and USG...Priya I will call the best sonologist to look after your scan you don't worry ..
or afraid that your husband is not there with you..
Priya blushed and asked her ,Did Ram call you doctor?
Yes, he did and he wants the best doctors to take care of you.
Priya
soon left from there to go for blood tests and USG..
Doctor called to sonologist asked her to check Mrs.Priya Ram Kapoor thoroughly .. and
please don't tell her anything as she is very sensitive about kids matter or don't reveal to anyone about the case ..as Ram Kapoor is VIP it will be confidential .
As everybody knows how the VIP things will be in hospitals ,,she said ok and disconnected the call .. Soon Priya entered her room ..
The sonologist asked her to lie down on the bed .. She queeked out some jelly she applied it on
her belly .. Her tension increased she closed her eyes to relieve the tension ,Ram's smiley face came infront of her..she smiled in herself lied down at her instructions .. The test was completed and sonologist asked her to clean andto meet Dr.Aruna in her cabin ..
Priya said ok came out of that room ..
She got a missed call ..she tried to call back before that again she got a call ...
Priya "WHAT" when ...where ...hang on please I am just coming over there ..she rushed from there ..
Sonologist sent her report to Dr.Aruna ..
And with all Priya's reports were infront her doctor had a huge grin on her face while seeing the results of blood tests itself.. when she read the USG report she
asked the sonologist was that report correct ..
Sonologist :Ha doctor it's correct.
Dr.Aruna:Have you told her that she is pregnant ..
Sonologist :This time she was surprised to hear it ..No doctor usually we wont reveal anything
to the patiens here either its VIP or Normal person .IF WE HAVE ANY DOUBTS WE
WILL CLEAR IT WITH THEM ..TELL my congratulations also to her ..smilingly she
disconnected the call ..
Dr.Aruna re read the USG report again ..
USG :
Dichorionic
Diamniotic twins lying in the uterine cavity and adequate to the gestational age .
Doctor asked Priya to come in but she was nowhere to be seen in the hospital ..The wardboys
checked on the blood tests side and Usg side but she was nowhere to be seen .
Doctor was surprised and dialed Ram's number ...Surprisingly he too was not attending the call .
In the office Ram was very anxious to know who did this ...If the guard hasn't noticed and stopped it the building could have caught on fire .. sweat beads formed on his forehead ,Vikram assuringly held his shoulder ..
What is this vikram ..Why Its happening ..How is the guard by the way ..
Vikram :The guard is out of danger , actually this happened at the time of exchange of
security duties but luckily they have caught the person to stop the blast .
Ram's face turned in to full anger mode ..His eyes were red ,his ears were flushing out the tension.
He immediately called to DGP of Mumbai .. discussed the
entire incident with him ..They are reading the CC tv footage but it will take some time to recognize who had done that .
The other side of Mumbai ...ACP sharath[CID Officer] is spinning the paperweight concentrating on
what exactly happening ...The series of happenings in central jail clicking in his brain ...Opening his sharp eyes he said
Mr.Ashwath There are some links behind it ...we are missing main lead here ,so so strong
connection between missing of this prisoner ,He is such coward ,he helped in Mumbai auditorium blast .But WHAT..What
exactly we are missing ...While they were discussing about this
He got a call from DGP ,he said he will be right there and started from there telling
to Ashwath find out every prisoner details who escaped with this" Rutham Shaik " and publish his photo in news papers , every wall in Mumbai ,at any cost we
have to catch him.
Yes sir Mr.Ashwath said to him and left from there .
ACP Sharath was 55 years old man ,Working in CID from past 20 years ,He has seen so
many brutal murder cases , kidnap cases ,what not everything he has worked and got successful. He solved thick hard cases with his intelligence,he was so sharp at the surroundings when he took a case .
He entered the DGP office ...DGP wished him and asked him to sit. Explained the Ram
Kapoor industries how it got caught fire ,how they stabbed their security guard
and ranaway .If they could have kept the real bomb in the office , so many could have died ..He declared the total secrets behind The Ram Kapoor's call ..
ACP Sharath was stunned to hear it ..Why someone would
try to blast his office ..
DGP:He is a business enterpreneu
r .he may have
so many enemies .
ACP:Let me handle this in my own way ..I will take your leave now .. tell Mr.Ram kapoor that you have handed this case to me ..
DGP: sure ..Then both bid bye to eachother .. ACP started from there to Kapoor Industries .
.
From writer : Guys Iam sorry Iam unable to give how Ram
reacts when he comes to know about her pregnancy ,this has came very long .. What do you guys think ??
Who called priya , Where Priya went on ?
Who did this in Kapoor industries ?
Why ACP Sharath involved any connection is going to happen with
these three persons ,if tho what was it , to know about the mystery or twists please wait for next update ..love you guys .. so sorry for the lengthy update