As I promised this update is a dedication to my friend's daughter ,wishing her once again happy birthday..
Ram & every one reached the Machan resorts at the night before their anniversary , every one retired to their rooms to get a good nap ...
Natasha: Wondered seeing the place , bhai this is awesome , we should take toll on this surrounding tomorrow . All were excited like kids ...
They reached their rooms respectively , Priya was too tired with the long journey but she couldn't complain to him .When Ram was bolting the door ,she asked him "I will go and fresh up then you"
Ram nodded as ok ,she quickly took bath ,she came out and rested on the bed .. as usual she sat infront of the mirror .Ram reached her side , combing her hairs with his fingers, asked her
"What happened?"
Priya: Dizziness.. Bahuth tired hu ...Linking her fingers with him ..By the way this bedroom is so simple .
Ram: Its all for you darling ...You sleep I will wake you up for dinner .. Priya closed her eyes to rest .Ram called Vikram to their room to discuss their ongoing projects .
Both were working while at the same time Neha ,Natasha, Ape , Rishab, Sudhir , Shipra, Krishna ji were working how to transform their plan for tomorrow..\
Neha called Vikram down stairs for dinner .Vikram went to have dinner and told them Ram &Priya will have their dinner upstairs ,where Priya was sleeping so he will need some time ..anyway let us give them privacy .. Everyone smiled hearing it ..
Ram woke up Priya , he made her fresh up once again ,with his hands he made her eat ,they were so quiet having their dinner stealing glances at each other .He asked her to sleep again , But she refused and started reading a novel, soon she closed her eyes feeling headache..
Ram was working on his laptop he was very eager to finish off his projects by Ape's marriage time. Minutes passed ..Priya's phone buzzed ..She tried to hold her phone but in her sleepiness she wasn't getting hold of it .Ram who was disturbed by the sound saw his wife's struggle to get hold on her phone..
No where a smile crept on his face , keeping his laptop aside he marched towards her ,By then she got her mobile,seeing the time ..a smile crept on her face, snoozing it again ...She gazed at him who was by now reached his wife's side .He slipped beside her occupying a very small space with his plumpy figure,Priya smiled and moved a bit to give him his needed place.Both were gazing at each other ,Priya leaning on his shoulder ,Bahuth late hogaya na .
Ram :Ha..But why this alarm ...
Priya: She knows he is hinting to what she has done .. It's just that ,I wanted to ..
Ram: Haa you wanted to ,kya .. ??
Priya gazed at him "Aapko patha hai na "
Ram :Smiling enough to irk her .He said "Nahi "
Priya : Before she said something ..The alarm buzzed againnn
Both at the same time "Happy Anniversary "Both smiled ,Priya had shy smile and Ram had a blushy wala smile, with his index finger he lifted her face ,You are very tired ,I could have woke you up na .
Priya: It's our first anniversary , Itna excitement may be we wont get in future ,smiling away to glory ,When you would wish me I wanted to feel your happiness kissing his palm ..She startled hearing the bang on the door .Ram assured her nothing its just bachha party banging the door telling this he went to open the door .
Rishab , Nuts, Karthik, Ape ,Neha &VIk jumped shouting "Happy anniversary to the world's most beautiful couple "
Rishab chided "We thought of singing world's most romantic couple "
Neha: Ooopss ..we forgot .. we will sing again ..
Everyone yelled "Happy anniversary to world's mosttt Romantic couple " These roars were enough to settle Priya her attire , when she was about to get up everyone tossed on their bed beside her , hugging her from everyside they roared their wishes in her ears.
Closing her ears , she said Thank you to them ,Ram & Vikram looked at each other ..
Vikram: "How lucky you are Ram , She completed you in all ways" .Ram holding his hands on his chest , smilingly he nodded her head ..
Vikram: Chalo ..Guys let us cut the cake first ..
They opened the cake which was neatly packed in a box.The wishes already echoed in their ears ,,Happy anniversary to the worlds most romantic couple in the world " same that was written on the cake ..
Both cut the cake and fed each other .. AND TO EVERY ONE ALSO ..Neha & girls party has given the gift which was they did by them selves..
Raya opened it and found their collages which were taken by when they were lost in themselves .
Priya: gaped seeing that ,,,,,,OMG where you have taken all these ,she was feeling shy some were too romantic too ..
Neha: Kyun ..you didn't like it kya?? Winking at her
Priya: Nai , aisa tho nahi hai magar in mein kuch ...She paused when all went silent to listen what she was gonna tell ,she raised her eye which directly met with Ram's ,she blushed and changed the topic ..
Bahuth khoobsurat hai ..I loved it passing it on Ram..
Neha:Haye haye ..Kithna blush kar rahe hooo ...Why you stopped the sentence in between..
Priya:Neha tum bhi naaa...all pulled their legs some more time and left from there bidding them bye.
Ram who kept seeing the frame said ,,"when these people have taken yaar .."
Priya: Hmmm don't know ..But its looking so beautiful hai na ..
Ram :haa ...The gift is this one ..
They seemed to get lost in their own dreams refreshing their memory on each incident ,They laughed , they chatted ,while all this was happening both slept cuddling to each other unknown of themselves .
The sun rays were peeping on them directly as they forgot to close the window .She stirred in her sleep but one strong arm posesively snaked her waist so she couldn't move up , her lips curved into a smile which adorned her sleepy face even more .
She leaned on him whispered in his ear "Happy anniversary My teddybear "
In his sleepy tone "Muzhe phir se mota kaha tum ne " He opened his eyes , thrilled to see his morning beauty, she was having a special wali blushy smile on her face, looking choo cute he dropped a kiss on her forehead ..
Priya:Maine kab kaha , I wished you first and you are ...
Ram : Shhh placing his finger on her lips , No silly fights today , I want to enjoy with you and family , If we won't get ready , we have to face our naughty party ...
Priya hugging him tightly ..she spelled those three magical words "I Love you "
Kissing in her hairs he too replied "I too baby " She smiled ,she freshened up first she did all make up when Ram went to freshen up ,She stood in their balcony ...
She was so lost in the beauty she hasn't realized Ram has come and stood behind her , hugging her from back he broke her chain of thoughts ...Kya dekh rahe ho ..Kissing her nape of the neck ..
She bit her lower lip smelling him so close, blood rushed her cheeks ...He smiled seeing her ,
This is how its looking from their balcony .
Priya: "Last night I haven't seen this place ...Its so beautiful ,everyside I mean every inch is filled with greenery and this room is actually made of total wood ..I mean yesterday I didn't notice this is actually hanging from the tree right" leaning down to see she asked him ,he pulled her back saying yes mam its actually hanging ... he smiled seeing her .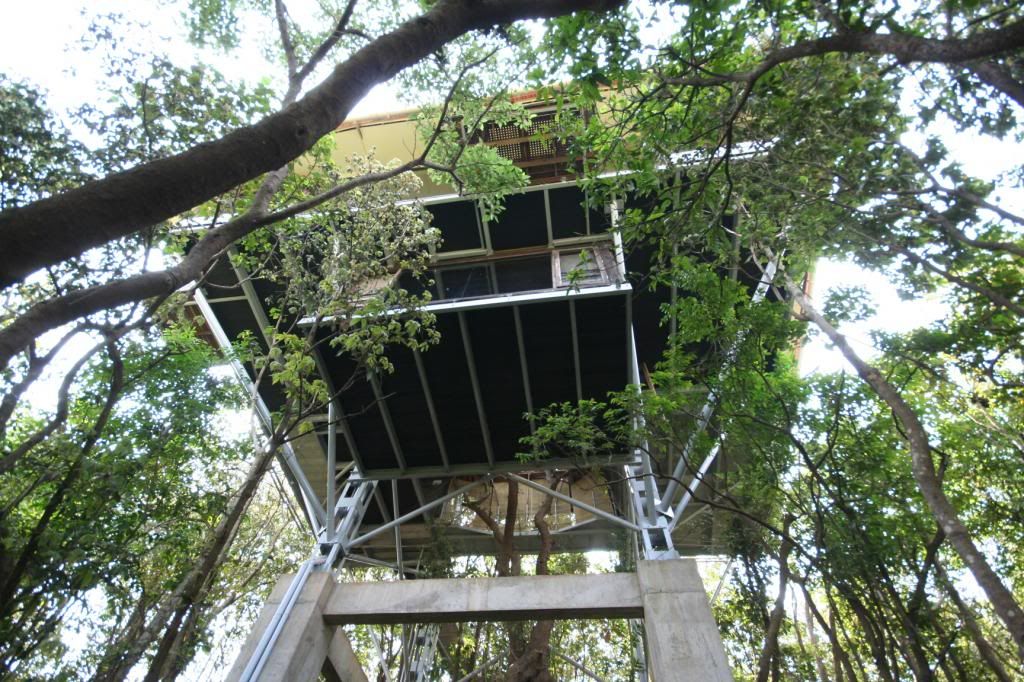 It was Built around a wild fig tree 45 feet above the forest floor, the Heritage Machan is a tree house that hangs over the edge of a precipice. its unique architectural design, elegant interiors and the breathtaking views of the valley beneath, its for you darling
Priya touching the railing , turned to him, her waist supporting the railing , "It's just simply beautiful , feeling so good actually I am free of all my tensions .."
Priya: "Ha baba sachhi muchhi ...Touching his forehead with her .. Both got ready and they come back to Krishna ji's room , by that time every one was present there ..
Raya took blessings from ,Dadi ,Sudhir, Shipra and Krishna ji .They all blessed the couple..Every one sat for breakfast .Nuts placed a plate infront of Ram ,asking Priya to reveal what was that ..
Ram & Priya both looked confusedly at each other ,Priya removed the covering cloth from the plate ..and both had a huge smile on their faces seeing their gift on their special day .The plate was neatly arranged with straw berries which were in love shape and they have written "Happy anniversary Ram & Priya". Both were delighted to see it .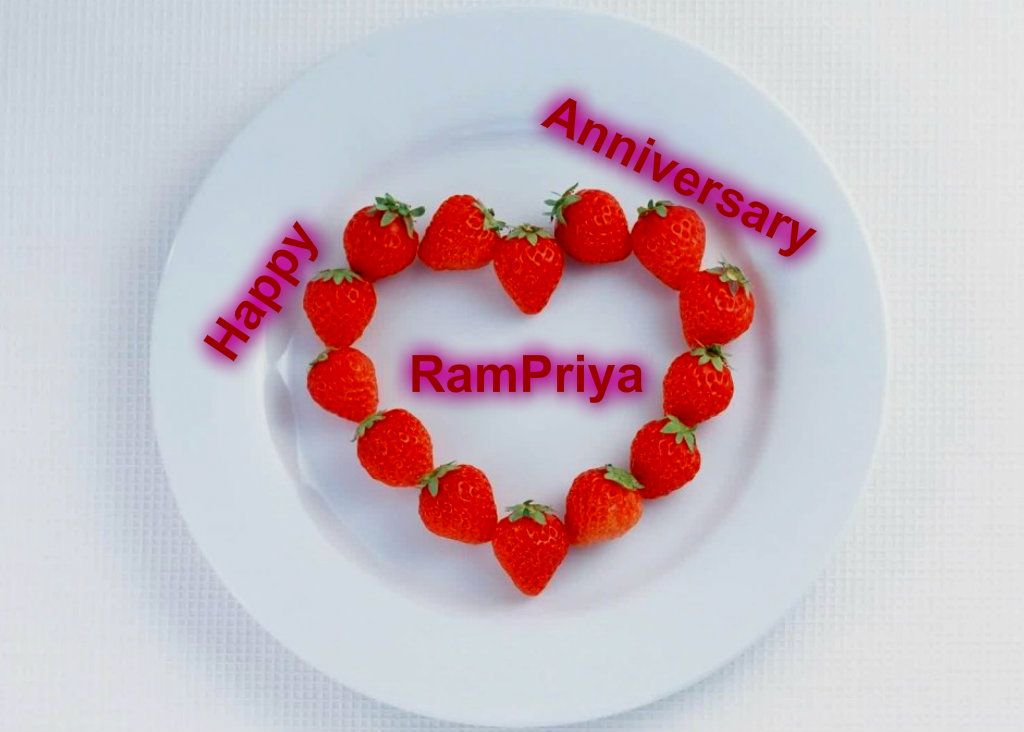 This is your first break fast for today ..Now common Both feed each other ...They all forced Raya ..so they fed each other their favorite Strawberries from the plate until it was finished ..Roar of applaud they heard .Priya & Ram were all smiles .They had their breakfast ..Ram asked them shall we go to tour around ...
Natasha quipped in ...Wait wait bhai ,didn't you tell plan accordingly to your place .. so you selected the place ,we planned your day Until 6 ..don't worry we wont grab your time after that .. Everyone giggled with Natasha .
They all started to Koraigad fort which was situated 4 kms away from their resort .Everyone started hussle bussle about the place , The bus was smoothly going on the dips and trips feeling them amazed by the beauty of green valleys .
After some time they reached the fort . It was spectacularly beautiful location .They all mesmerized by its architecture .which was fort was incorporated into Shivaji's Kingdom in 1657.. The top of the fort is 3,049 feet above sea level and has more of a flat topography.They were mesmerized by it . It houses a number of small ponds and two caves, one of which houses an idol of Lord Vishnu. A temple to its patron Goddess Koraidevi also exists, along with smaller temples dedicated to Vishu and Shiva. Natasha was taking them to the temples .They did the paryers for Lord Vishnu and Shiva for ALL WELL BEING .They walked along the fort walls and gates - admiring the view. They moved on to Lohagad fort ,
With a 2,000 year old history and located at 3,400 ft, Lohagad Fort is one of the most majestic forts in the region. It makes a great trekking destination, with panoramic vantage points, huge balconies and impressive gates ,they moved to the caves ..
While entering them, Priya clutched Ram very tightly .. Ram assured her Its ok ..They marched inside ..Those were really large , we can see ancient buddhist architecture through inscriptions and stupas.It has a big prayer hall called Chaitya we can see features sculptures of males and females as well as animals like lions and elephants .
they settled in one place for next move ..
Natasha already planned according to their palce as she heard about this place she chopped out plan with all the members . so she said we will go for trecking ...all started from there the journey to trekking was most beautiful and chill for them as Natasha decided to be part of only 1 km keeping all of them in her brain .Dadi ,Krishna ji carried Nuts son , Sudhir & Shipra came by vehicle .These all came by walking .. And through out the journey they sang songs , Rishab was dedicating every song to his bhabhi ,They all were smiling and enjoying the green view infront of them .They were just mesmerized by its beauty and the cool breeze doesn't let them feel suffocated .They were happy , chilling out they reached their spot. There Natasha arranged the scumptuous lunch party . Everyone was delighted to see and their tiredness just vanished by seeing it . All praised her for the plan .. There as instructed by Natasha they have arranged a big tent for them. Every one seated seeing the presented rocks and bushes around them but still its looking very beautiful and endearing to their eyes ..
Rishab asked them to play a game ..He explained the game :Everyone has to sit in a circle.Taking his kerchief from his pocket , "you have to close your eyes and I will take rounds when the music starts and before its going to stop I will drop my kerchief behind someones back ..when the music stops ,Who is having kerchief they have to run after me and they have to hold me..if they can hold before I sit in their empty place , I will be the thief again and so I have to do the rounds again and choose other person ..If they were unable to catch they have to take the rounds ...Hope you understood the game and its rules..
So now come sit everybody ..Dadi you be there at music point ...Rishab was taking the rounds first he dropped behind Neha ,,,,,but unluckily Neha couldn't hold of Rishab so she has taken the rounds dropped the kerchief behind Karthik .. Somehow Neha managed to escape from Karthik sat in his place.The family was filled with joy ,cheers ,smiles and roars of naughtiness engulfed making the atmosphere more beautiful .. When Vikram got the chance he dropped behind Rishab ... The game was going on ..This time Rishab dropped the Archie behind Priya .Priya followed Rishab but he was too fast than her , when she was about to catch him , her eyesight got blurred ,Rishab who looked back smilingly he sensed something wrong with his bhabhi , so he went & held her, she fainted in his arms ..
Ram reached there fast to lift her up , When Ram reached there she winked at him , Ram understood the scene behind it he lifted her up and placed her straight .. Both Raya shouted we won we won ...
Everybody was surprised as well as shocked to see what had happened..
Rishab pouting his face ...Haa this is unfair ..cheating .. cheating . everyone laughed at him ..and they enjoyed to the fullest ... They went on to see birding .. They all were surprised to see various flowers , fruits , trees which were filled with lovely colourful variety birds .. The area was filled with birds songs ..
It was like a heaven .. They clicked many photos ,the roamed all over the place like kids, they reached back to their resorts at 6 pm...everyone seated in Krishnaji's room ..
They ordered some snacks ...while they discussing about the places ,Ape asked Bhabhi what gift Bhai has given you ,Bhai what have you given to bhabhi .. They both smiled looking at each other .
"We haven't yet" both answered in unison . Everyone gaped in wonder ..
Krishnaji :If you haven't revealed than you give it now na .. Everyone pleaded please please please we want to see your gifts ..
Ram called Karthik giving their resort keys he asked him to bring the gift down ...Priya also said the same .. Karthik returned after few minutess carrying two gift packs ..
Bhabhi you give first ,Priya miming Happy anniversary to him ..She handed him her gift .
Ram opened The gift and found a beautiful watch in it , That was black shaded ,He uttered only Beautiful ... Everyone gazed it ...awww that was super cool Rolex watch ..wah wah kya baath hai bhabhi that was just superb ...Ram found a note in it ...everyone was curious to know what was written on it .
Priya too was surprised thinking where this note came from ..
"Hi Ram ,God only knows how much your wife made me roam around Mumbai city to get this gift for you , I think seeing this you must be wondering and liked it, so her hard work paid off ...
Sorry for intervening "Happy anniversary to Most wonderful romantic couple Ram & Priya"
Every one was split into peels of laughter .
Ram gazed at Priya ,she answered like an obedient student ..
"Wo actually this gift was packed by Neel . It must be her mischief ,she said she will be in travel today but her wishes will reach me .I didn't expect this way" ,she too smiled ...
Now bhai your turn ...He gave the gift pack ..she opened it .. It was a gold chain with heart shaped locket in it's centre . That's just beautiful ...Priya said ...
Everyone clapped ...this is just like P
riya bhabhi simple yet elegant .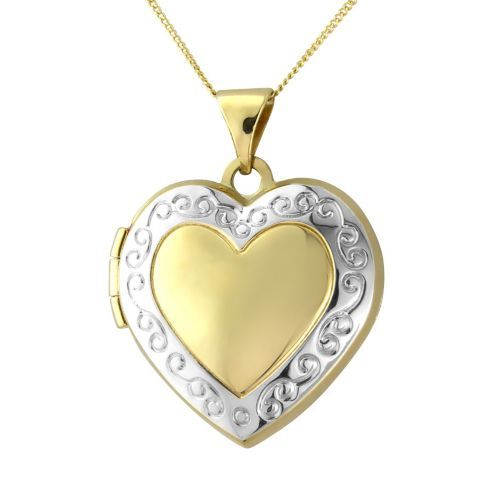 Neha: Ram help her to wear ..
Vikram :Priya you too help her wear the watch to Ram .. They both started fight regarding that Ram's words made Neha Vik to stop their fight ..
They both asked come again ..
Ram : Priya hasn't seen my gift yet how I will make her to wear ..
Priya gazed at him then at gift box which was having only this single chain .
Priya:What are you talking about Ram ...He signaled her to see the locket ..when she was trying to find whats there in that the locket got opened and it split up in to two and revealed their images in it .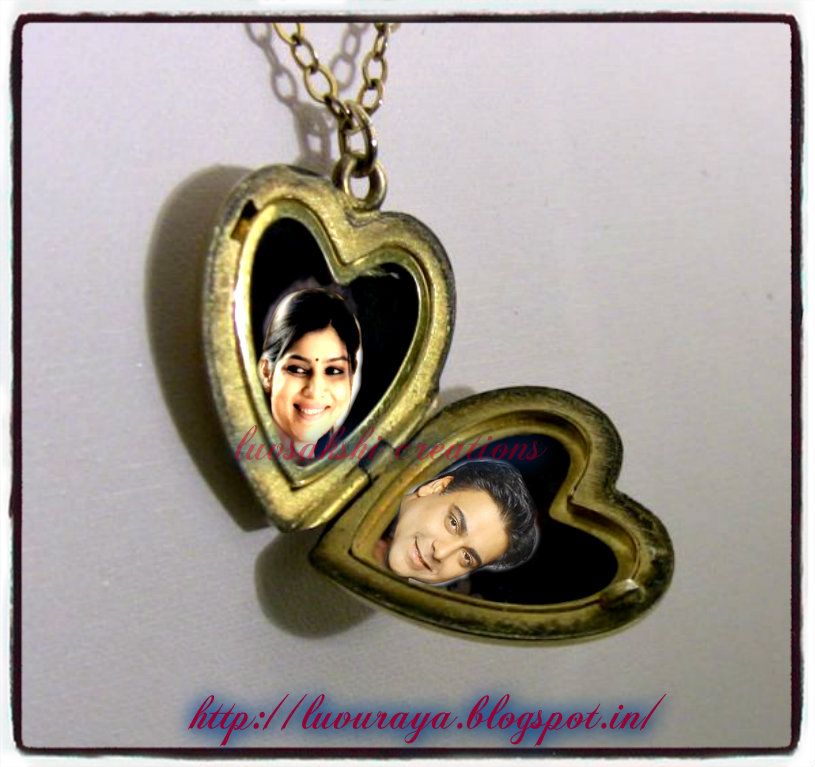 Awww ...owww ..hawww hayeee ..Omg this is soo romantic .. everyone took their own time to check it , Priya had teary line in her eyes ..she mimed emotional Thank you to him..He sidehugged her wiped the tear drops which were about to drop .He whispered in her ears ,I too know how to surprise you .
She blushed and said ..I am really surprised ...
Apeksha: Coughed ...we are still here .. Everyone giggled..Ram wore the chain on her neck , Priya made him wear the watch ...
They retired to their rooms telling they will have their dinner in their room.While climbing stairs Priya said to him ..Yesterday in the dark I haven't noticed this is actually a floating room ...
Ram: "Haa isn't it beautiful ..?"
Priya: Sach mein ,Its so wonderful place I have ever seen ..
Priya: Ha baba both smiled ..They reached their room both got freshened up .This time Ram got freshened up first , Priya went after him ,, when she came back to the room Ram was arranging something in the balcony ..She went to him without make up , just filled her maang and with sindhoor , drying up her hair with the towel ,she reached him asked whats going on ..
Ram who turned to see her .. was mesmerized by her beauty she was looking so simple and elegant and the white saree brought back his romantic memories and she very well knows that he likes to see her in this saree .When she looked up at him he was gazing at her ...She smiled asked what is this..
He made her sit on the chair leaning on her back he wheeled a window type plate infront of them .He asked her to look. She wondered to see the stars which were really close and she could feel them so close to her and both had view of star gazing ...It was so close and so beautiful [In the Machan resorts they will arrange to view star gazing too ]
She hugged him Thank you for this ... Ram smiled actually this was done by our naughties .Their gift to us on our special day .
Ram hugged her from behind...I have a surprise for you he nibbled her ear .
Priya: Kya hai ?Mr.Kapoor
Ram : One minute .he went inside bring out a paper lantern with him ,He asked her to lit it ,she lits it and asked him what was this for ,He hugged her from behind held the lantern from her hands , he asked to lift it up ,,,and leave it ..
Priya: Surprised "why? what you doing?" .. she gazed at the flying lantern ...
He blindfolded her eyes ..
Priya: kya hai Mr.Kapoor ...
Ram : Come with me ,Iam not going to eat you up .. He made her to walk to the corner of balcony he opened her eyes... Their lantern reaching height by height and it reached and stopped at one place..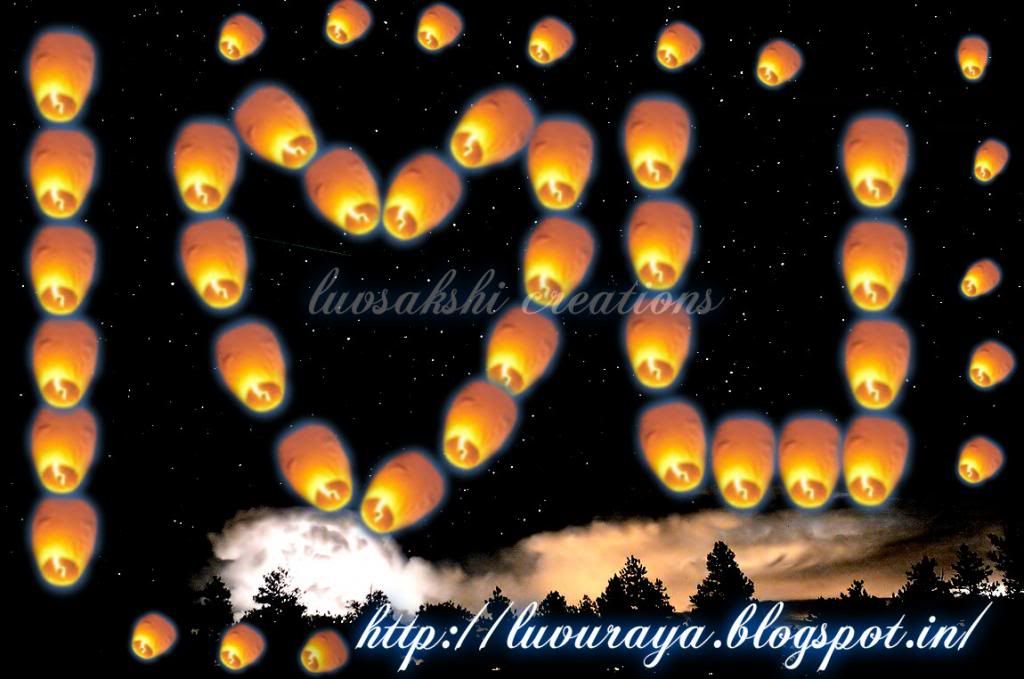 Ram :Kaisa laga mera
surprise
Priya: bahuth achha hai..Ye kaise ..hosaktha hai ..I mean this is brilliant .. In the dark sky the lanterns were formed as "I love you " and to her surprise the lantern they had just released lantern filled the empty place in love shape ..."That was just brilliant ..Just amazing I am having loss of words Ram ..Really this is just" her eyes clouded with tears...Natasha called everyone to show what was happening in the sky .When Ram said about Machan resorts , Natasha knew it was for this ..because her friends also told the same to her so now her guess was correct when she enquired about it in reception .. Both gazed at the sky which was full of lanterns lightening away to the glory reflecting their love in sky ..Both were amazed, slowly the lightening faded off .They reached to their bed ... Ram lit the candles in every corner of room ..The wind was blowing sweetly and touching their faces .. Ram made her sit on their bed ,He took flower petals from the side bowl ..He blowed it on her .She smiled ... .He cupped her face ...
I spread an unlimited love within my limited heart for you Priya.He spoke
"You are my heart and soul and life,
I've frantically searched for you Priya,
You are my only happiness in my life,
Me heart is beating only for you,
I will come wherever you are in which ever direction,
You are my heart and soul,
You are my moonbeam ,you are my light ,you are my destination,
I fell flat for you, got into lovely action I followed you,
I fell into the lock up of love, fell into an unknown trans,
A danger to my life is born as angel,
I am dying i am living on the ventilator of beauty,
Deliberation deliberation,
May I wipe it with your sight ? I'm getting enchanted by you.
Anyone In this world after you,
May I fondle you , you are a jasmine twig, your blue eyes are mesmerizing,
Your smile is a flowery missile, take my life ,my love,
Whether you scold or beat or marry me , you are the one I love,
Flowery girl , how bashful you are come with me to your in laws house,
I've beauty and youth to make you happy,
I will squeeze out your beauty like honey from a comb.
Priya cupping his face in her hands ..she spoke with the same wave to him..
Your mischievous eyes have rung the bell in my heart .,
You've made my shyness to vanish,
You pounce on me with all the force
Take me along with you to world of bliss
I'll swarm like floods breaking the dam like a magical landmine that blew up all the secrets on seeing you,
Why are you rushing boy, you have taken over my beauty,
Toast of the party , can I use as side dish if I'm hungry,
I've not seen anyone like you , I swear
Well chiseled Imperfectly built ,come on hug me ,rip me , kiss me Ram..
Don't lit fire of passion with desire filled eyes,
Hit like a speeding passion I will appreciate if you hug tightly ..
He hugged her crushing under him ,she kissed him on his forehead ,cheeks,she kissed his crook of the neck ,her fingers were working so fast on his kurtha buttons ,she removed all his buttons , ripped his kurtha from him,He to dissolved her clothes,both were lying naked under the thin bedsheet , His fingers touching her sensuous parts ,she was melting for his touches , He warmly crossing her mounds , Making her shiver to his touches .. She kissed him with desire blood rushed through their bodies ..He flipped her to the mattress biting her neck ,He moved inside of her filling her each inch with him ...I love you ..
Priya..I just love you ..
I too love you Ram .. Both were sweating badly when he finally placed him in her..his strokes were so hard she was trembling for his moves and giving herself and surrendering to him . .. His rhythmic contractions made her womenhood lively to his manliness ,
They were sailing the love with each giving and taking from the other .Both released their wet juices all over ...Collapsed on the bed..Kissing her one more time ...They wished each other "Happy anniversary " soon they slept off .
P.S from writer:Everything i have witten about machan resorts are true,you can see the fort ,stay in hanging room,watch the birds, you can giv message with lanterns in the sky according to your choice..star gazing ,trecking everything they will arrange..so couple and fture couples have visit there.It will be so romantic..