PART-85
He switched on the light to see her excitement.
Ram: Okay this all I have planned and discussed with architect and he gladly accepted when we went to Amritsar , Rishab looked after this . That's why he didn't come with us .
Ram: and Rishab gladly stayed back because of you, now don't glare at me like that .
Priya hugged him ..in their talks the clock struck 11.59 .He Knelt down in front of Priya ,sliding the 24th bangle to her hand.
[these are the bangles which Ram has given to priya]
Priya you might have understood that I have copied the celebrations type from you and thisbangles idea also I copied from your rose flowers Idea . You very well know that I have given you gift for each hour today .The clock struck 12. He held his hand out to her ,
"May I be the honour of your 24th Gift " Your last gift is myself Priya .
[she choked with emotion ]
I know this is same as your 24th Gift, you know Priya on my b'day , you said how you have fallen in love with me but I came to know what is "Love" from you only . Whenever I come from office my eyes used to search from you, my ears used twirl to hear your non stop bantering, teasing, taunting , he smiled with tears glistering in his eyes , by the time Priya too knelt in front of Ram facing him , wiping her tears .
"Shaadi ke baad pyaar hote hote hohi jaata hai "
He said correct for me ... this became true ..pyaar hote hote hohi gaya tum se . I didn't ask anything else from God except your happiness .Your ever beautiful smile on those perfect lips. I don't want to see you in any trouble.
Priya hugged him . You said on my b'day . If you fight with me ,sulk with me or something you do
"I should hug you , pamper you , caress you , "
I did exactly what you have asked , I pampered you , I kissed you , I'm trying to be with you all the time so that you wont miss me . I wanted to be with you mini seconds also Priya .I'm trying my level best to spend a quality time with you baby .
I will come after your death also wherever you might be , my soul will just reach you , just remember this "Priya mai tumhare bagair nahi ji saktha " I love you Priya , I love you, I cannot live with out you , please don't ever leave me. When I saw your divorce notice , I was shaken up , when I came to know you are running off from me
I just couldn't able to digest the fact that you wanted to leave me and... his tears trickled down on her shoulder , Priya I know as a woman you couldn't take what has happened with you ,but the truth is nothing happened to you .
You are as pure as divine Priya. I did save you , I just cannot see you in such a situation , I love you so much that I myself killed that bast***d
I wanted to live with you ,I want to make love to you , I want to produce a cricket team with you [ he smiled slightly ] I want to tease you , I want to adore you .. I wanna make masti with kids and make you feel fatigue by our naughtiness.
I want to live my full life with you and I want to build my family with you Priya . If you think I will move on without you ,than its just your nightmare ,when you will leave me that moment will be my last breath , by the time his kurta was wet by her tears . She placed her hand on his mouth "pleaseee" she sobbed hard ..
Don't [sob] Don't utter such words ,I love you ,I love you so much .She kissed his forehead . His eyes , his nose , his cheeks lastly she pecked on his lips tenderly yet sweetly . She broke the kiss , taking his round face in her arms, he was looking deeply in her eyes .
"Ram ,Whatever the future is going to be , I will never ever leave you by your side "
I know how much pain I have given to you ,I know how much I did hurt you but all I had thought was "You should be happy " You have to be happy, but I didn't think this small thing
Priya: Your happiness lies on me .She again hugged him pouring their heartout to each other stayed like that for sometime. Ram broke the hug making her stand on her feet .
Ram: ab no rona dhona , Its getting late ,come sleep .
Priya : ha..I will change and come ..
Ram : okay .. he waited for 10 mins .he knocked the washroom door ,are you okay Priya .
Priya: haaa Ram I'm coming .
Ram walked back to the bed, slowly Priya stepped out from the washroom , with her cat paws she walked near him . Ram sensed her presence, before he could spun Priya hugged him from back . Kissing his back she hugged him more closely . "I missed you" she gave a gentle bite on his back .
Ram : Ouch that hurts Mrs. Kapoor ..
Priya: You do always what about that Mr. Kapoor ..she smiled telling this .
He spun himself to her ,His eyes twinkled seeing Priya in a pink bathrobe, few water drops were dropping from her wet hairs .
Ram: Why you took bath at this hour ..???
Priya: Closed her eyes biting her lower lip mumbling "Golu tho Golu hi rahe ga "
Ram: He made her hairs to swipe one side . kya hua sweety ,You okay ,he lifted her chin
Priya: She pushed him a lil , he landed on their bed on top she too landed on him . Looking deep in his eyes ,don't you know why I took bath . She crawled on him making him feel her touch , she opened his kurtha buttons gazing with desire into his eyes . When it got open her lacy slim fingers traces his bare chest .His hands were lying on her back staring at her actions.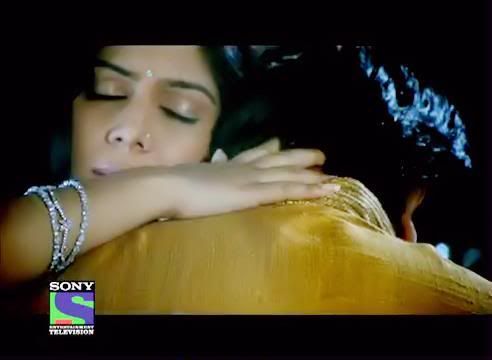 Priya kissed the exposed skin , then her kisses were ascending to his neck . He arched when he felt her soft smooth lips hovering on his neck . She gave another bit on his chin earned a low moan from him . she giggled hearing it .
R: Kya hua looking deep in her eyes .
P: Kuch bhi hua nahi .. aapka problem kya hai
P:Only men can be aggressive kya , won't we have desires she darted her point at him ,he gaped at her . Priya nibbled his ear .He closed his eyes feeling her on him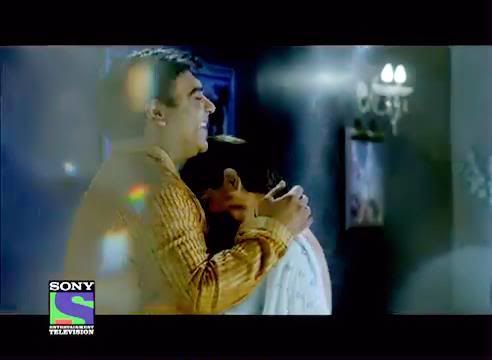 R: He was about to touch her than it suddenly struck him that he should wait until her full support. But he was enjoying her moves, when she didn't get any reaction from him she inserted her fingers in his hair , angling his face she sealed his lips with her . His breath hitched seeing her response . Her fingers gripping his hair ,her tongue meet with her mate they are dancing in unison .They broke when they felt the need some air . She hugged him tentatively she made him remove his kurtha .
P: Eyes glued to his well muscle body . she kept her head on his chest , touching him with her hands ,they worked fast to deject other existence on his body . Her bathrobe loosened up .Ram saw her slight sleek cleavage view .His heart beat raised . She landed on his chest . she sucked his n***le ,Ram let out a small growl "Mmm"
P: Isn't it feel good . Before Ram response she did same with the twin and her other hand squeezed his pectoral muscle. Ram's hand reached to her face slowly he made his hands towards her shoulder blades .Massaging it slowly he tried to push away the material which was hugging her wife . Her lips came down from his chest to his stomach , her lips smiled seeing her mark she bit again . Ram jerked and
made her lie down on her back .
R: Kya kar rahi ho .. he whispered on her lips ..
P: She leaned to tell him on his ear , she nibbled his earlobe slightly whispered slowly "Loving my hubby"
R: Achha I will show how you should take the lead saying this he kissed her neck descending slowly he traveled to the cleavage area . He gently gave a quick lick on her exposed part , slid his hands on her bare waist through bathrobe .lifting her a lil he kissed her exposed stomach .she arched her body calling his name huskily "Rammm"
She felt he was grinning .He placed her again on the bed .he suddenly kissed her sole .
P: struggling to remove .Please pair na pakdo ..
He joined both her feet ,Kissed adoringly giving a deaf ear to Priya's pleadings .she was losing her senses ,he kept both her feet on his chest his fingers travelling through her ankles then to her slender calf muscles then her thighs .. when he reached there .. Hmm do you need this still. Priya dug her head on her pillow . He kissed her medial side of thigh erupting a sensuous moan from her . Then his lips touched her sensitive area . She buckled up her inner self . "When I finish my work here I want you to be without that," Priya flustered . His lips working on her enfolding each her deep folds .Her inners were quivering with the touch of her man on her intimate part . His hands were clutching her legs wide ,licking her making her weak for his touch earning a low soft erotic moans from her .
R: Deliciousss he murmured against her womanly feminine ,I said remove your ... again his lips forming the ocean in her . she about to take her legs closer , His hands gripped them tight as wide . She detached the bathrobe ,while his lips were working in rhythm on her feminine form . She felt her stomach crample ,her veins rushed through excite sensation , she yelped a loud moan the wet juice flowed down , he grinned feeling it . His hands reached her voluptuous curves, he tugged them towards him making him get up from his fav place ,he landed on her face , by the time she was feeling shortness of breath as she received her first orgasm her face became flustered ,her nerves were craving for more . He kissed her lips then he started kissing and licking his way down to neck than her flat belly and waves of chills ran through her whole body. He flicked her nip**s with his tongue making her want more from him .
She surrendered to him completely , he was making wash off all the disturbances from her. He pulled her back to him, tugged her earlobe with his lips. The touch made Priya shiver and she closed her eyes hugged him tightly .. His hands touched her milky mounds. He was freezing them in hand tugging her nipples with his index and thumb finger ..Her inners were shivering like a dry leaf wanting him touch there .She was so desperate to feel the touch of her man. His tongue circled the areola than sucked the ni***e . She pleaded him to complete her , but he was taking his own time to play with her . She pulled him sealed her lips with him , pushing her lower part more to him. His hands lazily drawing circles behind her back. The slow circular rhythm of his entry made her loose her grip on him , she lied down on her back arching her body in an arousal , Ram circled her legs around his waist . The room was filled with her moans ,his growls and their skin contact . Priya's fingers trying to gauge the pleasure he is giving her , he was filling her inners , His moves were getting faster ,harder than previous ones . They touched the zenith while swimming in the ocean of love making .
She felt countless orgasms along with him . When their two bodies surrendered in a synchronizing motion they were lost in their love charisma. They lost the count of their orgasms as well as they lost the count of time . In the wee hours of the morning Both tangled like two pieces in puzzle ,sweating ,tired they slept in each other arms.
The sun peeping from the curtains ,
Priya snuggled more closer to Ram ,She felt his warmth touching his naked upper torso she again dipped in to her sugary sleep . His hands automatically snaked her more to him . The continuous ring of his phone brought him back from his sleep, hearing the sound Priya closed her ears mumbling something on his chest. He attended the call clasping her near to him .
Ram: Good morning ..What happened?
Vikram : Are Its going to be afternoon and I'm calling you from so much time and see you are still sleeping
Ram: Checked the time ..Its 11.10 am . Ufff sorry yaar .. batha kya baat hai ??
Vikram : Ram that Japan client is asking the profits file in detail that too with in two hours he wanted to meet you at Video call .
Ram: Achha .. Theek hai I will be there in one hour .
Vikram: Areyy ..you come ASAP man .. You have to check it na .
Ram: Koi baath nahi .you dont worry I will manage ..
Vik: Saying okay , he disconnected the call . Wondering what Ram was up to first he didn't say he will be late to office and moreover this was such a big project and he was not bothering at all, haking his head he drowned himself in work .
Ram turned his head to her , she was sleeping like puppy snuggling him , he decreased the AC volume . He nibbled her ear saying "Good morning baby doll "
P:Please "sone dijeye na "
P: Raat bhar sone nahi diya our ab bhi kya ..
R: Raat bhar soya nahi ho aap tho kya kiya aap ne ..
P: All their night moments flashed in front of her eyes, she opened her eyes to see the most wonderful smile of her hubby . Good morning she wished him moving more closer to him . he dropped a kiss on her hairs "uthne ka irada hai ya nahi "
She smiled at his chest . Hmm feeling sleepy ,my body is aching
R: concernedly I didn't hurt you na yesterday
P: Nahi Ram .. aisi baat nahi hai but I"m feeling sore a moist line appeared on her eyes .
P: Please . its just that we met after long time and more over
P: Jaane dijeye na please ..
R: Priya please .. tell me
P: Oh god , aap bhi na Ram , kithne ziddi hai ..
R: Please did it hurt you?
P: Nahiii its just that we didn't sleep through out the night , she blushed saying it .
R: And you had countless orgasms too
P: now blushing profusely Rammm
R: He smilingly hugged her . achha I have one imp meeting I will go just finish it up and will come back
P:hmm abhi jaana hai kya ??
R: No with in an hour , so if you will get up I will make you shower and dress you up then I will go
P: Blushing mai kudh karlungi
R: Oh my blushing beauty now come on , he lifted her in his arms to take washroom , after half an hour both got ready and they had their brunch Ram left to his office .
By the time he reached Vikram was giving instructions to the workers and he felt relieved seeing Ram .
Vik: Kamaal hai yaar , why you wont answer your call .That client is waiting for you yaar , he wants to talk with you ASAP .And I'm tensed ki
Ram: Giving his dazzling smile to Vikram he walked in to his video conference room ,he took his pen drive and prepared the slides ..When Japan client connected to video conference he was ready with it . That was most imp amongst all the projects and Ram explained them very greatly and they were very impressed by the time he finished it was5 o clk in the evening .
Vikram and other associates clapped hearing him out and every body congratulated him
Vik : Kamaal hai yaar , I was tensed here, you could have tell me na that you were very well prepared for it.
Ram: scratching his temple ...I haven't prepared while seeing the slides I just told them .
Vik smiled at him and Ram took a leave from him , Priya might be waiting and he rushed off from there ..
When he reached his room Priya was sleeping like a kid her phone was in her hands. His lips curved into smile seeing her . He went to balcony to pluck a rose , he came to their bed slowly caressing her face with it . She startled and got up to see her hubby was creating charm with a rose.
She stretched her arms , He cosyly went in her arms
R: Hmm still feeling her heartbeats
P: I'm sorry for what all I did
R: breaking the hug, shhh closing her mouth now on wards we should not talk about past .
P: Resting her head on his shoulder "okay "
P: As usual got ready she just touched up with light make up and walked with Ram . When she stepped out of her room and the entire way she was feeling something was missing .
R: Grinning studying his wife expressions .
P: Gazed at him and found he was grinning at her
P: Something is missing .. what is it .. her thoughts just struck, she turned back and checked again and she walked to outside of the Km and checked all over and she didn't find any body guards
P: Where are the body guards ..
R: You like them kya ??shall I call them again
P: Playfully hit him on chest , Noo but why suddenly
R: I know that you wont run away from me so
P: Hawww means until yesterday you had that feeling kya
R: Yes any doubt?? pinching her nose lightly but two will be there with you when you join again for your classes
P: Hmmm pouting her face but she didn't say anything , she was enjoying the ride as she was coming out with her hubby after so many days , and the cool breeze touching her face giving more freshness in her life .
Both reached hill station, there they were conducting a nursery exhibition with different flower plants as well as some entertainment programs and food stalls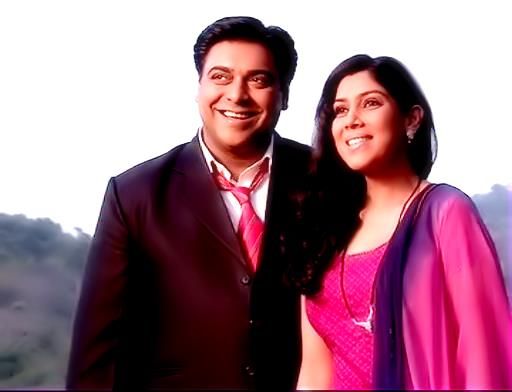 They both roamed like newly wedded , teasing , laughter , her taunts . when her looks got struck at one point ,Ram dragged her that area and he asked for two kulfis .
She excitedly took two kulfi in her hand asked him to take another one for himself . Smilingly he took another one paying him off he walked to her ,she was resting her back on the car enjoying her kulfi forgetting rest of the world.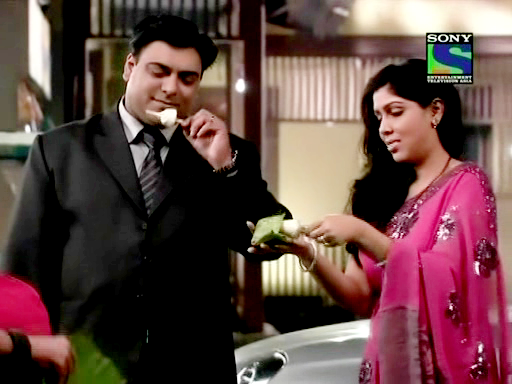 R: Who came back smiled seeing her happy , he felt contended . They had their dinner there itself Slowly they came back to KM. it was late night and everybody were sleeping .Priya also slept in car itself .He called her with wobbly steps she reached the room and slept without changing .
Ram called her so many times to change but madam slept . He changed him self and he was also too sleepy as he also doesnt have proper sleep .. He removed her saree her jhumkas , he left her like that and slept hugging her .
Morning Priya got up and found herself half naked ... Mr. Kapooorrr ye kya hai .. she yelled at him in her sleepy voice ,
Ram : kya hua re , isn't it good ,opening his one eye wickedly he smiled at her .
Priya : ye bhi koi tarika hai kya dress change karne ki
Ram : laughed out loud . mai kya karu , I was
also feeling sleepy so I just did easiest way and now also my work will get easy na
Ram: matlab ye hai ki puling her closer make her feel his desire
Priya : blushed , isn't you are having work at your office
Ram : lifting her chin up , ha is there but this will come first , he made her hands stretched either side of the head nuzzling her neck he made love to her . they both got ready came downstairs . They had their breakfast . Ram went to office Priya was taking the charge of Mansion again .
Krishna ji and dadi were very happy to see her all normal . The days were passing blissful for Priya and Ram .Whenever Ram wanted to tell Priya about their unborn twins the topic was being pushed back somehow, Rishab was trying to make his
friends
understand but they were behaving very rude to him especially Sowmya was facing a lot of problem . Rishab wanted to tell to Priya all this but he remained silent as she was getting back to normal phase these days only .
One fine day Ram came back from the office , that day Neha's kids didn't come to tuition so she was waiting for him when he came she briskly walked to him to take his briefcase smiling broadly .Thanks for coming this early, come lets have dinner .
Ram: Sheepishly smiled Priya ..wo ..ek jaroori meeting tha..
While they were talking ,,Nuts entered with Prem fumingly , seeing Ram & Priya
"bhai bhabhi I'm going to stay few days here , do you have any objection "
P: no baby , how is P
rem? before she could walk to Nuts , she ran to her room .
Ram & Priya both looked at each other both wanted to go to her room meanwhile Krthik came hurriedly seeing "di , nuts kaha hai "
Both showed her room .he too went there .
Ram wanted to go . Priya stopping him aap jayiye and fresh hokar aajayiye , I will look into the matter until then. Ram unwillingly left from there .
Note : Kya hua nuts ko .. will RaYa can able to solve that , and will Priya come to know about Rishab problem . what is it Rishab hiding from his family .
Well Priya will she be able to know the truth of her unborn twins??
To know more keep reading and stay tuned for the updates .
P.s:If you want with images just click the link below
http://www.india-forums.com/forum_posts.asp?TID=4080190&TPN=136