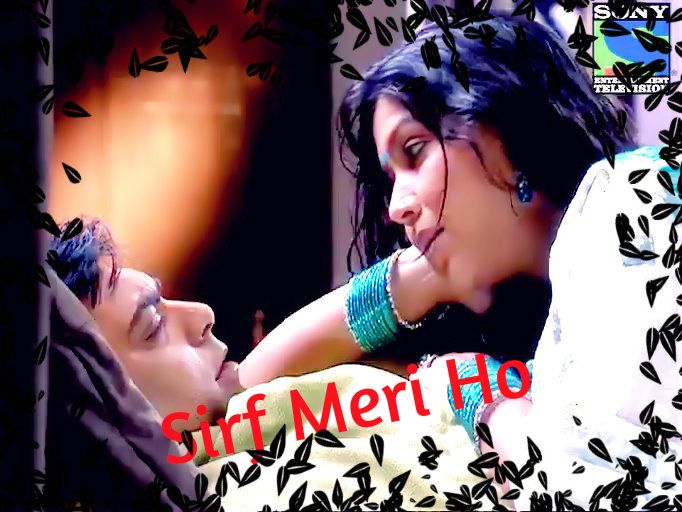 From Writer :Thank you very much for you everlasting likes and comments .The previous precap is for after this update.Iam extremly sorry for that story is going very long while writing , so please be patient and read it and leave your valuble comments.Once again thanks for the apreciation .As i don't like to mention my name in the net world , I'm avoiding that ,because I faced some problems before ,that is the only reason and Iam always busy ,no other reasons are there to anounce my name .Hope some of readers got their answers .I replied to your mails also ,do check the mail ,If you have any queries ,Please drop a Pm to Neel or mail to luvuraya@gmail.com ,when Iam free I will answer .Thank you so much for understanding .love you all ..
PART -52
The sunrays are brushed on Ram's face from sleek line of curtains .He turned his face to Priya , who was sleeping heavenly facing other side .He snaked her waist hugged her from back possessively . Kissed her nape of the neck.Again going to his cheriched slumber .He heard the opening of their room door .[He remembered last night Priya didn't closed the door telling everyone is there in the home any one can call her at anytime ]He cautioned buried his face more in her back . Her soft skin making him go crazy . His hands landed on her stomach pulling tightly in to him.The violet quilt covered their bodies in unison .The view is looking wonderfully for the pair .
Ram can heard the cat steps to their bed .It is so nearer Ram can easily hear the breath sounds of that person.Ram acted like turning but he more possessively hided his face in her back not showing his actual feelings . Ufff ...
Bhabhi ...Rishab whispered ever slowly ... But Priya who was in deep sleep not reacted for his call .Rishab tugged their bedsheet called her "Bhabhi " wake up na please ..It's going to be 7 ...Bhabhi now he patted on her hand which was just outside the duvet ,She heard him at the time..."What happened Rishab "
Bhabhi "you forgot my promice " You told you will come with me. Now Priya who remembered that she sprung up on the bed but straightly back casted on the bed because of Ram's grip . She hasn't got up yet .Rishab I will come in few mins,You just go and wait for me .Your brother will wake up .don't do any noice .
Bhabhi look at me , you haven't got up yet ,if I will go you will sleep again ,he demanded to open her eyes . sshhh she sighed , Priya who was now feared Where Her man will wakes up,she turned his side Opened her eyes and saw him,his face is so cute ,some of her hairs or on him ,she completely moved ,keeping her one hand she looked at him until she satisfied .Turning to Rishab .. Now I got up ,will you go now ...Rishab smiled seeing the everlasting favorite couple early in the morning . Ohh so you want to see Bhai's face first .With that sentence Ram felt proud understand Priya intentions to not opening her eyes.Why can't you see me Rishab chided her ..
Priya said its not seeing you first or someone , after marriage my day Is starting with Him ,and ending with him ,so if I wont see his face , I feel I losted something and the whole day I feel weird . Rishab laughed and said My Bhai is so lucky ... Okk please bhabhi come fast I will be waiting for you .. Sure iam also waiting for that past 3 months.How I will miss it.. You be ready I will come in few mins .Rishab left closing the door .
Priya turned to Ram , who doesn't know Ram was awake only . She kissed him on his cheeks ,lied for sometime on his chest hearing his heartbeats .Kissed on his chest hugging him tightly , love you golu whispered on his chest . snuggled more closer unwillingly she moved out of the bed . he kept his hand on his head ,opened his eyes hiding under his hand seeing her,she is stretching her body ,slipping in to her slippers , she looked at him again but he covered his face with hands . she thought because of sunrays he is disturbed , so she arranged the curtains fully ,came to him kissing his hand , she removed his hand , he closed his eyes .kissing his forehead ruffling his hair she went to freshen up . He smiled heartily and wants to know what this bhabhi -devar are up to so he was awake to follow them but some how he dipped to sleep .
Priya wore a white colour kurtha ,green colour legging ,keeping her bindi she looked at the mirror .she felt the image of her was in mirror blur .she thought of mirror wasn't clean,she about to wipe it off ,she felt her sight went black,it dimmed her body , her nerves are crocked up feeling all numb she flunged on the chair straightly , after few secs she composed herself ,she was feeling too weak to walk ...She quickly opened her drawer taking glucose powder ,she quickly mixed it drank it in one go .. She leaned n the chair for few mins, she opened her eyes ,felt better , she walked back to the kitchen , ate 2 donuts and chocolate . she felt better even more, told bansikaka to prepare breakfast soon .. she walked to the lan ..
Where Rishab is waiting for Priya .. Priya mouthing sorry sorry .. She grabbed her bat ,briskly walked to the other court , waving her bat too and fro ,getting grip on her bat after months.. she said come Rishab start ...Ok Bhabhi ..
He served the shuttle cock ,
That fearcly touched Priya's bat ,soon her bat yelped with a reverse the shuttle cock touched the other court .Rishab fastly giving shots priya is tetreating them in the same way .. Apeksha butted in ohhh my ohmyyy bhabhi you playing this again ...
Breathing heavily priya replied in a hush tone , hitting the bat again ...Rishab playfully chided her , distract bhabhi as much you can , I will give you a good gift ... or I will take you to meet sonal jiju . Apeksha pouted at the same time Priya huffed No ape don't do that ,,rishab should not win this game .we had a bet please Priya pleaded so cutely ..Krishna ji too entered this was their ever morning time when rishab used to be in home,they used to play every morning as 3 days per week.
Now as Rishab back they are having a good chit chat among the play .. The game is striking to the next level both changed the court , again they started and its going very intresting ,Rishab is giving near shots ,far gaps , so priya has to stumble between those , usually she is a good player but as she was a bit weak in the morning that is ruling her here but priya is so lost in the game how much she is sweating she couldn't notice .. Apeksha is shouted when priya gave a shot rishab failed to return .
Ram got up quickly as it was very near for his room , he backed from the sleep ,went near to the windw to shout on them . but he pleasantly surprised to see priya , jumping ,brisking for a good hit .. She is so desperate to win and she is giving god shts to rishab ,.. Ape is clapping and supporting both .The play is super intrest ,Ram is gripping the window edge in his eagerness that his wife has to hit good shot , priya hit the shuttle cock and rishab failed to catch hold it .. when rishab served it , priya failed to reach she collapsed straightly there itself like a statue.
Ram was the one who shouted first .. Priyaaa ... his breath hitched in his throat ,his legs trembled to be in position.he turned to run .Rishab ,ape rushed there to hold her .. calling Bhabhiii ,what happen ...please bhabhi ... Ape go and get some water rishab yelled with pain in his voice ,,,, Ape brought it ..
They sprinkled some water on her face , but no use .. she is getting cold each passing second .Ram called the doctor ordered " please be immediately in my home , priya collapsed " he quipped his phone is in pocket , Rishab lifted her in his hands, ape and Krishna ji conituosly calling her ,
Priya beta what happen to you.. wake up once .. ,bhabhi ape almost cried , Rishab is in verge of tears too seeing their bhabhi in such position . They met Ram in hall , ram took her in his hands lead their room. He was fed up with her behavior .his eyes are with full rage as well as fear dipping deeply inside his heart .He made her lie down on their bed . Rishab asking her to get up bhabhi please ..
Ram felt the coldness of her , he asked to rishab wait outside but adamant rishab replied I wont go .Ram's anger increased , getout from here rishab , krishnaji taken rishab outside , He asked Ape to help him to change her dress , the dress full of sweat and tight too , they changed her into comfortable clothes , called rishab inside , ape and ram rubbing her feet , Rishab understud now , he silently rubbing her hand , after few mins also there is no response from priya , Ram slapping her , Priya wake up baby , he slapped n her cheeks again , he pinched her arm she responded feeble like gerking her hand .
Mean while doctor came ,Ram explained what happened . she cheked her , gave one injection , told Ram that she had very low Bp 80/60 mmhg ,and her pulse is dropped down .. and with the lack of oxygen while playing she sweeped off .dont worry everything will be alright with in few mins . Use these medicines as well as this syrups . Until she gets fit , ask her to don't stress , yesterday in the function also I told her to take care of herself but see today what happened .just ask her to resume the house work too . Ram nodded said the marriage will be after 3 months,so she wont do anywork .Doc said its ok . just take care of her . I called the lab technician , he will take you some blood samples . Ram agreed .Rishab and Ape just stood there ,tears are flowing in their eyes .Seeing them doc said ..She is ok..dont worry ,Talked with Ram something and the doctor left .
Ram was so shaddered to see her like this , he rememebered this morning and felt the day will be beautiful but seeing her like this .. Rishab and ape were rubbing her feet ,staring at her now and than hoping she will open her eyes but No she was lying down like that .Ram told them to go to your rooms but they didn't . After sometime Priya opened her eyes the meds working on her .She is so thristy her cheeks are burning , she feels her extremities are numb having lil sensation that some one are pressing them gently.Krishna ji sat in couch along with dadi .Priya opened her eyes .She was in Ram's lap.
Priya ,...He Beamed seeing her ..Priya how are you feeling ??Rishab gave the glass of water ,she dranked it in one go ,Patting her back Ram told slowly but she had it very fast .Still she feling giddiness .but she was feeling better after some time she is able to get up dadi and krishna ji pampered her , ape brought juice to her but she said she will have later . asked ape to let the elders go to their rooms and serve them break fast .meanwhile Ram called as the doctor told ,Her assistant cheked her now Bp was alright , and the lab technician taken blood samples , This time he had make 2 pricks as he didn't find the vein properly.some how Priya yelped in pain ,Ram had tears but he supported her .. After that the junior doctor told how to use the medicines he left fro there.
Ram ordered breakfast , Rishab started to feed her with a spoon ,it's trembling , she said I will eat ,she ate .After having her breakfast ,saying sorry rishab cried badly , she kept plate aside from her hands , taking him in her embrace . She asked Ram , did you say something to him , Ram who was seeing all the drama stunned to hear the question from her ..
Ram looked here and there asked her .. you asking me .. ?his question raised
Priya replied yes iam asking you only , "Did you"
she uttered very strongly that she almost forgot krishnaji and dadi were there .they are just going to cross hearing her they stood there like statues .
Ram who was now by furious ..Why the hell I will say something to him ??
Walking near to her , what you are talkin ?
Priya was stammered , rishab who was sobbing taken back with Ram's anger ,looking at him like a deer ,he wished to disapper instant seeing rage in his brothers eyes .. Priya also trembled ...
Rishab get up Ram ordered , rishab got up from there , she is shrinking in bed to hide from Ram , but his intence gaze was hunting her ..
Tell me why I should say something ..??
Priya mumbled "that I .. I ..went . tto.. play with him ??
Ram: Good so you know , I will be angry if you will play ..
What are you thinking , do you even have any idea what you got today ha .. How you are today ?when you know you are not feeling well . why don't you say rishab that im not feeling well .
Priya got heartattack , how this man knows it ... Rishab asked .. bhai ...what is this bhabhi is not feeling well ??
Now answer your devar >?? Tell priya don't test my patience .. Ram raised in his anger
Wo Rishab ...Morning I just felt weak that's it , nothing more .. She mumbled ..Rishab dejected Now bhai will be furious now.. Rishab was worried for his bhabhi ..
Ram send them all , coming to near her .. She asked him .. When do you know im not feeling well why youdidnt stopped me .. ofcourse iam stubborn to fulfill rishab's wish but you are seeing and you didn't stopped ..
Do you think if I will see I should send you to play shuttle .. That too with rishab..
Than gathering her courage she asked how do you know iam not feeling well .. He showed the dressing table there she found an empty glass behind she found Glucose...She bites her tongue..
Ram who was in angry ,didn't cared her ,He freshened up doing somework in his laptop .Priya feeling bored by now sleeping in the bed , she asked Ram , you not going to Office ..
Do you have any problem staying in the room ? the reply came sternly from Ram .. she felt bad ..Tears stinging in her eyes she went near him taking his laptop she sat inhis lap ,snaking his neck in her hands ,she kissed him on his cheek . Whispered in his ears "Iam so sorry " I didn't know it will turn out this wway .I just went to play .He closed her in his embrace .
I love you Priya , I love you somuch ,How my heart pained seeing you so cold like lifeless ,Do you know how it hurts , His tears dropped n her shoulder,taking his face in her hands ,Im so sorry she said .Ram got a call that saying he has to go to office urgently.. seeing her once he said sadly yah I will come there in 15mins yyou take care until Than,Placing her on bed .Please take care , Love you loads.i will be back after an hour ,we will eat lunch together . He kissed her forehead .Changed in to his office attire ,warning her ,don't run ,don't do anywork ...arghhh Don't step outside of our room.Tho surely I will ..
What you will do ,Priya asked ever huskily ??? Ram controlled ,,said don't step outside ..Waving bye he left . He very well know ape and rishab was waiting for him to leave ..
Rishab entered ,,,thadaaa making that sound ...Bhabhi Did bhai said something to you ..
Nope , priya replied with a happy note , she went near the window ,at the exact time Ram called to rishab asked him to keep loud speaker ..
"Priya , I sat in the car alredy , don't stress to peek out from the window wether my car has droven out or not ." He cuts the call imagining her face .His laugh made her crunch herself .. she blushed back off to the bed .
Bhabhi ,how bhai guessed ,
Priya replied .. wo tho hai , hugging a pillow ,
Rishab replied , I thought today he will slap you , Priya raised her eyebrows ,no way , your brother anger is so justified ,because I will end up doing such things which he don't want to see , especially in my case but everytime how much ever I be cautious also , that will end sheerly on his legs which I can't turn back to look .because the fault lies on me .
Rishab smilingly , you bored na bhabhi.
Yes rishab ,please do something ,
Tattadadammm... He called bansi kaka , he brought snake and ladder , chess and caramboard .They played for sometime , after some time her mobile beeped , she looked at the msg , love you sweety , please have your juice , same time bansikaka came with juice ,a smile creeped on her face , she had it , replied "Ab kush "
Instant the reply came "Bahuth "
They both had smile on their faces ... Rishab asked the reason for smile .. Ape chipred saying before you are seeing one msg from special person and smiling na same for that ..
Priya astonished to hear that , asked rishab , Are you in love ?
No bhabhi , this Ape bhi na , as her thoughts are not coming from Sonal jiju , she is mentioning it to me , he hold on ape phone and gave it to priya see look at ..
Priya smiled and giving back to ape without seeing anything , its her fianc and what about you , soon nuts and karthik came to see her .. Priya warmly hugged nuts , caressing her stomach , are you feeling anything .. Bhabhi 6
th
month entered na, some times she is kicking like football, nuts smiled and karthik told "di ,evening to night , she twirls so much In her stomach , god only knows how much she will twirl"
Everyone laughed , priya gave a msg to Ape , snach rishab phone at anycost , today we have to know whats the secret ??Ape gave a smirk to Priya .. and everyone are chatting .. after some time ..
Ape snached the phone from rishab , and he hasn't noticed ,she opened a photo , showing to all.. hey she is going to be kapoor kandans choti bahu , everybody stared ,Rishab jumped to hold ape , when he hold her , she throwd the phone to priya , Priya hold it seeing the photo in his mobile..
Are wah Rishab ,she is so sweet , Rishab ran to priya but as usual priya was faster than him , she ran outside following karthik ..nuts stayed there as she cant run ,when priya going to caught she shifted the mobile to karthik , they are making hell of kapoor manion hall while roaming here and there .Ape too joined ... They are not leaving this naughty Rishab ...
Krishan ji came warned them Gir jayegi ,"you may fall down ,slowly "
Priya replied Ma , you don't need to search for choti bahu ...she is there already in this .. showing his mobile...Ape rooted in her spot seeing Her Bhai coming in ..His smile vanished seeing them.except Ape nobody noticed when she about to spell , Priya hit him ...And Ram ...while panting see ye Rishab ..her words paused in her larynx seeing the rage in her eyes , she wiped her sweat off , she composed herself .but the damage was alredy done , she bites her lowerlip , spelled shit ...
Note :So readers whats going to happen ,will he be angry or what ??
what he will do ?? your expectations ..