The next day Ram asked her to get into the car quickly "I will drop you at college and will go to the office" .
Priya was already prepared for it , she likes to go with him but right now she has so many plans for her man's bday ,So she said "Ram woh Neel is coming here , she has some work we will go in her car .
"Are you sure?" Ram asked her concernedly ."Ha baba sure" Priya said him .Kissing her cheek he went out .At the entrance he met Neel .
Ram :Good morning Neel ..
Neel: Good morning Ram , How are you?
Ram: I am fine by the way what is that important work with my wife?
Neel: Now she was confused, "Sorry, Come again" .
By then Priya called her , Ram bid bye to her .Priya almost dragged her inside the room."Did you say anything to him."
Neel: Haa I told ..
Priya: What???
Neel: Chill yaar , I said Good morning ,your husband asked "what is that important work with my wife .."By then you called me Nooo you dragged me making a grumpy face .
Priya:Are yaar chodo na ..Pleaseee ...Did principal give an off to you .
Neel : Noo...
Priya:Then how come we will go for shopping .
Neel: Yaar ,Its not your problem whether she has given off or not .Today she will come to know "Neel hasn't come "She laughed softly .. Hearing that priya too chuckled "Thu kabhi nahi sudhregi" ..
Priya & Neel both went for shopping .It was almost 2pm but still Priya hasn't liked any thing ;
Neel: making huff sound she sat in one of the chairs, Priyuuu kya yaar , Take something na .You are making me roam entire Mumbai .God only knows how Ram Kapoor is dealing with you.
Priya: Hitting her arm lightly , Neel It should be simple and unique , you were showing all expensive and fashionable ones.
Neel:Yaar ,I am showing in your budget only ,About fashion uff Men likes new fashions and that too you are gifting to The Ram Kapoor , aisa hona chahiye na .
Priya: Too sat beside her. She became sad, "after searching so many shops also I didn't like anything ,Neel It should be unique like him , if he is The Ram kapoor for world, for me he is my husband .
Neel: Holding Priya's palms , Awww my Priyuuu don't be sad , come lets go to another shop if not then I will show you others too ..come come lets eat something then will start for other .
They had their lunch. At last finally they got what they want .Priya's happiness had no bounds ..Awww I got it ,I got it she squealed with joy hugging Neel tightly . Rest of the shopping she finished and bid bye to Neel and was back in Kapoor mansion by 7 pm .By that time Ram has reached and called her but asusaul madam hasn't attended the call .
Priya kept the bags in Nuts room ,she sprinted to her room ,she was too tired by now ,She lazily lied on the bed .
Ram was in balcony talking with someone but he saw her when she was entering the room . After few seconds he came to her. By seeing her face he very well understood how tired she was. When she inahaled his fragrance , she opened her eyes .. Smile danced on her lips seeing him.He kissed her forehead .
Where were you sweety ? How many times I called you ?
Priya:ohh sorry ,, It's in silent mode ,I was out with Neel,I told you na in the morning ,It was extended till now.
Ram:Ok .. If you are tired you could tell her and you people change the plan to someother time.
Priya:No no ,That's an important work .
Ram:Achha ...Taking her legs in his lap.
Priya:W.wh..What are you doing Mr.Kapoor !!
Ram : Hmm smirking at her , He slowly lifted her saree up until it reached below her knees, smoothly started pressing her calf muscles ,She was gazing at him intently , His eyes met with her ,a sweet eye lock happened .Ab kaisa hai ...
Priya:Theek hai .She mouthed him Thank you when her eyes were pouring love for him .He smiled unconditionally .She took his face in her palms kissed his cheek telling I love you .
The next day too they bunked the college ,Neel was helping Priya to make her plan work out .
Neel: Priyu ...you want coffee .
Priya:She glared at her ,first don't call me like that , second what Iam doing ,my hands are filled with this and how I will drink it .
Neel:As your wish thought of making Romantic coffe for you .Chill .
Priya:Romantic coffe matlab ..
Nel :Showing the sugar cubes ,which were having letters , she slowly made dip R ,A ,M letters sugar cubes in it ..See this is Romantic coffe ..
Priya:Laughed ...Neel made her drink the coffe .while she working on her gift .It took almost 6 hours time,and the result is so beautiful
Neel :pondered priyuuu . that was simply beautiful ..
with a satisfy smile She reached Km .
It took almost 6 hours time,and the result was so beautiful.With a satisfied smile she reached KM.
The days went on with a busy schedule for Priya .Ram was observing her but didn't say anything to her .
Then the day has come .As Priya instructed, Vikram has kept Ram busy all the three days not even giving hint to him about the birthday party . Rishab planned some anthyakshari programme after the dinner , Nuts ,Ape ,Neha ,Vikram were seated,They dragged Ram also to the group . Krishna ji and dadi were asleep and Priya went with them .
All were enjoying the anthyakshari suddenly electricity was gone . Ram very well knows that Priya is scared of darkness . He said guys please ek min and rushed to their room . When he entered the room flower petals showered on him .He looked at the side Priya was showering flower petals ,singing Happy birthday to you ,Happy birthday to you ,Happy birthday dear Ram .She had a teary line while singing the song .He took her in his embrace hushed in her ear "Thank you " She kissed lightly on his lips and wished "Happy birthday Ram".
1st Gift :
She handed a small gift to him .It was wrapped in a yellow gift wrapper with a red rose on it .She clapped and every one came and wished him .He opened the pack and found a beautiful Ganesha.
Ape squeled Bhabhi this is so beautiful ,for making this small idol you sat for almost 6 hours kya??Ram gazed at her .Neha dragged Vikram ,I told you na about this only ...Ram's eyes were on her ,he mouthed Thank you ,Its beautiful .
Priya: "Do you like it? "
Ram : "I loved it" ,side hugging her .
Nuts: But why this is first then the cake .
Priya: Because Lord Ganesha is lord of success as well as who worships him he will remove all obstacles in their life ,so usually if we start any work our first priority goes to Lord Ganesha.
Turning to Ram
"I wish every success comes to you in your life with out any obstacles and palming the Ganeh idol ,placing in his pam and he will bring you all success .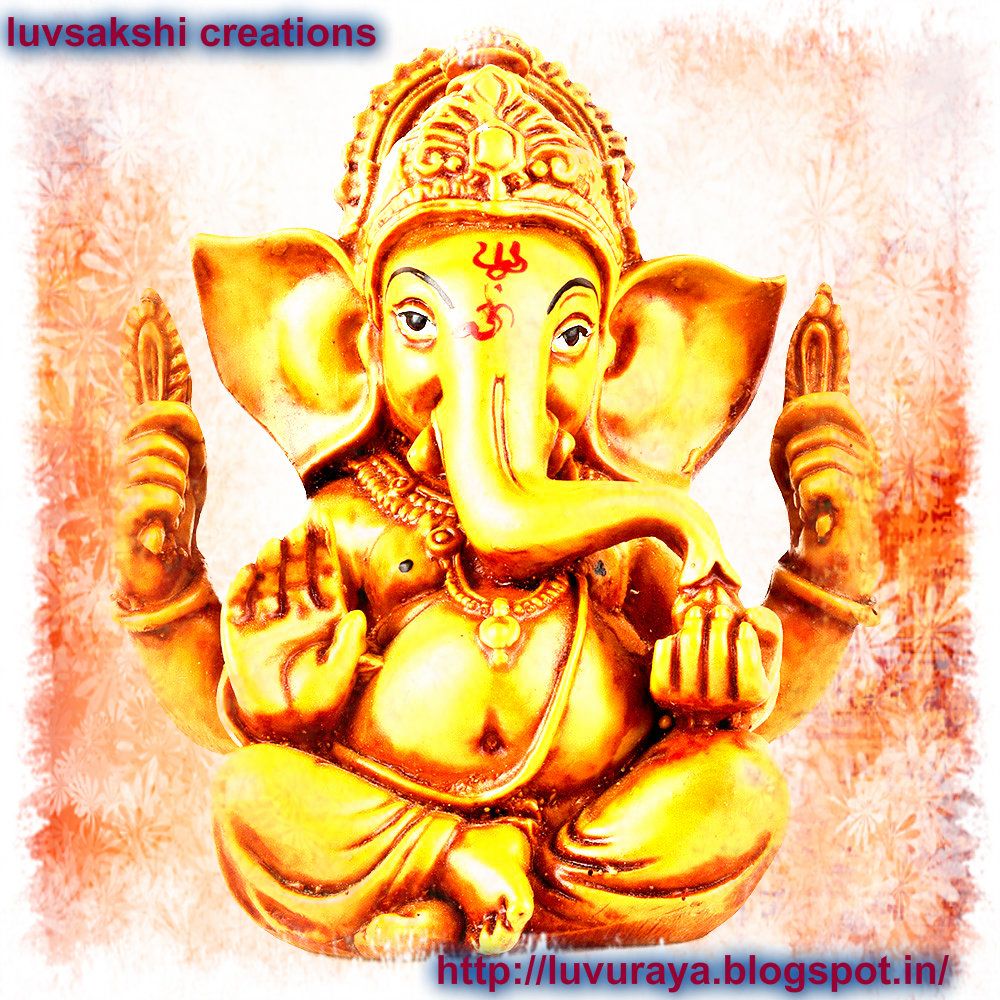 [P.s:He doesn't have any allergic to flowers in my Ff.]
2nd Gift:
They all surrounded the table which Priya decorated for her man's birthday .The table filled with Chrysanthemum petals, in between she splattered red rose petals in love shape.In between that she placed clairs cake made by her own hands . Beside the cake there were 2 red roses .
He cut the cake ,fed to priya ,all were clicking the pictures ,having gala time ,smearing the cake on Ram's and Priyas' faces. They enjoyed fully then everyone left to their rooms. Ram changed and came ,Priya went to change ,Ram setting his side bed found a gift wrap along with 3 red roses.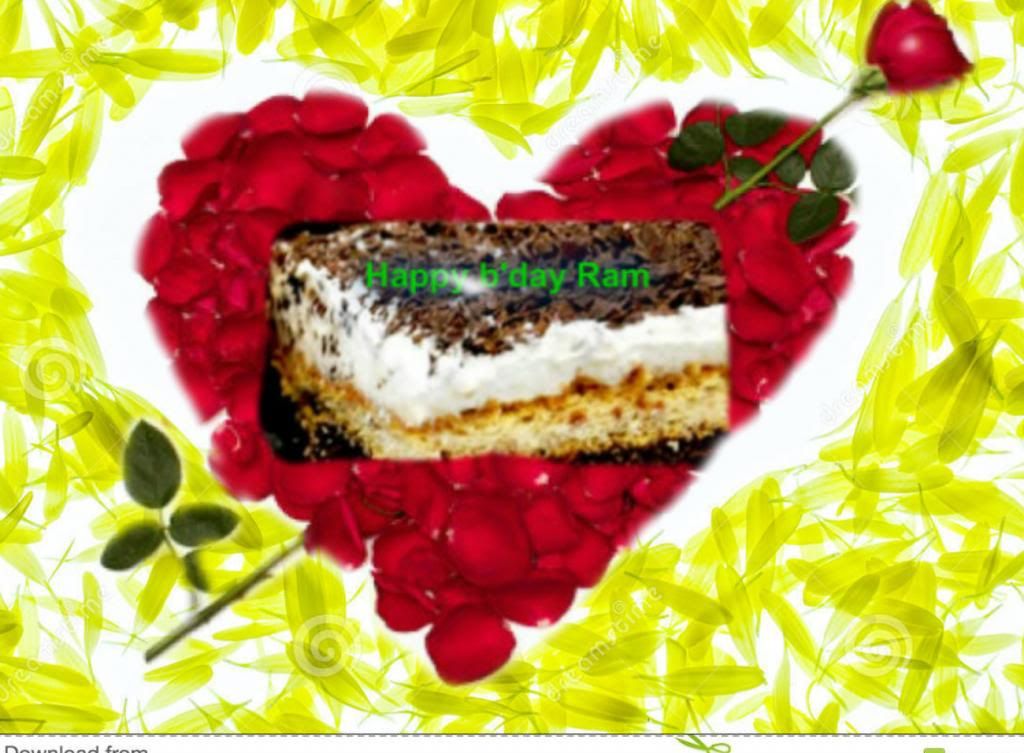 3rd Gift:
He opened the wrap ,It was a hand made peacock feathery handfan .When he opened it he was astonished seeing the print on each feather .It was so so beautiful and lovely .His eyes were glittering with an unknown sparkle .Priya was watching him from the door of washroom.She smiled in her heart seeing his happy face (and the gift is like in this picture) .When he is admiring it she handed a small box which was covered with beautiful stones on it with 4 red roses .This is so beautiful Priya ,how you did it still gazing at the hand fan .
Priya: You liked it na ,whenever Iam away from you , this hand fan will remind you that am always there with you while its each passing breeze remembers you ,I am there in your every heartbeat .Please open this na ...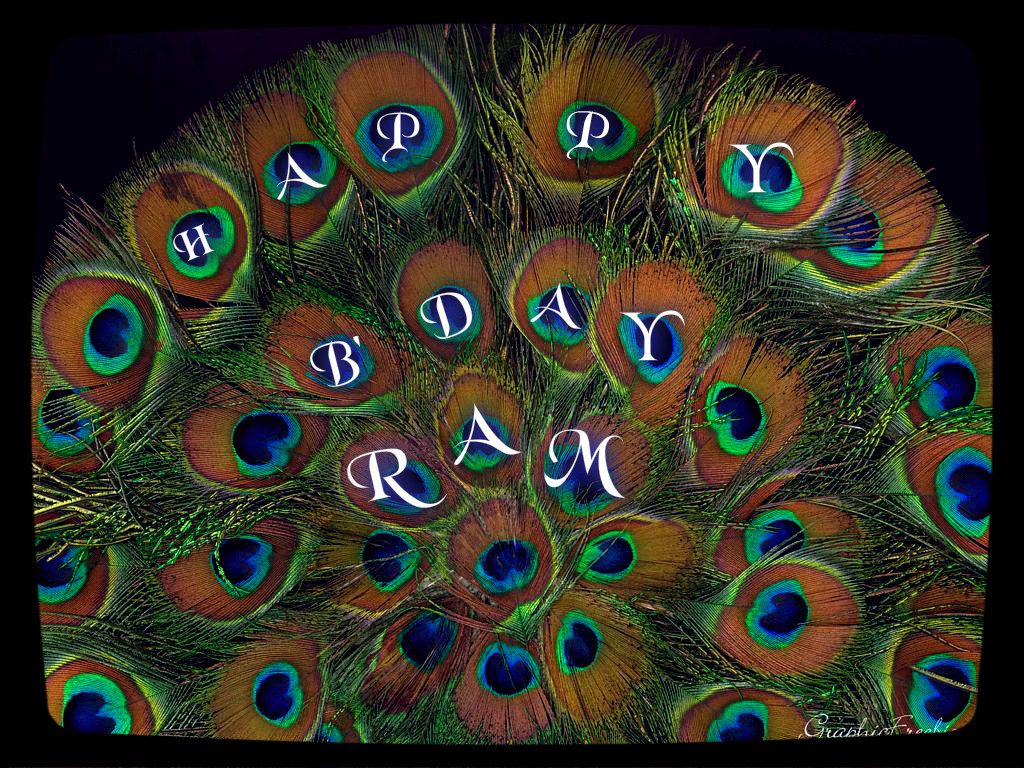 4th Gift :
He opened the latch of box ,he found a beautiful yet elegant Key chain ,He took the key chain in his hands ,observing the antiqueness of the piece .His eyes smiled seeing a rice grain implanted in the middle of the love symbol ,which was written "RamPriya " .
She was observing every of his move ,his feelings and his expressions .
This is so beautiful like You Priya .This is so so beautiful ..I love you kissing her forehead .
She gave 5 red roses this time with a small triangular shaped gift.
5th Gift :
Ram: aur kithne hai yaar..
Priya:Why don't you count your self .
Ram:Ye phool ka kya chakkar hai yaar .keeping the flowers aside ,eagerly opening the gift ,he almost ripped it .
Priya : Dheere se Mr.Kapoor .keeping her hand on his shoulder biting her nail seeing his enthusiasm.
Ram: Arey zindagi mein pehale baar kisi ne muzhe pyaar se pyaare gifts diye tho mani kaise dheere se open karoon?? .He opened it found a branded blue colour tie which fits for all of his suits .
He twirled to her side , which in turn made her hand fall off from his shoulder , she made a sound "Ouch "; That hurts Mr.Kapoor ..
Ram: Awww iam sorry , kissing her hand , how do you know I like this color and this brand .
Priya : ACP Pradyuman here , will know like this ,making a rap with her fingers infront of his face .
Ram: "Achha so this ACP Pradyuman will serve hot to me tonight" leaning on her to kiss her .They heard the tiny baby boy cry from the down stairs .She smilingly said to him "See my new lover must be missing me ,I will meet him and come" winking at him.He smiled & left her .She gave another gift it was wrapped in golden colour gift paper with 6 red roses and went down stairs .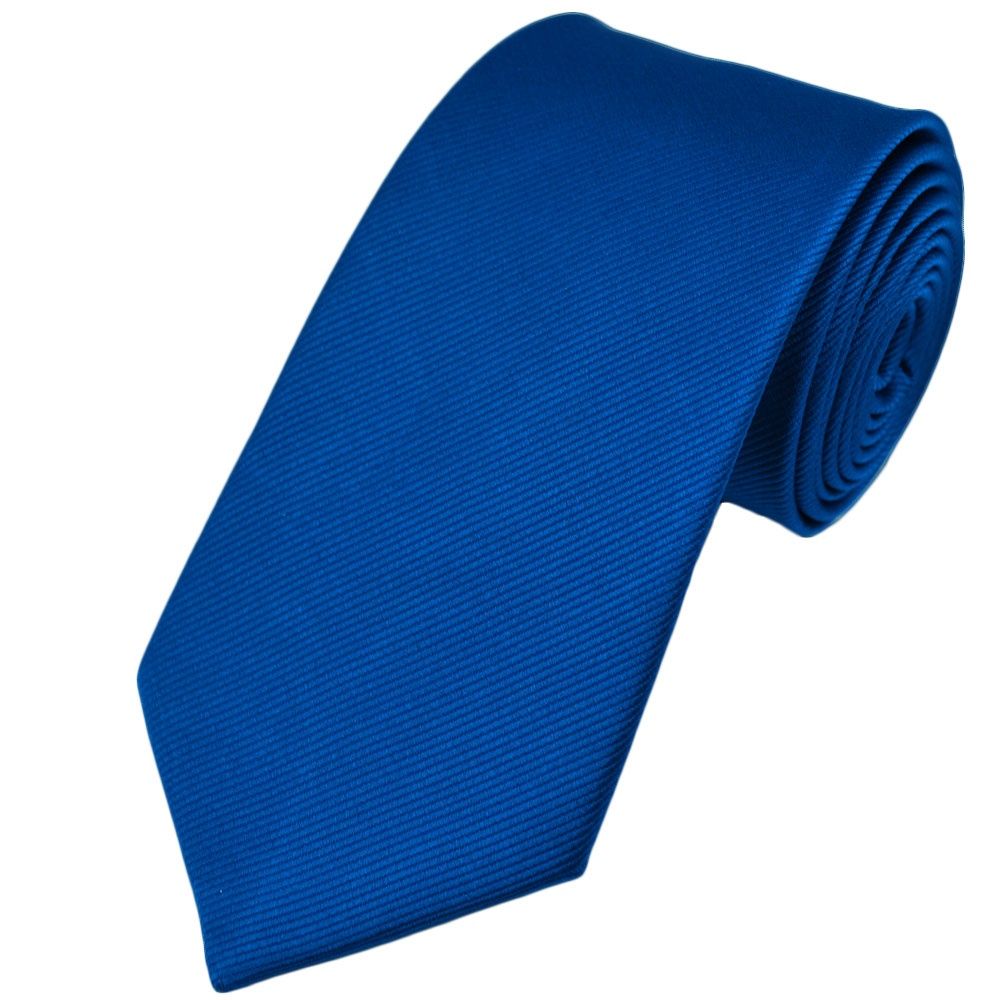 6th gift :
While Priya was near Nuts bedroom , by that time the boy stopped his cry so she came back to their room.He opened the gift and it was a photo frame ,all his photos right from the birth were arranged in that . She made it as a collage ,down the line it had writing with Love [Mrs.Priya Ram Kapoor].Palming her letters his eyes moistened ,how much she loves me ,at the time she entered the room yawning so pleasantly.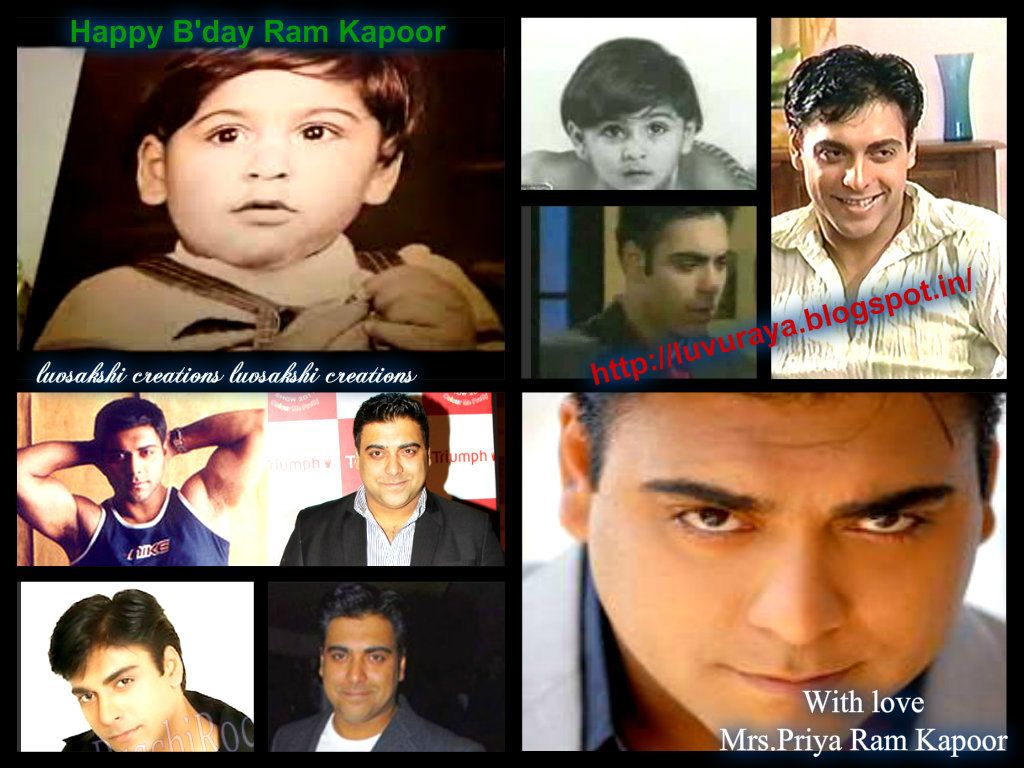 Priya :She quickly walked to him, with her magnetic eyes she asked him ,"Do you like it "
Of course I loved it sweety but how did you get all these I mean how you did .
Priya : Its just I got it ,thoda sa hardwork karna pada but seeing your happiness ,I forgot all that hardwork Ram, I love you , Happy birthday ..
He embraced her in his hug ,she is too tired , her yawns are well enough to know how much she is sleepy , Aapko acche lage na gifts ,her words mimed some inaudible talk with her sleep.He made her sleep straight on the bed, kissing her cheek he too slept with her .
The clock struck 6.30 in the morning .Nuts knocked the door ,the door was ajar so she pushed the door with her leg , she entered the sleepy room of ever loving couple.
Ram's face was clearly visible to Nuts as he was sleeping facing the door and Priya's hand has possessively snaked her husband's waist while hiding her face in his back in her sugary sleep .
Nuts wished for their happiness forever ,she called them aloud wishing "Goodmorning Bhai and Bhabhi" .. Both startled and woke up with a start ,
Good Morning choti ,Ye kya tarika hai uthane ke liye .. he yelled at her turning Priya's side to gaze at her .
Nuts was baffled to see this ...
Aww kithna pyaare lagthe hai ye dono .
Good morning Priya ..
Priya:Good morning , Happy birthday ,hugging him ,why you are shouting at choti morning morning ..
Ram:broke the hug ,"otherwise see how she yelled at in my ears "..
Priya:Please aaj aapka birthday hai ,maaf kardo na..he smiled ..
Nuts: coughed indicating that she is there in the room .Priya got up from the bed so did Ram. Nuts placing the tray on the table ,have it and come down soon ,winking at Priya she vanished from there.
7th Gift :
Ram : Taking the coffe , he looked at the side there were 7 roses with a gift pack,He gazed at her .she side gazed telling I will freshen up ..He opened the gift and found a cream color kurtha with a note .I want to see my Golu in this outfit "He chuckled seeing it , when she came from the wash room ,Krishna ji called her , she went downstairs to check on the preparations .Ram took bath and he wore the kurtha .He was looking so dashing [like this he is ]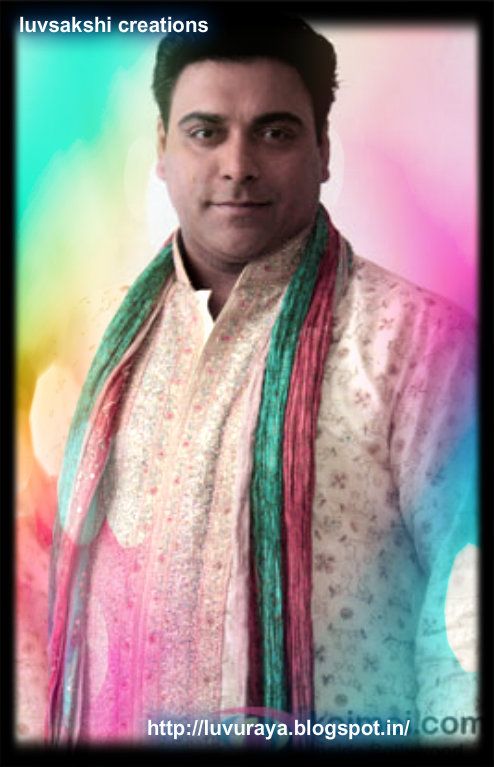 Rishab entered calling Bhai ,He gave a 8 red roses clasp and a box of chocolates .
8th Gift :
Ram: I am not your bhabhi to get impressed with your chocolates .At the same time Priya entered and she was looking at him and adoring him with her eyes ,
Rishab:I bet you will love this ,after all Priya bhabhi ka choosing hai na, when you wore Nuts desgned kurtha why won't you be impressed with my gift ,kholo kholo Rishab chided him.
Ram:Opening his gift ,gazed at Priya ,she was waiting eagerly , Rishab got a call ,he went to balcony to talk ,he opened it to baffle ,His own favourite Perk chocolates were there .He used to have it like hell in his childhood ,all varieties of perk chocolates were there .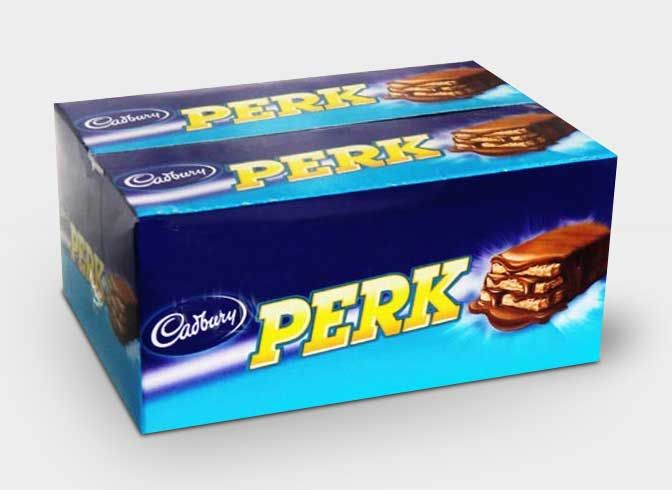 Ram:How did you found all these ,I mean ,how do you know that ..his words were pausing in between ...
Rishab: I told you na you will be impressed Bhai ...Come come there are more surprises waiting for you come he dragged Ram to the breakfast table.
9th Gift :
Ram took the blessings from Dadi and Krishna ji ,They blessed him with all health and wealth. Krishnajji gave 9red roses and a bowl of kheer .
Ram told to priya many times he likes to have kheer from his mother hands on his birthday , without that he usually hasn't gone to play in his child hood . After these many years Its coming true again and he wished the time would freeze over here itself .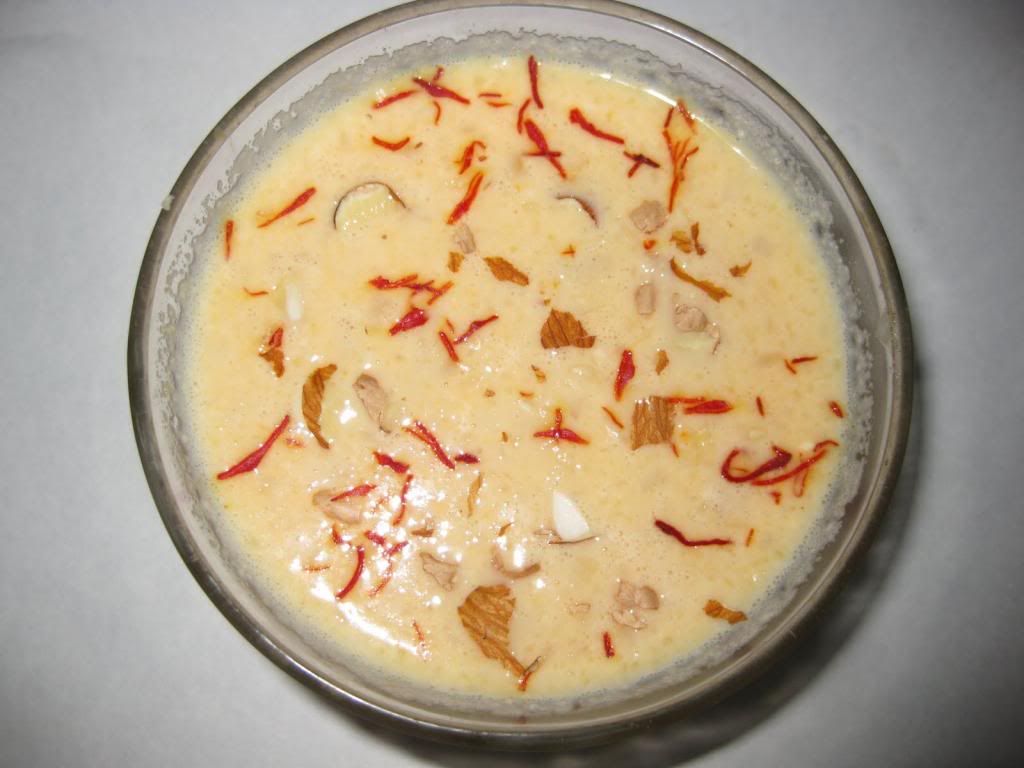 Ape served him a plate as well as kept 10 red roses on the table.
10th Gift :
His mouth watered seeing aloo paranthas and his eyes moistened seeing Happy birthday on that parantha with a smiley on it . Apeksha Hified with priya .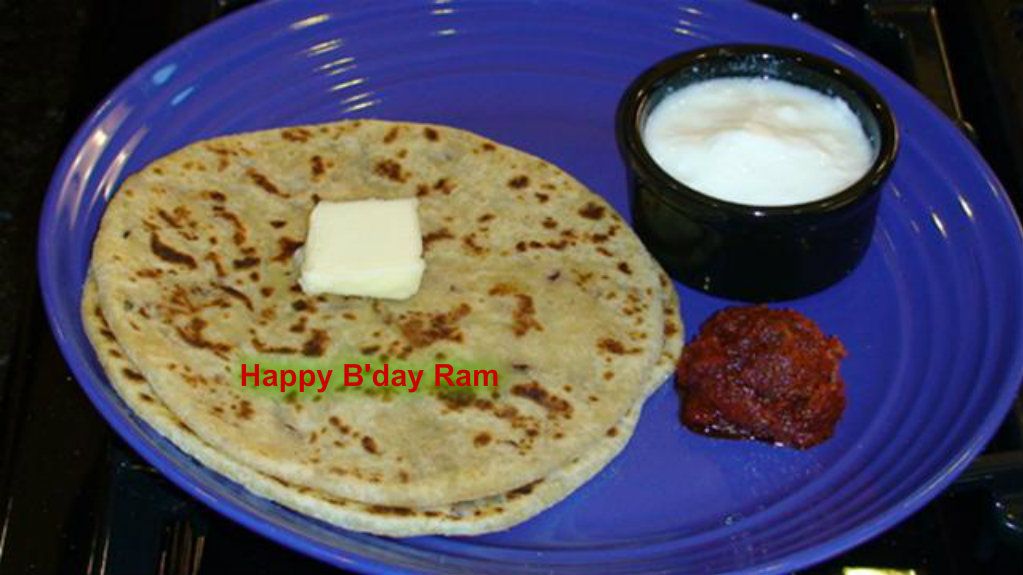 He relished them saying yummy .. He ate them as a 4 year kid licking his fingers he asked very cutely "aur ek milega kya?",Every one smiled hearing it ,Priya very gently placed a parantha in his plate giving an assuring smile .
Ram: Thank you so much ...He attacked the another and everyone teased Priya that she isn't telling diet rules today .Both bid bye to the family .
When he was about to step outside Priya stopped his track and gave him 11 roses ,He asked where is the Gift ,She smiled and pointed to the floor .
11th Gift:
He stepped outside what might be this gift , His lips broadly grinned seeing the Rangoli infront of their home written on top of it "Happy B'day Ram "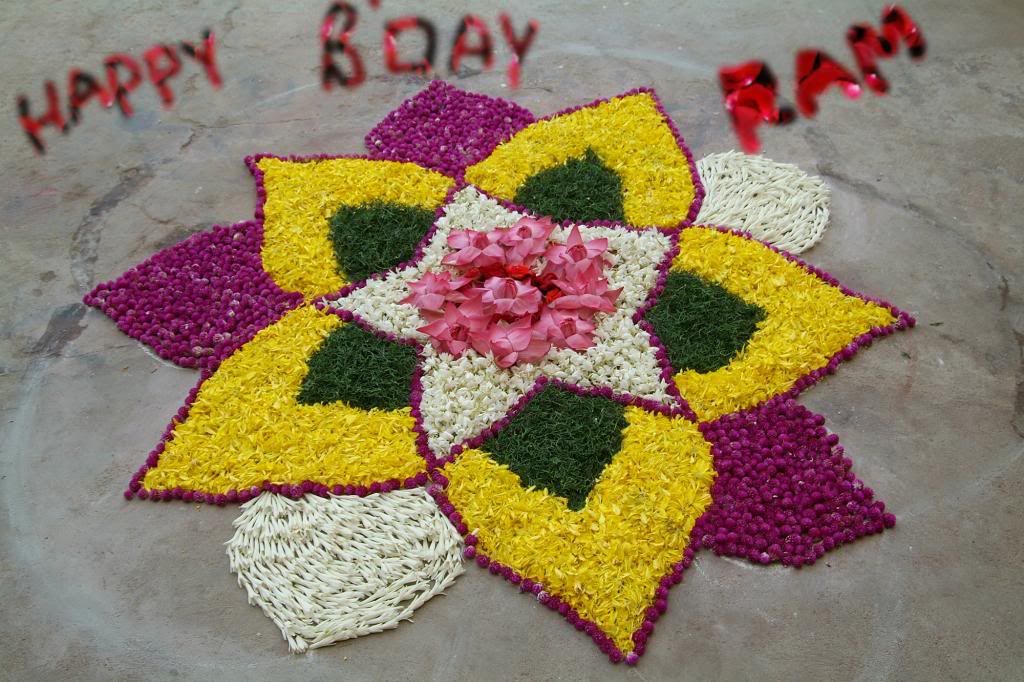 He clicked some of the pics immediately ,amused by her each wish he asked her , when on earth you did this .
Priya smiled merrily "early in the morning 5 or 5.30 ,come on Ram we are getting late" she dragged him to their parking area .They both started, he asked her where ,she silently gave him directions with out telling him .
When they reached a place she said him to stop .Handing him 12 roses she said wait for her gift .Both walked to the temple which was very small and it was surrounded by some small rooms.The priest did the prayer on the name of Ram .
She signaled them to come out of from the sides ..
12th Gift :
The kids all ran to the temple area singing the b'day song clapping and they sung the total song .Ram was baffled ,one of the cute girl came and gave a greeting card which was designed by the kids ,They have written Happy birthday Ram uncle.Soon their warden came and introduced herself and the institution, that the institution was running very well but recent fire accident left them with ashes , so now they are living here as one of the owners have given permission to run this orphanage .Ram who was moved by her motivation gave a huge donation to the warden there itself to develop the orphanage .
She blessed Ram and Priya . Ram asked her , how can one make surprise me each time .
P.S:This became almost 7 word pages so I will give you the next 12 in another update .Until then keep guessing what are those .How you feel this part ,please post your views and which gift do you like most in the 12 ...will be waiting for your views ..Please post which gift you like the most till now..